Pebble Locker updated to support Android Wear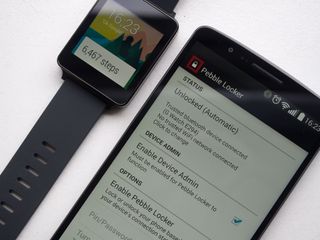 Update: A second update — version 2.8.1 — has been pushed out to address crashing in the previous version.
It looks like third-party Pebble app Pebble Locker has been updated on Google Play to add support for Android Wear. The app, now in version 2.8, brings some bug fixes and adds the Android Wear compatibility in addition to working with the non-Android Wear Pebble smartwatch.
Similar to a feature that Google had announced for Android L, Pebble Locker allows your phone to function without a security lock when your Bluetooth-enabled smartwatch is paired and within range, allowing you to have security when you're away from your phone but the convenience of not having to enter a password when the phone knows it's you through your watch.
Android Wear compatibility had been unofficially available for Pebble Locker for some time now, but this is the first time that it's officially supported.
Are you looking to use Pebble Locker with your Samsung Gear Live or LG G Watch?
I use Pebble Locker with my Pebble and love it. It's so liberating. I'll certainly be using it with my Moto 360 whenever that comes out.

+1. I bought the Pebble for the Run Keeper support, but wear it daily because of this.

This is a sign Posted from my Nexus 7 2013 running Android L or Samsung galaxy S5

A sign that a 3rd party app that supports multiple devices and networks supports another device? Yes. Posted via Android Central App

I used to use this with my pebble steel however now with my LG g watch I have been using skiplock. It does the same thing right? Posted via Android Central App

Yes. Except Skiplock also adds the wifi unlock feature. My preference is Delayed Lock, which does Bluetooth and Wifi and is only $2.99.

So does the Paid version of Pebble Locker. -Shawn
Noting the world one S-Pen at a time.

switched to skiplock, so far it seems to do a better job of knowing when to be locked or unlocked

While I appreciat "official" support, it isn't like just adding the wear device as a trusted device wouldn't work anyway. Posted via Android Central App

That's what I've done ever since I got my G Watch. Works great.

Can't seem to get this to work with my G watch. I don't have the Unlocked (Automatic) setting in the picture above and it just says Android Wear Device. Also crashing if I try to add another bluetooth device. Sure it will all be worked out in time though.

Same exact error here. Did not have this problem prior to this update. Posted via Android Central App

Not just me using it wrong then. ;) Have given feedback to dev and sure it will sort out at some point.

I've also already submitted a bug report for this crash

gear 2 has this feature, it's great with my s5. Posted via Android Central App

I prefer to use SkipLock, works with bluetooth and wifi. It has tons of other features too. Well worth the money

I'm a SkipLock fan. Posted via Android Central App

If the 360 isnt released soon i might just have to get the g watch.. Posted via Android Central App

I think that is the least attractive of the the 3 the gear live is better than the game watch and the motor crushes all. Posted via Android Central App

It sees my lg g watch. But still asks for a password. Oh well. Android L is only a few month away. Posted via Android Central App

Although it supports android wear it does not support BLE. So there for will not work with android wear. This post is a bit deceiving. Posted via Android Central App

While Pebble Locker does not support BLE because they don't maintain a connection with your phone, Android Wear is specifically supported using a new Android Wear API. It does work with Android Wear and there are many many people using it.
Android Central Newsletter
Get the best of Android Central in in your inbox, every day!
Thank you for signing up to Android Central. You will receive a verification email shortly.
There was a problem. Please refresh the page and try again.