The Panono 360 degree camera isn't for everyone, but it's super impressive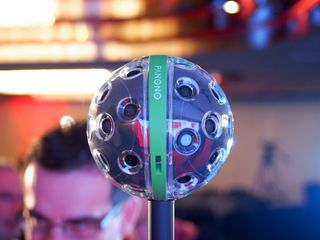 It's not a brand new product, but this week's IFA Global Press Conference in Hong Kong has presented our first opportunity to get up close with it. Borne from crowdfunding, as so many start-up projects now are, the Panono 360 degree camera is a high-end, stills only shooter that boasts of taking pictures with five times the resolution of any alternative currently on the market.
It's also pricey. $1499 pricey. But, it's not trying to compete with what Samsung or LG has to offer. In fact, Panono says that the recent product launches from these two Korean giants is actually helping its own business. The market is more aware of 360 degree cameras as a result, and they're discovering Panono in turn.
What it is, is a ball that contains 36 individual, fixed-focus cameras that total 108MP. It only takes still photos, and for good reason. Panono wanted to make the best quality 360 degree photos on the market, while still keeping the product portable, and somewhat affordable. They say adding video to the current setup would increase its size and dramatically increase the cost.
It's smartphone connectable, with apps for iOS currently available, with an Android version currently in beta, but it's not your phone that processes the images. The app allows you to control basic camera functions such as acting as a remote shutter, setting exposure, shutter speed and ISO, and it does allow you to preview a much scaled down version of the photo. The stitching of the images is done by Panono in the cloud, a process facilitated by the phone but one that allows their technology to work out of sight and letting you carry on taking pictures.
The app also helps you share your creations with the world, with Facebook specifically mentioned. The camera has 16GB of onboard storage which should be good for 600 360 degree images, or 200 if you turn on HDR. It's charged over USB and you can attach it to a tripod and if you're feeling particularly brave you can even throw it up in the air. Panono will automatically shoot as it reaches the top of the throw, but you have to make sure you catch it. Because it's not going to survive hitting the ground in its current state.
The market for this kind of product is still taking off. While the Panono has a very specific target audience, it's also important that it exists. Cheaper, more consumer friendly products are most welcome, but the high-end crowd also needs looking after. And it's there than Panono is finding a home.
If you want to check out some sample images taken with Panono, and you have a Google Cardboard, check out the app linked below. For more on the camera, check out Panono's own store.
Download Panono Cardboard from Google Play. (opens in new tab)
would have been nice to see picture results in the video, why hide it

I backed this on Indiegogo back in Jan. 2014 and just got it on Saturday. Took it out yesterday and took about 30 pictures around Chicago's Millennium Park and lakefront. It's very cool and the photos make me pretty happy. I'm still editing them on Panono's server, but I'll link to a few when I make them public. (In the meantime, you can look at a bunch of other panoramas at https://www.panono.com/explore/featured .) It turns out the feature that takes pictures when you throw it doesn't work if you have HDR turned on (because then it has to take three pictures), but the ones that came out came out pretty nicely. That said, I collect unusual cameras (everything from Lytros to Stereo Realists) and think this was a steal at $500, even with a two-year-plus wait, but would have to get a pretty awesome tax refund to think about dropping $1,500.

None of those are mine, but these are — https://www.panono.com/p/qRbbWbvHflHY https://www.panono.com/p/P5H9LYuyyacT https://www.panono.com/p/eZ4XrTesMatR The ghosting of people and moving objects is because I had HDR turned on, so the stitcher had to merge three photos for stitching, which causes that effect. I like it a lot and think I'll use it quite a bit, but the new price is tough.

Oh, and while the Panono app is considered beta by the Panono team, it's still in the Play Store and readily available. The Panono Cardboard app is probably better if you're just looking and don't own the camera itself, but if you want to play with the interface and see everything that's been publicly posted, the main app is available for everyone.
Android Central Newsletter
Get the best of Android Central in in your inbox, every day!
Thank you for signing up to Android Central. You will receive a verification email shortly.
There was a problem. Please refresh the page and try again.