OtterBox Defender Series case review - multi-layer protection and a locking holster clip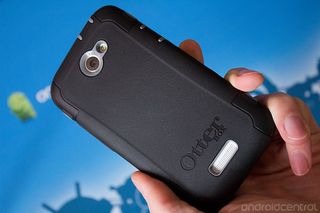 The OtterBox Defender Series case for the HTC One X offers three solid layers of protection in a tight, compact package. Beyond the usual hard plastic/silicone skin hybrid set-up, there's also a screen protector integrated with the inner case. This means no more futzing around with sticky screen protectors, and having to line things up perfectly or squeezing out air bubbles. The case comes with a clip-style holsters that rotates a full 360 degrees while keeping your phone securely in place - face-up or face-down, whatever works for you.
Style
As with any hybrid case, you're going to have to deal with a fair bit of bulk, but Otterbox tends to be good about having really dense components. The outer silicone layer feels a lot tougher than most, but still affords a ton of grip. Even though the color remains monotone throughout this layer, the texture smooths out around the corners, adding some nice, subtle differentiation. There are a few color options available, including straight black, black and grey, and grey and purple.
Function
The overall assembly of the Defender Series is extremely tight; the exterior skin clings tightly to the inner core, and the hard plastic case leaves little wriggle room for the device. This can be a bit of a hassle for assembly, but ultimately creates a package that feels very solid. I worry a little bit that the close quarters and lack of padding between the device and the hard plastic case that there wouldn't be a lot of padding for impact protection, but the exterior skin still offers a significant first line of defense.
The holster has a lock mechanism to keep the clip in the open position, but I can't fathom why anyone would need to do that. The clip should be closed tight pretty much all of the time; when would that ever be a hindrance? Locking it closed, like the Seidio Convert Combo case I understand, but to keep it open? The angles in either portrait or landscape don't make it work as a kickstand, either. The worst part is that the lock activates really easily (pretty much as soon as you open the clip all the way), so you'll likely have to deal with the nuisance of unlocking regularly. Still, I like how the clip swivels a full 360 degrees and allows you to mount your phone face up or face down. Flipping the phone upside-down and right-side-up enables use while holstered, which is pretty handy.
I'm a big fan of the screen protector built into the case. Some cases come with a separate protector bundled, but they suffer from the usual trappings of misalignment and air bubbles. The slight gap between display and protector does add a little bit of glare, but otherwise functionality is completely unaffected. On that note, all of the device's external keys are accessible through the case, though headphone and microUSB ports are protected by dedicated flaps.
Pros
Tight-fitting
Bubble-less screen protector
Cons
Bottom line
The OtterBox Defender Series is a long-standing line-up of cases that continues to provide solid protection to a wide range of handsets. Despite the quirky lock mechanism, the clip holster is quite versatile. If you're looking to pick up a case, be sure to head on over to the ShopAndroid store and pick this one up while it's still 20% off (normally $49.95).
Android Central Newsletter
Get instant access to breaking news, the hottest reviews, great deals and helpful tips
Simon has been covering mobile since before the first iPhone came out. After producing news articles, podcasts, review videos, and everything in between, he's now helping industry partners get the word about their latest products. Get in touch with him at simon@futurenet.com.
There is one thing I've wondered about the Defender.... Why would they go for the silicone outer and the hardshell inside? To my brain, the design of the Commuter makes far more sense: Hardshell outer with a silicone inner for shock absorption. Mind you, my commuter didn't come with a built-in screen protector like the Defender does... but still I must ask Why is the defender designed this way? Doesn't it make more sense to have a hard outer shell with silicone cushioning the device against drops and impacts?

Wow, looks bulletproof. Other than the bulk, the only down side I noticed in the video is screen responsiveness seemed to suffer a tad, but I could see putting up with that on a job site.

I see nobody mentioned their longevity. I've had two of them, and these defenders defend well, but the rubber wears out with time. You can't take your device out or that will compromise the case. The rubber wears out bad. Had to toss a Ballistic Maxx out too. Rollin with the Kraken right now.

The clip stays open so you can place the phone into the holster with the screen facing out and use the clip for a kickstand.
It works on my Galaxy S3 anyway.

That's what I had figured, but the One X model is too front-heavy and the clip doesn't open wide enough to angle it back. *shrugs*

I've purchased my very 1st otterbox for my new Galaxy S3 after realizing how awesomely thin and delicate it looks. Yes it does make the phone absolutely that much fatter but I look at it this way. Peace of Mind. I Have ZERO worries about dropping the phone. Yes the screen protector can be an annoyance depending on your point of view. I don't like that ist part of the case but I wouldn't put a screen protector on it since it was Gorilla Glass. But the writer has a point, no bubbles! I don't use the clip at all but the unit still surprisingly fits in my dress pockets and even better in my cargo pants when im out and about. I've seen other otterbox's where these people have had them for 1 year or more and if its a comstic thing, Just replace it. It does what it does, Protects your device! an obvious other issue is if you use one of these or any type of protective cases, you can kiss docking stations goodbye. There are pros & cons, just depends on your point of view.

no bubbles, but specks dust can get so easily; I'm finding that I'm taking it apart every other day just to clean it out. it would have been nice if there had been some kind of silicon gasket around the openings for the sensors/leds. Another things I'm finding because of the harder plastic inside, there's scuffing on the casing of the phone itself...

One thing I did to combat the dust specs was put on the Zagg HD shield on my Galaxy S III and then pop the screen protector off the Otterbox. I have a better screen protector on my phone, and don't have to worry about the dust finding it's way in. All in all a win-win.

I got this case for my vacation and for weekends when I'm a bit more active than around the office. The fit is great, and the protection is excellent. But, the added bulk is noticeable, and makes it too big to fit in my generic car dock. Also, the opening for the headphone jack is a bit small and blocks some mini-jack plugs, like the Rocketfish coiled cord I use as an Aux cord in my car, from seating properly.

I rather like this option. I often spend a week or two working in a machine shop turning milling and polishing stainless components with a friend who does that full time. Conditions like that guarantee nasty scratches on the screen and the possibility of getting crushed against tons of cast metal machines. No unprotected touch-screen phone can take that well. For a contractor, machine shop worker or mechanic, this kind of protective case is really the best answer. I carry my S2 with a hard screen protector in a leather slip case which also lives in a protective pouch on my belt full time. None of that is ideal or sufficient protection in such harsh conditions. This case may add a lot of bulk, but if you really need it, this could be the answer. I have used an older OtterBox on a Nokia 5800 before and the Case-Mate Tough Case for my Samsung GS2. This seems to offer superior protection without making the phone unusable, so well done OtterBox.

I also have a Defender case for my GNex. Unfortunately, I'm on my 3rd one. The case itself is rock solid - but, like someone else already mentioned, the silicon wears out and stretches with use. It could stand to be a bit more resilient to the stretch-factor! The problems I've had revolves around the holster. My first holster's retention clip that holds the belt clip open, broke off due to the strain. I chalked this up to a defective mold. Otterbox was gracious enough to replace it. My second holster's retention clip that holds the phone in the holster broke completely off with less that 3-months of use. This tells me that the molded plastic being used for the shells are not the best of quality... I believe the phone itself is well protected in its hybrid case, but, the holster holding the system to my hip is failing. And, this beast is way too big to stick in a pocket!

Warning!
Otterbox damaged phones!
the damage shown in the photos was determined from the case Otterbox!
And the Company not respond! http://imageshack.us/photo/my-images/21/p1010168t.jpg/ http://imageshack.us/photo/my-images/59/p1010171sb.jpg/

The Defender series from Otterbox is a fair phone case. The inter hard case has issues with the small fragile clips breaking. The outer protective cushion will stretch and not stay secured to the phone. They will replace it, however this seems to be a problem as I have had two returns. The returns or warranty dept makes the process a long and tiring one, I guess so that you as a consumer will not proceed through the agonizing hoop jumping.
Android Central Newsletter
Get instant access to breaking news, the hottest reviews, great deals and helpful tips
Thank you for signing up to Android Central. You will receive a verification email shortly.
There was a problem. Please refresh the page and try again.