OnePlus succeeds because of its desire to copy Apple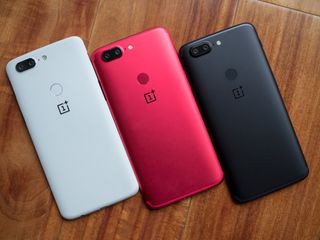 OnePlus is gearing up to launch a new phone soon, and as the case has been for the past couple of devices the company's released, the leaks and rumors we've seen have caused a lot of people to voice their many complaints. Whether it be due to rising prices, new gesture systems, or its notch, the OnePlus 6 has already gotten a lot of folks flustered even before it's been announced.
Since the launch of the OnePlus 5, OnePlus has been accused of copying Apple with its design, presentation, and marketing choices. The OnePlus we know today is very different from the one we were introduced to in 2014, and while people will continue to yell about its increasing similarity to Cupertino's golden boy, OnePlus's willingness to become the iPhone of the Android world is the very reason it's still relevant and hasn't failed like just about every other startup that's entered this industry.
Before we get into that conversation, however, we need to talk about the hardware OnePlus has to work with. OnePlus is a sister company of Oppo, and the phones it releases are based on designs that Oppo uses for its own lineup. The OnePlus 5 looked nearly identical to the Oppo R11, the 5T shared a lot of similarities to the R11S, and the upcoming OnePlus 6 is looking a lot like the Oppo R15.
OnePlus has freedom over some of the more minute details, but for the most part, it relies on Oppo to determine what it has to work with.
Oppo is based in Dongguan, China, and it's one of the largest smartphone brands in the world. Oppo makes money because of its affordable iPhone clones, and it's essentially up to OnePlus to find a way to make them sell in the markets it operates in.
Faced with this situation, OnePlus has a couple of options at hand:
Take the iPhone-like design, ignore it, and try to do its own thing
Embrace the similarities to Apple and become a better version of the iPhone for the Android world
We've seen OnePlus move more and more towards Option 2 for its last few hardware releases, and I really do think this is the reason the company's continued to be so relevant in the smartphone space.
Looking at the Oppo R15 (the phone the OnePlus 6 is based on), there's nothing all that exciting to see. It's got a notch and dual rear-camera system, and it could easily be passed off as a generic iPhone X copycat with nothing special to see. The OnePlus 6 is basically the same phone, but rather than accepting it and not doing much else, OnePlus is going all in.
OnePlus started messing with its own gesture system on the 5T, and this will also be found on the 6. Carl Pei had an interview with The Verge solely to defend the OnePlus 6's notch and how it was created with more thought than what we've seen from other Android OEMs. There's a "Designed by OnePlus" logo on the back of the 6 (Granted that phrase was also found on the back of the OnePlus One, but still.) These similarities aren't coincidences.
It's easy for any Android fan to hate on Apple, but at the end of the day, what is it about the company or its products you don't like? For me, and I imagine most people, it's the many restrictions found within iOS. I prefer Android's software for my smartphone, but even so, there's no denying that Apple knows a thing or two when it comes to hardware.
If OnePlus wants to copy Apple, so be it. This can strike a nerve with some consumers, but all it means is that we get phones that look good, feel great in the hand, offer one of the best Android experiences around thanks to OxygenOS, and come in at prices well below what you'll find from the likes of Samsung, Google, and even Apple itself.
The way I look at it, that's a win-win for just about everyone.
Be an expert in 5 minutes
Get the latest news from Android Central, your trusted companion in the world of Android
Joe Maring was a Senior Editor for Android Central between 2017 and 2021. You can reach him on Twitter at @JoeMaring1.