OnePlus 7 Pro camera update improvements are real, but they're not spectacular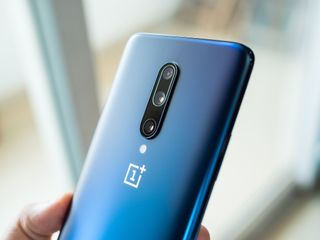 (Image credit: Harish Jonnalagadda / Android Central)
The OnePlus 7 Pro took important steps up in camera hardware, with a new main sensor and fresh set of supporting cameras. But the end result of these improvements was a similar story to the OnePlus 6T: photos that were good, not great, and certainly not challenging the top-end flagships — particularly in low light.
Now less than a month after release, OnePlus has a fresh software update — version 9.5.7 — that focuses on camera performance across the board, and aims to directly address feedback received from early buyers. According to OnePlus, there's a lengthy list of improvements:
Optimized the overall contrast and color performance
Optimized the white balance consistency of the triple-lens
Optimized the accuracy and stability of auto focusing
Fixed the issue of greenish tone in some low light scenes
Fixed the issue of noise in some HDR scenes
Improved the contrast and color saturation of the ultra-wide angle lens
Improved the clarity and noise reduction of the ultra-wide angle lens under low light
Improved the clarity and noise reduction of telephoto images
Improved the clarity and color performance in Nightscape mode
Improved the brightness and clarity in Nightscape mode for extreme low light situations
That's all pretty ambiguous, though. So I went out shooting with the updated OnePlus 7 Pro to see how it performs compared to the launch software.
First, side-by-side shots for comparison
Pre-update (left) / post-update (right) — click to view larger
A majority of the photos show the exact sort of changes OnePlus was claiming with this update. Lower highlights, more contrast, better clarity.
Overall impressions of the update
Seeing side-by-side improvements is nice, but that's not how we evaluate cameras in the real world. When you look at phoots on their own, you get a feel for what the cameras are actually doing without nitpicking about small differences.
Image 1 of 9
The biggest improvement that's noticeable in every single photo is how OnePlus changed its brightness, whites and saturation. Photos no longer dramatically blow out the highlights and over-expose, and when you combine that with a thoughtful bump in saturation you get an overall improvement in contrast, colors and dynamic range. OnePlus has always had a relatively balanced color profile and solid fundamentals with good sharpness and detail, and now that it's paired with bolder colors it produces photos that really look nice.
This ultimately ends up showing more dynamic range in the photo, because the camera isn't constantly blowing out the highlights anymore. Skies are much more dramatic, and bright areas of scenes show more detail rather than turning into a washed-out blob. And without super-bright whites, dark edges appear a bit sharper and the entire scene seems clearer without this subtle softness that could sometimes take over bright photos.
Low-light photos have also benefited from this overall reduction in brightness and exposure, somewhat reducing noise and bringing out more contrast, which is tough to do when you don't have much light to work with. But it's the right move — you want dark photos to look like they do in real life, not get artificially brightened. These dark shots still look over-smoothed and just a little soft and blurry, which continues to put the OnePlus 7 Pro more in line with the Galaxy S10 (pretty good company, to be fair) but a substantial mark below the Google Pixel 3 and Huawei P30 Pro. Nightscape continues to be generally hit-or-miss in whether it actually does anything more than auto mode in the dark.
As for the wide-angle and telephoto cameras, it's clear they've been tweaked to produce photos that are a bit closer to the main camera. The color profiles and contrast are closer, which also means they look better overall. But there's still a clear quality delta between the main and secondary cameras. The wide-angle in particular still has really bad softness and distortion around large portions of the edge of photos, and the telephoto, while sharper than before, is still a big step down in quality from the main sensor.
Does it change the verdict on this camera?
Getting such a substantial update and improvement, based on owner feedback, just a month after release is great to see. OnePlus isn't afraid to make big changes to its cameras with software updates after launch, whereas most other companies seemingly put their camera software in maintenance mode after release. And we benefit. But while this update made imrpovements across the board, it didn't elevate the OnePlus 7 Pro's cameras to the highest levels available today.
No company is going to be able to completely overhaul the camera performance of their phone with a single update, and it's clear OnePlus still has more work to do to fully catch up with likes of Google, Huawei and Samsung. But this update did improve the camera in notable ways, without any trade-offs or downsides that I can see. We shouldn't ever scoff at small improvements just because they aren't revolutionary game-changers. With these regular — and big — updates hitting, we can hope the gap between OnePlus and the leaders continues to close at a quick pace.
Android Central Newsletter
Get instant access to breaking news, the hottest reviews, great deals and helpful tips
Andrew was an Executive Editor, U.S. at Android Central between 2012 and 2020.
Those changes are pretty huge. Side by side you wouldn't know they came out of the same camera.

Really think that's overstating things. The general profile and fundamentals of the photos are the same — one just did far better tweaking of the final product.

That's what I'm seeing as well. Not radically different, but with better sharpness and exposure. The good thing is that it's turned it into a really good camera. Before the update, I would be hesitant to recommend it to someone concerned about the camera, and the DxOMark score of 111 made me say "What was DxOMark thinking?".

Sure wish TMobile would get around to pushing the update.

I agree. I need these camera improvements asap.

T-Mobile just released a new update

Thanks for the tip! I just checked and it's downloading now. :)

I'm on T-Mobile and just got the update today. Check and see if it's there.

Nope it is not a Pixel killer.

For the average Joe they're good enough!

Why do you guys keep expecting a "spectacular" performance from a phone that is $400 cheaper than any flagship at launch? It is unreasonable to ask for perfect for that lower cost. We are already getting some really amazing features like 90 Hz, no notch, high res screen, large storage, fast processor, almost the cleanest OS experience after Google and much more. It is just unreasonable to complain at this stage, especially when they are giving us such speedy fixes and almost perfect results.

Let's not overstate how inexpensive the OnePlus 7 Pro is. At $669, it is not "$400 cheaper than any flagship" — the price differential, even when comparing MSRPs and not market prices, is more like $250 on average.

If you were comparing it directly with something like the S10 Plus and the XS Maxx, due to the size being comparable, and the models being equal, so comparing the 700$ T-Mobile variant, 400$ is a an accurate at launch difference. So yes, saying "any" is a bit off but saying "any comparable flagship" would be as he said.

Well, it was advertised as being spectacular. It's also not $400 cheaper than the U12 Plus which is just as fast and has an excellent camera.

Companies like OnePlus should have a contract with carriers like T-Mobile that these updates get pushed out when they come out. It's absurd that carriers have any say so in a phone's firmware release. Next time around, I will not be buying a phone through T-Mobile and just buying directly...or from a company that dictates a release cycle.

Download: Oxygen Updater 👍🏼

In order to use the Oxygen Updater you must convert your phone to the international version if you purchase your phone from T-Mobile.

You also took these pictures at different times of day.. big difference by itself. Not a very good comparison.

Well considering you have to walk around and take photos both during the day and at night, then update, and take the same set of photos ... it's impossible to get them exactly the same without the use of 2 separate phones. They were of course taken on different days in the case of the night photos. But were actually taken on the same day but an hour apart for the daylight photos. And in the case of the night photos, I was actually mindful to take them at the same time of day.

With all due respect, that's not how comparisons work.
If you were going to make a post about this, it would have been more useful to get a second phone and take each picture simultaneously from the same angle and distance.
The mere fact that you are taking them on the same day makes this exercise unreliable. The cloud cover and sunlight on both days are clearly showing a favorable environment for the updated pictures.

Anyone know how the OP7 pro camera compares to the pixel 2? I'm in need of an upgrade and this is looking like my top choice atm.

The Pixel 2 is low-key still a fantastic all-around phone, but you'll love the OP7 Pro for the display, and the performance. It's significantly larger than the Pixel 2, so keep that in mind. The camera on the OP7 Pro has gotten significantly better with the latest update in real-life usage. It's still not as consistently reliable across all scenarios as any Pixel device, but it's good enough in most cases. My Pixel 2 and 3 XLs stay in the drawer because of how much I enjoy carrying and using my OP7 Pro.

I'm in the same boat, I have a pixel 2xl but the overall experience isn't as enjoyable as the OP7 Pro. I'd easily sacrifice a bit in camera performance for big leap in screen real estate, 2 extra lenses for different perspectives, fluid scrolling, and a pop up selfie camera I can use as a bottle opener(kidding). The pixel 3xl notch is downright hideous and the phone was overpriced, just my opinion.

I actually have the Pixel 2 XL, but I appreciate the response!

If you're into video as well it kills the Pixels in terms of quality and audio recording. But for stills the Pixels still have the better processing but just marginally and if versatility matters at all the Pro is the better choice easily.

The quality of 1+7pro is better than S10+ and than pixel3 (excepted in darkness). Just the P30 pro is better for now. But with Gcam and good firmware, there will be good things to do.

Honestly think this article is overly negative. I feel like the 7 pro camera is pretty on par with other flagships after this update.

Hey AndroidCentral, I just got the update today and I was wondering if I was the only one who feels like the screen colors themselves feel washed out now after the update? I tried reaching out to see if there is something I missed in the settings, but I've tried to tweak it every which way I can and it seems "dull" now.
Android Central Newsletter
Get instant access to breaking news, the hottest reviews, great deals and helpful tips
Thank you for signing up to Android Central. You will receive a verification email shortly.
There was a problem. Please refresh the page and try again.