NVIDIA News Roundup from CES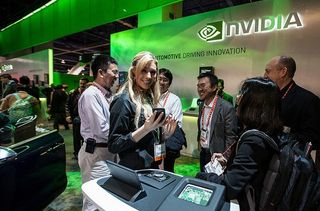 If the Tegra 4 processor, Project Shield and NVIDIA Grid caught your eye during CES, I wouldn't blame you. Having sat in the front row for the press conference prior to CES, I can attest to the fact that great things are coming from the company in the first half of 2013.
With that in mind, I've wrapped up all of the NVIDIA news in one place. Hit the quick links below for the best NVIDIA news and announcements from CES 2013:
Relive the NVIDIA CES press conference in its entirety
NVIDIA announces Project Shield
NVIDIA Project Shield official unveiling video
NVIDIA Project Shield photo gallery
Hands on with NVIDIA's 'Project Shield'
NVIDIA announces Tegra 4 processor with 4G LTE
NVIDIA announces their cloud platform, say hello to NVIDIA Grid
First look: NVIDIA Grid gaming server on an HTC One X
For more on NVIDIA, be sure to keep it locked @AndroidCentral and @MobileNations. However, I also encourage you to follow @nvidiategra and @nvidia… and keeping an eye on the NVIDIA Blog (opens in new tab) may not be a bad idea either :)
I didn't know my future ex-wife worked at NVIDIA. I swear...I can't turn my back for 1 minute !! ;)

Is that Ron Swanson in the background there?

Sorry, but I don't see ANYONE else in the picture other than the beautiful blond smiling for the picture.

Is that a Nexus 7 Dock on the table?

Is that a NAV unit for an automobile? I don't remember seeing a post on it... I couln't see what she was blocking to make sure.
Android Central Newsletter
Get the best of Android Central in in your inbox, every day!
Thank you for signing up to Android Central. You will receive a verification email shortly.
There was a problem. Please refresh the page and try again.