NVIDIA drops Shield price to $199, updates to KitKat and brings GameStream improvements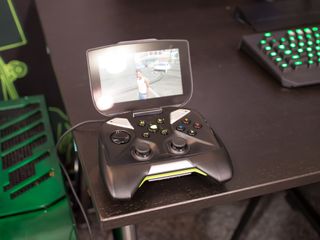 More options for streaming games from your own PC or laptop to a Shield with a fresh new operating system
NVIDIA has been pushing to improve the Shield ever since it launched, and the latest update brings a step up to Android 4.4 KitKat, GameStream improvements across the board and a new, lower price. The Shield is indeed making the jump from Jelly Bean up to KitKat, which brings a few notable improvements in terms of now having Immersive Mode and access to the latest UI design, but the bigger story is NVIDIA's added improvements for its other services.
GameStream, which offers the ability to stream games from a remote server or computer to the Shield, is picking up several new improvements with this latest software update. You can now stream games from your own properly-equipped gaming PC at home rather than just an NVIDIA server, along with the ability to wake the computer with LAN access and log into the PC remotely from your Shield. You can also now use Bluetooth keyboards and mice when streaming games with your Shield in Console Mode connected to a TV. Quality receives a bump as well, going from 720p to 1080p at 60fps.
Further, GameStream is expanding to capable gaming notebooks as well. Streaming isn't just limited to powerful desktops — laptops with Kepler and Maxwell-based GPUs (GeForce GTX 800M, GTX 700M and most GTX 600M GPUs) are now supported. With the expansion of GameStream you now have better advanced controls over the setting as well. You can hardwire to your PC, as well as set FPS, bitrate and other settings for the best experience in your own situation. You can even add unofficially supported games to GameStream now if you're willing to tweak a bit.
The update is also bringing a new TegraZone to the Shield, with a new interface that helps game discovery and a "news feed" to keep up on TegraZone titles. NVIDIA now has over 140 games available through TegraZone, which is a solid number considering the generally high-end games available. Gamepad Mapper is also receiving a refreshed interface, making it easier to share and find Mapper profiles as well as enter the Mapper settings by long-pressing the NVIDIA button.
Existing Shield owners can look for the update to start hitting their devices next week.
And of course we've somewhat buried the lead — the NVIDIA Shield is now just $199 through the end of April. That's $100 off the most recent standing price, and makes this device a relative bargain considering the processing and gaming power that's under the hood. With all of these improvements and a price drop we can see a few more people being interested in the Shield, even at this point in the device's lifecycle.
Andrew was an Executive Editor, U.S. at Android Central between 2012 and 2020.
I just may grab one to try out at that price! Posted via Android Central App

+1 Posted via my "Gift from God" Note 3, my "Blessed" iPad Mini 2, or my "Risen" Asus ROG"

These guys are underrated. They would prove to be a pretty decent competitor in Android if they made phones. Posted via Android Central App

They can have my money! Posted via Android Central App

I use it more for media. Those speakers are so awesome for music and podcasts. I play every once in a while. I also hook it up to my TV for HDMI out and use watch espn and other TV apps Posted via Android Central App

Would you like to sale your Ecurrency in good rate just visit goo.gl/Q5qxbB

Fail comment is fail. Posted via my "Gift from God" Note 3, my "Blessed" iPad Mini 2, or my "Risen" Asus ROG"

Such a quick price drop confirms slow sales and failure. There is exactly zero market for handhelds, consoles or pc's; the smartphone replaces them all and their sales numbers prove it. Posted via Android Central App

I disagree. While I was interested in the Shield from launch, it lacked the now-present features that pushed me to buy one. In it's current state it's easily worth $299, but at a paltry $199 I couldn't afford not to get it. I was very pleasantly suprised to learn that you can map the physical buttons to emulated touch input, which allows you to make your own controller configurations for ANY touch-screen game. Even without a dedicated gaming PC, the Shield is a great gaming device that's vastly superior to playing games that, while great in their own right, are limited to touch-only controls with no physical response from a button. I, for one, hate playing emulators on a touch screen because Super Mario World is meant to be played with physical buttons. Can your smartphone run Crysis?

Just bring it in europe! Like Motorola with the moto x! Then you can have my money. This would be the only thing capable of bringing me away from my glorious gameboy micro :P Posted via my CM11 Nexus 4

Really want this but surprise surprise can't get it in Australia. Posted via Android Central App
Android Central Newsletter
Get the best of Android Central in in your inbox, every day!
Thank you for signing up to Android Central. You will receive a verification email shortly.
There was a problem. Please refresh the page and try again.