You can now send Android APKs to your friends via Allo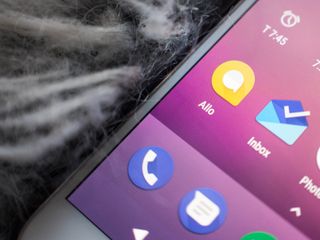 Allo users, I know you're feeling it — any time Google announces a new feature for the nascent chat app, you're jumping around, hoping it's that one feature you've been waiting for a while now.
Unfortunately, today is not that day. There is still no word about the oft-requested SMS integration making its way to Allo, but at least now you can attach documents to your messages. With the latest update, Allo chatters can now send PDFs, Microsoft Word files, compressed files, audio files, and even Android APKs. You can use this feature by tapping the paperclip icon in the menu screen above the message input window. This will launch your device's file explorer.
Google announced in the same blogpost that Brazilian users will also get the Smart Smiley feature in Portuguese, which uses machine learning to pick the most relevant emojis and stickers.
The update will be rolling out to your Android device this week.
Android Central Newsletter
Get instant access to breaking news, the hottest reviews, great deals and helpful tips
Florence Ion was formerly an editor and columnist at Android Central. She writes about Android-powered devices of all types and explores their usefulness in her everyday life. You can follow her on Twitter or watch her Tuesday nights on All About Android.
Should be helpful once one person I know starts using Allo.

I use it to send videos of the kid to my parents. It's really good at that.

Give it up, people. SMS support is never coming to Allo. Google is pushing SMS to be superceded by RCS. Android Messages is where that's happening. They're not going to have separate SMS apps. SMS support in Hangouts will be disappearing soon as well. This is also why Google Voice got updated. Each app serves a different purpose: Allo: IP based messaging, Android Messages: SMS/MMS/RCS, Google Voice: voicemail/cloud based SMS, Hangouts: eventually enterprise only messaging.

They still won't get it. They'll be back complaining about it tomorrow.

Sky is falling. News at 11.

This will be such good news to the tens of people that use it.

which are probably the allo developers

i only installed it now (as i always do after an update) to see how it works. i'm the only one with the assistant using it :-)

All 5 of you Allo users must be stoked.

I've actually gotten five people (two of which are iPhone users) to use Allo. Pretty solid app for sending video and group chatting.

Don't use Allo but I do really wish the Signal would add this feature. That and the ability to reply to a specific message in a chat thread.

Why bother? It's safe to say Allo is not very good. Only because literally no one uses it. Most people probably don't even know what it is.

It's true, no one knows what allo is. Everyone I ask tell me so...even those who are listed in allo as users.

I really like All. I use it with my husband
Android Central Newsletter
Get instant access to breaking news, the hottest reviews, great deals and helpful tips
Thank you for signing up to Android Central. You will receive a verification email shortly.
There was a problem. Please refresh the page and try again.