Notification History - the best way to find spammy apps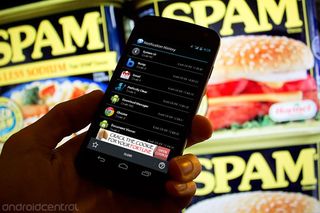 Notification History is a dirt-simple, but extremely useful app for scouring out other apps that are spamming notifications. The simple history list shows which apps have made notifications, how many of them, and offers the ability to drill down into apps to see what those notifications were. Not happy with what you see? There's a shortcut to uninstall the app from there. If you pay up $0.99, you can export the list of notifications.
Style
There's really not much to be said about Notification History's user interface. It's really bare-bones with a single banner ad at the bottom of the free version. Sure, there's something to be said about a spartan layout, but there's so much you could with notification data; generate a pie chart so users can see which apps are the most obnoxious, or color-code apps based on how many notifications they're sending out, with a big red "warning" section at the top. It would also be useful to only track certain kinds of notifications; some of the ones an app sends out are actually useful, but others I'd like to have tracked.
Function
A single tap on any of the items on the list drills down into the notification history where users can view full details of each notification and when it was sent out. Some apps, like the download manager and system UI, are going to leave notifications all the time and aren't really something you're worried about. Luckily, select apps can be put onto an ignore list if you're not worried about tracking them with a long press on any app on the list.
There is one caveat to Notification History that may turn off many privacy-conscious users from bothering with Notification History: it apparently needs access to just about everything you type in order to get the job done. The only thing that it doesn't track is passwords, which for me is enough, but might not be for many people. The developer is also very clear on where to go to turn off that tracking and Notification History's functionality as well.
Functionality can be increased in a number of ways too; how about a home screen widget that offers to uninstall apps that have pushed out too many notifications within a certain time frame? Better yet, with all of the permissions it requires, why not find a way to automatically dismiss specific notifications? How about tracking notifications on other devices as a kind of remote monitoring solution? There are lots of directions an app like this could go in.
Pros
Easy identification and removal of spammy apps
Cons
Requires deep permissions
Dull user interface
Conclusion
Some apps really are obnoxious with notifications, and having an easy way to get them out of the picture is great. However, it might not be worth having an open permission to tracking everything you type in order to do that. The convenience provided by Notification History is quickly undermined by the need to constantly turn permissions on and off.
The app could also use some spiffying up, both in terms of UI and functionality, but if you want to track down the source of fishy notifications, this is a great way to do it.
Get the Android Central Newsletter
Instant access to breaking news, the hottest reviews, great deals and helpful tips.
Simon has been covering mobile since before the first iPhone came out. After producing news articles, podcasts, review videos, and everything in between, he's now helping industry partners get the word about their latest products. Get in touch with him at simon@futurenet.com.