Not everyone wants Android to be 'open'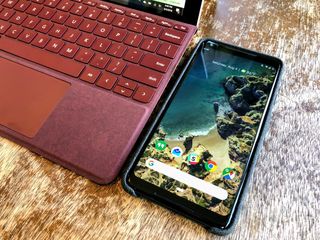 There's a really cool Google I/O moment from a few years back that sticks out in my mind. It was shortly after I published a book on using Android tablets, which it caught the attention of Vic Gundotra. He pulled me aside and thanked me for helping people who weren't super techy learn, and learn to love, Android. That was a big part of the theme that year, making it clear Android was ready for everyone. The language was a direct response to public opinion, due in no small part to the Droid marketing on Verizon. Android was the phone of choice for "power users" instead of people who just wanted a phone — or an iPhone.
At the time, Google was trying to change the perception of Android as a whole. It took a couple of years to pull this off, and along the way, Android gained a reputation for being less open. Building Android from source nowadays looks nothing like the Android you get on a Pixel, because so much had been moved into Play Services in order to guarantee a certain level of experience across the platform. There's no denying Android as a whole is better off now than it was a few years ago, but it's also true Google sacrificed quite a bit of that "open" nature we nerds loved so much to get here.
And, if I'm totally honest, I'm OK with it. Linux Server Admin Russell from ten years ago would slap me for saying it (and goodness only knows what Jerry is going to do to me when he reads this) but I don't really need Android to be open. That's not why I use it these days.
I use it because notifications are excellent, the way apps interoperate with one another is unparalleled, and I enjoy the tight integration of Google's services with the rest of my workflow. I don't really need the platform to be open source to get any of those things. I don't root my phone. I stopped installing custom ROMs. And the overall benefit of this open platform occurs behind closed doors these days.
In fact, there's a reasonable argument to be made that Android is suffering right now from its open nature. The EU decision levied against Google is only happening because manufacturers don't pay for specific license agreements to use the platform.
We have idiots installing custom ROMs on Galaxy Note 7 phones because enough of Android is available for people to make their own fixes to the things Samsung installed to stop people from using the phones. Fortnite is about to be released outside the Play Store by default, and when a bunch of people have infected phones from installing fake versions of the game we're going to see a bunch of articles about how insecure Android is compared to iOS.
In each of these situations, Android is not closed enough to stop these things from being a problem, and it's no longer open enough to make everyone happy. Google has been walking this line for years now, and the consequences of this are starting to really stack up. I'm OK with Google stepping over the line and closing Android. But I know that's an unpopular opinion among many others, and the arguments for why I am wrong are, frankly, sound.
Some other things rattling around in my brain:
Andrew, Hayato, and I are going to be in NYC later this week for the Note 9 launch. There isn't much we don't know at this point, which is fairly standard for a Samsung event at this point. Still, the Note fans have good reason to be excited.
With Fortnite likely only heading to high-performance Android phones, are gaming-focused devices like the Razer Phone and ROG Phone going to start being more popular? Is Fortnite a game that sells phones in the same way games can sell consoles? I don't think it is, but you can bet Razer and ASUS are going to push for it as we move into the Fall.
I've never been more excited for the launch of a new version of Android. I've been using Android Pie from Day One, and have loved every minute of using it. There are so many things it just does for me, and that's going to be an important part of how I use phones moving forward.
It felt weird to get excited about a bike helmet, but that's my life now I guess.
I wrote all of this on the new Surface Go. I've used every Surface to date, Microsoft does a good job with these tablets. But compared to comparably priced Chromebooks in schools? I'm not sure Microsoft is ready to compete yet.
That's it for now, get ready for an exciting week!
-Russell
Sign up for Black Friday email alerts!
Get the hottest deals available in your inbox plus news, reviews, opinion, analysis and more from the Android Central team.