First camera shots from the Nexus 6P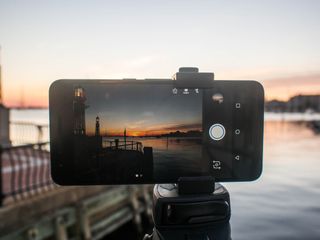 Google really talked up the camera on the Nexus 6P when unveiling its collaborations with LG and Huawei this year, which filled a lot of people with cautious optimism. Nexus phones haven't ever really been known for their cameras, and every company makes it seem like its camera is awesome at a launch event. While those promises haven't always ended in great cameras, this year has been back to back amazing from many different Android manufacturers.
With that in mind, we wandered out into the world to capture some great pictures and video to see what we could get this camera — and its 12.3-megapixel Sony sensor — to do. Full size versions of all photos are available at the bottom of the post.
Full auto on a tripod
Just about any camera can take good picture in perfect lighting on a tripod, but it's the best place to start to get an idea for what the camera on the Nexus 6P is capable of. All of these shots were taken in full auto, meaning Google Camera chose where to focus and no settings were changed.
Image 1 of 3
As you can see, the camera on the Nexus 6P handled these photos with no problem. You can zoom in and see plenty of detail, lots of great color, and HDR happened automatically where it made sense to do so. Everything you'd expect from a decent smartphone camera.
Full auto without a tripod
While there are some people out there concerned that the Nexus 6P lacks hardware-based Optical Image Stabilization, the folks at Google aren't among them. The ability to capture more light with larger pixels is good enough for them, and so the next set of photos are full auto with a single hand holding the phone to see how well that holds up in reality.
Image 1 of 3
The increased size of the Nexus 6P makes it a little unwieldy for taking photos with one hand, but the results are impressive. There's slight blurring in areas of the photo of the flowers in a breeze, but it's still a nice photo. The Heron across the lake was captured with full zoom in the Google Camera app, and we still got quite a bit of detail from the photo. Even in a dimly lit theater, where most smartphone cameras struggle to produce much more than graininess, the Nexus 6P did well. For quick point and shoot times, this camera will do well for most people.
HDR
Capturing a sunrise is often rewarding, but not always easy if you want to grab more than just the colors in the distance. The Nexus 6P demonstrated superior HDR capabilities when capturing a sunrise, especially when to exposing both the foreground and the sunrise.
Image 1 of 2
Each photo taken here was a specific tap to focus photo, with the first being the sun itself and the second being the bricks in the foreground. As you can see, the camera did a great job balancing the exposures and creating a pair of fantastic photos.
Low Light with a tripod
The larger pixels in the Nexus 6P camera are capturing more light, which should mean great low light photos. There are many different kinds of low light photos, but the outdoor photo at night is one of the more common.
Image 1 of 3
The first photo is at night with an outdoor lightbulb about 15 feet behind the camera. The color representation isn't bad, but there's a fair amount of grain and distortion along the lines that make up the figurines. The second photo is with the flash enabled, and as you can see the color representation is much better and there's a lot of detail. The flash isn't too harsh, but on a tripod this quality is largely what you'd expect. The final photo is with almost no light, and as you can see Google Camera opts for capturing available light instead of cranking up the ISO to create artificial grainy light. This isn't necessarily better, but it means there's a lot less noise in your low light photos.
4K Video
As you'd expect from the photos, the Nexus 6P captures 4K video with no problem. Colors are great, motion isn't a problem, and even the audio comes thorough nice and clear.
Slow Motion Video
This is the first Nexus phone to come with the ability to capture 240 frames-per-second slow motion out of the box, and the end result is a lot of fun to look at. The focus is a little off, but the overall motion capture is great.
While we still need to see how this camera stands up against the other Android cameras right now, it's clear this camera is by far the most capable we've seen on a Nexus before. There's not much to criticize here, and it's going to make owning a Nexus this year a whole lot more enjoyable for a lot of people.
Check out our Nexus 5X camera samples for more!
Get the Android Central Newsletter
Instant access to breaking news, the hottest reviews, great deals and helpful tips.