First camera shots from the Nexus 6P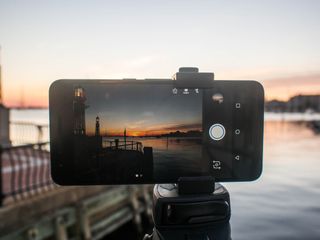 Google really talked up the camera on the Nexus 6P when unveiling its collaborations with LG and Huawei this year, which filled a lot of people with cautious optimism. Nexus phones haven't ever really been known for their cameras, and every company makes it seem like its camera is awesome at a launch event. While those promises haven't always ended in great cameras, this year has been back to back amazing from many different Android manufacturers.
With that in mind, we wandered out into the world to capture some great pictures and video to see what we could get this camera — and its 12.3-megapixel Sony sensor — to do. Full size versions of all photos are available at the bottom of the post.
Full auto on a tripod
Just about any camera can take good picture in perfect lighting on a tripod, but it's the best place to start to get an idea for what the camera on the Nexus 6P is capable of. All of these shots were taken in full auto, meaning Google Camera chose where to focus and no settings were changed.
As you can see, the camera on the Nexus 6P handled these photos with no problem. You can zoom in and see plenty of detail, lots of great color, and HDR happened automatically where it made sense to do so. Everything you'd expect from a decent smartphone camera.
Full auto without a tripod
While there are some people out there concerned that the Nexus 6P lacks hardware-based Optical Image Stabilization, the folks at Google aren't among them. The ability to capture more light with larger pixels is good enough for them, and so the next set of photos are full auto with a single hand holding the phone to see how well that holds up in reality.
The increased size of the Nexus 6P makes it a little unwieldy for taking photos with one hand, but the results are impressive. There's slight blurring in areas of the photo of the flowers in a breeze, but it's still a nice photo. The Heron across the lake was captured with full zoom in the Google Camera app, and we still got quite a bit of detail from the photo. Even in a dimly lit theater, where most smartphone cameras struggle to produce much more than graininess, the Nexus 6P did well. For quick point and shoot times, this camera will do well for most people.
HDR
Capturing a sunrise is often rewarding, but not always easy if you want to grab more than just the colors in the distance. The Nexus 6P demonstrated superior HDR capabilities when capturing a sunrise, especially when to exposing both the foreground and the sunrise.
Each photo taken here was a specific tap to focus photo, with the first being the sun itself and the second being the bricks in the foreground. As you can see, the camera did a great job balancing the exposures and creating a pair of fantastic photos.
Low Light with a tripod
The larger pixels in the Nexus 6P camera are capturing more light, which should mean great low light photos. There are many different kinds of low light photos, but the outdoor photo at night is one of the more common.
The first photo is at night with an outdoor lightbulb about 15 feet behind the camera. The color representation isn't bad, but there's a fair amount of grain and distortion along the lines that make up the figurines. The second photo is with the flash enabled, and as you can see the color representation is much better and there's a lot of detail. The flash isn't too harsh, but on a tripod this quality is largely what you'd expect. The final photo is with almost no light, and as you can see Google Camera opts for capturing available light instead of cranking up the ISO to create artificial grainy light. This isn't necessarily better, but it means there's a lot less noise in your low light photos.
4K Video
As you'd expect from the photos, the Nexus 6P captures 4K video with no problem. Colors are great, motion isn't a problem, and even the audio comes thorough nice and clear.
Slow Motion Video
This is the first Nexus phone to come with the ability to capture 240 frames-per-second slow motion out of the box, and the end result is a lot of fun to look at. The focus is a little off, but the overall motion capture is great.
While we still need to see how this camera stands up against the other Android cameras right now, it's clear this camera is by far the most capable we've seen on a Nexus before. There's not much to criticize here, and it's going to make owning a Nexus this year a whole lot more enjoyable for a lot of people.
Check out our Nexus 5X camera samples for more!
Russell is a Contributing Editor at Android Central. He's a former server admin who has been using Android since the HTC G1, and quite literally wrote the book on Android tablets. You can usually find him chasing the next tech trend, much to the pain of his wallet. Find him on Facebook and Twitter
Getting more excited for my phone to ship. Those look like some nice shots. Posted via the Android Central App

Nice shots, but videos are Private :(

Videos are marked private.

Yeah, apparently YouTube took its sweet time publishing them. Should be live now.

Very nice shots, some even look more clear with better color capture than my Moto X, lets hope this is the start of phone cameras not being the major weak point Posted via the Android Central App
2015 Moto X Pure

The moto x doesn't really have a good camera. Posted via the Android Central App

Yes it does , the best no , above average for a smartphone Posted via Nexus 6 running on any data plan I want

Lol for a Moto at least Posted via the Android Central App From my Blackberry Priv where I am out of toilet paper

For an anything, its in a big tie with lg and samsung for 4th best. It's definitely good now, just not first. Posted via the Android Central App on Nexus 6 Assassin Edition. Android Central Moderator, Gonfaloniere.

I think it's safe to say that a Nexus phone finally has its main Achilles Heel fixed. (The camera) (The 2014 N6's camera wasn't bad but wasn't brilliant either) Those shots look killer and definitely impressive, even more so when you consider their price points.

Let's not go that far yet.. +++ Insert witty signature, watch as others not get it, profit +++

It looks to be perfect for the consumer who carries around a pocket tripod.

I agree. Some people just want to hate on the Nexus devices because they are afraid to change their member name. Posted via the Android Central App

Would you guys compare these phones to the Microsoft Lumia 950 and Lumia 950 XL? 4 great phones coming out not sure where to go. Posted via the Android Central App

I think that'll definitely be done, but I would expect it at windows central rather than Android Central Posted via the Android Central App

The Lumias aren't available yet and have only been seen at the MS launch. Spec wise, the Lumia looks better for camera and storage. It really depends on what you want from a phone and OS. I was a big WP fan for a long time but it is clear that it really isn't going anywhere comparatively speaking. In short, in my view anyway, it looks like WPs will be best suited for enterprise use for the most part.

Do you have the HDR shots in the right order? It is weird that in the first photo the sun is blown out even though that was the focus area for the camera and in the second shot where the foreground was the focus area the sun isn't blown out. Second picture looks great.

"This sure makes it easier to wait for mine", said no one ever! Posted via my Note 4 on Cricket

Not bad. The image processor looks promising. Posted via the Android Central App

The Smartphone camera war is old and tired now, these sample photos look just like every new smartphone camera over the last few years. Really no big deal at all.

What's your point? Posted via my Nexus 6

I agree... As soon as the phone gets into more people hands, people will find something wrong with the camera. It happens every time, no matter what the phone may be.

Plus camera pics are like art, everyone sees something different. Some like natural colors some like them more saturated. I'd say the cameras this year are decent across the board. Hell I'm happy with my N6 camera. I can get some nice shots with it. Posted via Nexus 6 running on any data plan I want

I agree, my Nexus 6 is great with proper lighting. Posted via the Android Central App

What was the point of the video sample? It looks like you took it on a tripod. I think everyone is more interested in what the video would look like while you were walking since this phone is missing OIS and video is where you would miss it the most.

Very nice! Posted via the Android Central App

Now this article really wants me to sell my S6 to the 6P Posted via the Android Central App

6P's camera is not as good as S6, though

Can you please provide a comparison? The 6P beats the Note 5 in one comparison I've seen, so I assume that it will beat the S6 too. But I'm open to see what you have to prove me wrong.

Gahhhhhh! Give me my phone NAO Google! Posted via the Android Central App

I know the pond from that 4K sample. You must live in my same community. Small world!

Man i cant wait to get this phone. Mad at myself for not selling the Note 4 earlier as the 6P is currently unavailable (64GB model) right now. UGH...

The Note 4 Is the gold standard. Posted via the Android Central App

In relation to the slow-mo: What is this magical rotating, almost floating device....and what is it's purpose?

IMO, it seems better than the previous Nexus (well compared to my Nexus5) but it seems the little toy in the slow-mo video is out of focus and a little bit blurry to me. Make me a little worry about capturing moving object on video/picture. Overall still promising though

Great article Russ...Looks good and can't wait for Nexus 6P to be delivered.

Yay! Can't wait for mine to get here!

I really REALLY want to see a head to head comparison between the 6P and the LG V10. Pretty sure I'll still go with the V10 for the swappable battery, IR, and SD Card support, but it would put me at ease if I knew I wasn't sacrificing much on the camera side of things.

But a Nexus...is a Nexus...the v10 isn't going to be the same. Who cares about sd card support when the 6p with a big internal drive (64 or 128) will be the same price or less than a v10 plus a sd card.

I'm sure the V10 is also going to be a kick ass device. Posted via the Android Central App

Same here. Here lies the "2016 Flagship Killer". It got slayed by 2015 flagships like the LG G4 being used to post this.

I thought the idea of having a camera on a phone is that you have something handy when you want to take a picture. If I'm going to carry a tripod with me, I'll get a DSLR for it.

Well... As a G4 owner, I use it a lot for long exposures and guess what, it's a lot easier to alter a steady ground of some sort for a phone. You won't be needing a tripod, just a little bit of creativity. Posted via the Android Central App using my G4

I use a tripod for recording basketball games, but not for things like lakes or sunsets. It does offer more consistency, BUT, what about all the cameras that were slammed for not having OIS? Using a tripod makes OIS a moot point, unless we go back and re-do the videos taken after drinking too much coffee. I'm also amused at the "ability to capture more light with larger pixels is good enough for them" stated in the article. The HTC UltraPixel camera did that, and took better pictures in dark than these, and all anybody did was complain about the resolution. Now that UltraPixels have been pretty much burned at the stake, everyone is looking at low light performance. With a tripod. Posted via the Android Central App

Still rotten as always my dear aren't you. Posted via the Android Central App From my Blackberry Priv where I am out of toilet paper

Yeah. Most people do not carry around tripods. But as Russell said, these tests were done using the tripods since they wanted to compare the 5X and 6P cameras in similar conditions (without any human error). We'll get a much better idea once the reviews are out.

Why take landscape shots with one hand?

Good question. I usually use both hands to hold the phone and my thumb to tap the screen shutter, or a finger on the hardware button. Posted via the Android Central App

I think every Nexus review or camera spotlight I have read on AC has pretty much raved about the latest Nexus camera, and the article always accompanies some pretty good example images. But then people get the phone in their hands and start to take "real life photos" without a tripod, all of a sudden the mediocrity emerges. I love Nexus phones, but even I admit that the camera has always been the weakest part. Engadget already reviews the 6P and concluded that the camera is marginally better than the Motorola Nexus 6 of last year, and not even in the same league as the Note 5. Posted via the Android Central App

What about this direct comparison where the Nexus 6P blows the Note 5 out of the water? http://www.computerworld.com/article/2996017/android/nexus-5x-6p-vs-gala...
I'm still trying to find a direct comparison where the Nexus 6P looses. Let me know if you can point me to one, thanks.

Lol everyone is all hung up on the tripod thing. He was just trying to show the capability of the camera, geez, let it go already. We Know you aren't carrying a tripod around all the time. He was trying to show you go good it CAN be. Either like the photos or not. You people get all butt hurt over literally everything. ... Posted via the Android Central App

Exactly!!!!! Posted via the Android Central App

So, aside from the slow motion and other features not present on the 5X due to processor differences, are the cameras in the 5X and 6P the same? Does much of this review also apply to the 5X's camera? Posted via the Android Central App

So how does it compare to Nexus 6 camera, I mean does the larger pixels really compensate for the lack of OIS in most situations? (without tripods)

The shots are good, the low light doesn't look as good as Samsung or LG's camera phones, though, and that's about the only thing worth looking at since even mid-range phones these days are fantastic in daylight. So I'm leaning towards the Note 5. I've always avoided Nexus because of Google's barebones, pretty "terrible compared to OEM devices" stock software. There's no way I could use Google Camera as my main camera app, and 99% of the camera apps in the Play Store are a pretty bad user experience compared to Samsung and LG's camera software. It also takes Google forever and a year to add features to their software. They're just getting Slow Motion and 4K video capture. That should have been there two years ago on the Nexus 5.

Check the camera comparison of Nexus 6P and Note 5 (http://www.computerworld.com/article/2996017/android/nexus-5x-6p-vs-gala...). I was surprised to see how much better the Nexus 6P was compared to the Note 5. Especially the low light shots.

http://www.gottabemobile.com/2015/10/19/nexus-6p-vs-galaxy-note-5-camera... Seems like Nexus 6p is slightly better with more detail...and better at low light but has a greenish tint in some pics where Note 5 seemed natural...but Note 5 dominates in video comparisons....https://youtu.be/kTp51-uKa1I Posted via the Android Central App

Question to the author: Is there a setting to record 1080p 60 fps smooth video - not slow motion? The camera hardware is capable, but I'm concerned that it seems that Google didn't add the option to the camera app. Please confirm, thanks!

True. Most people would say it's shot with a camera or a DSLR but I have the Nexus 6P and it is exactly like this.

here is something better
HDRlog, a young innovative company is proud to announce the release of HDRinstant 2.0.
The software allows professional and amateur photographers to extract stills from video clips and turn them into high quality photos, even if the moving scene is shot in bad lightning conditions.
HDRinstant makes it easy to capture the famous "decisive moment" which is, according to Cartier Bresson, the mark of great photography. This new technique together with 4K video, is called "Lucky Imaging".
HDRinstant has been developed to help professional and hobbyist photographers/videographers in all types of scenes. For instance the software particularly improves the shooting for aerial, wildlife and wedding photography. In addition to working with video clips, HDRinstant also works with series of camera images shot in high-speed burst mode.
The software is from now on a Freemium model, with three different versions.
The free version allows extracting images from a video, computes sharpness, and applies a tone mapping algorithm. The Light version adds new functions to improve image quality, such as good exposure, color rendering, sharpness, and offers 3 different tone mappings using more presets. The Professional version gives access to HDR image creation. This High Dynamic Range imaging patented algorithm uses the neighboring frames of the favorite image to get the best from the video footage.
The software features some new items:
Improved design and ergonomics Reduced computational time More tone mapping algorithms
HDRinstant is a standalone for Windows and Mac. A single user-license for the Light version costs $25(US) and the Professional version costs $89(US). Currently, the Professional version is available at special introductory price of $49(US) until December the 31st, 2015.
For more information, or to download the trial, visit http://hdrinstant.com
The press kit, containing all press materials like photos, is available at http://hdrinstant.com/pr-dec15
About us: HDRinstant software is developed by HDRlog sarl. CEO doctor Jacques Joffre is an experienced photographer and co-founder of Photomatix Software.

Unfortunately what most reviewers have missed is the fact that exposure compensation is broken on the Nexus 6P. So if you have any favorite HDR apps that combine multiple exposures, they will not work on this phone. This issue has been open for 5 months at low priority with no fix in sight. (Android Issue 196815 - commenting system won't allow me to post a link)
Android Central Newsletter
Get the best of Android Central in in your inbox, every day!
Thank you for signing up to Android Central. You will receive a verification email shortly.
There was a problem. Please refresh the page and try again.