Twitter's Android app is now nearly unusable: Try these instead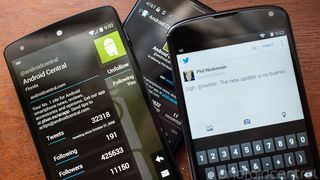 Tired of ever-changing layouts and the important features not being where you want them? Try these Twitter Android alternatives.
Twitter's been experimenting on us, its users, for some time now with its official Android app. But the latest update might just have sealed the deal for many. We don't necessarily want to call it an abomination, but pretty clearly Twitter's all about expanding your timelines — thus the moving of the "discover" and "activity" tabs front and center — rather than showing you the information that you want, when you want it, where you want it.
It's kind of a mess, and it only appears to have gotten worse over time.
So now's a good time to take a look at a few of our favorite alternatives.
Plume
Plume is another one of those Android apps that has been around forever — and for good reason. It's a damn fine Twitter app. And like the others in our list, it's got what you want in the places you want it. Your timeline is simple, with you incoming feed, mentions and DMs in a simple, thumbable spinner. You can mute tweets, reorder the columns and have full control over your notifications.
Plume itself is free but is ad-supported. There's a $4.99 "premium" unlock key that gets rid of all that.
Download: Plume (free); Plume Premium Key ( $4.99)
Tweedle
Tweedle is a minimalist Android app that's fast, customizable and fits in with Google's broader design language. Tweets — and replies, website previews and videos if you drill down — are arranged in a card-like layout, and the three (or more) main tabs are customizable through the Settings menu. In fact, there's a lot to tweak here if you want, including the app's appearance through skins, filter lists and inline previews. The out-of-box experience is also remarkably clutter-free, in a way that many other clients aren't.
There's a free ad-supported version of Tweedle, with an in-app purchase (£0.92 in the UK) to disable ads.
Download: Tweedle (free)
Carbon for Twitter (update: Now out of token)
Sadly, Carbon has run out of new tokens to distribute. Thanks, Twitter. :-/
Carbon had sort of a long slog to release on Android, but it's still here — and it looks like it'll actually make it to Version 2.x. It's one of the best-designed Twitter apps out there that's not hampered by token limits. And what's more is that it didn't sacrifice function for form — you'll find as many features in Carbon as just about any other Twitter app.
Download: Carbon for Twitter (free)
Hootsuite
HootSuite is a client (and web suite) for managing Twitter and Facebook accounts. It's mainly targeted at people who manage multiple social accounts on mobile devices, so in addition to the usual array of features you get stats for your various accounts, the ability to post to multiple places directly, and a top-level menu to view all your streams.
The HootSuite app is free, but to get unlimited social networks, an ad-free experience and more push notifications you'll need to upgrade to HootSuite Pro for $9.99 per month.
Download: Hootsuite (free)
Falcon Pro
We have to hesitate just a tad when recommending Falcon Pro, because it's not actually available in Google Play anymore after running headfirst into Twitter's annoying token limits. But it's still one hell of a Twitter app, and easily among the top Android clients. The catch — and it's a big one — is that you'll have to already have a Falcon token to be able to use it, or do a little kung fu to get around that. Be sure to swing by the Falcon Pro beta community on Google+, as well.
Download: Falcon Pro (free)
Those are but five of our favorites. Here are some other Twitter apps you should try:
Get the Android Central Newsletter
Instant access to breaking news, the hottest reviews, great deals and helpful tips.