New texting scam disguises itself as a FedEx tracking notification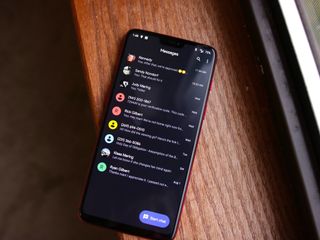 (Image credit: Android Central)
What you need to know
A new scam is sending messages disguised as FedEx tracking notifications.
The text will include a link that takes you to a fake Amazon page offering a "free" reward for taking a survey.
It will ask for your credit card info to pay for shipping and automatically sign you up to receive a product each month and charge you $98.95.
There's always a new scam to look out for, and like most of them these days, it comes in through your phone. Whether it's an email, a robocall, or a text, there are plenty of ways for dishonest people to try to trick you out of your hard-earned money.
One of the latest involves a text which appears to be from FedEx asking you to "set delivery preferences" for a package you have coming. Now, in this day and age, we get packages so frequently it can be hard to keep track of when your last order is expected to arrive. It's entirely possible to assume the text is about a recent legitimate purchase and to have the immediate impulse to open the link.
However, you should fight every urge to do so. Any time you receive an email or a text including a link, you should be suspicious of clicking it. This recent article from How-to Geek is the perfect example of why you should always think before you click.
It starts with a seemingly harmless shipping text like the one mentioned above from FedEx. However, once you click the link you are taken to a fake Amazon page offering you a reward for taking a survey. That should be your first clue something is wrong because it didn't take you to a tracking page for FedEx and the URL, of course, doesn't read Amazon.com.
Next, it gives you a choice of "free" rewards to choose from, but here's the catch, you're going to have to pay shipping which involves entering your credit card info. Not only are you handing over your credit card info, but hidden in the fine print it says you're agreeing to sign up for a 14-day free trial. Once the trial ends, the charges begin, and you'll be charged $98.95 every month for a new supply of that "free" reward you chose.
This is just a friendly reminder to always stay hyper-vigilant when receiving an email or text with a link. If possible, avoid clicking links and go to the website yourself to check the tracking or other info, and always block the number or email if the message is clearly spam or a scam.
Porch pirates are the best reason to buy an outdoor security camera
Be an expert in 5 minutes
Get the latest news from Android Central, your trusted companion in the world of Android