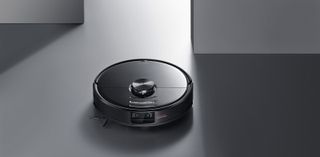 (Image credit: Roborock)
Roborock's latest robot vacuum, the Roborock S6 MaxV, is the most impressive robot vacuum the company has ever made. But, unlike some previous iterations, the S6 MaxV didn't only build upon past lineage with greater power and efficiency but also offers up something completely new: AI-powered vision.
Inside of the Roborock S6 MaxV, a Qualcomm® APQ8053 processor chip upgrades the processing power and intelligence of the vacuum. Roborock has combined that upgrade with a dual-camera system for obstacle recognition and avoidance. With Qualcomm's AI processing and dual cameras capable of binocular vision working alongside a LIDAR sensor, the Roborock S6 MaxV is more capable of navigating around a house than any previous robot vacuum.
Smart cleaning

The Roborock S6 MaxV boasts advanced obstruction detection that detects pet waste, power strips, pedestals, and more. With this advanced object detection, the Roborock S6 MaxV can deploy its high-powered mopping system in homes up to 2,150 square feet.
The AI and dual-cameras allow the Roborock S6 MaxV to not only intelligently navigate but also to avoid obstacles that can cause trouble for other robot vacuums. The Roborock S6 MaxV can spot obstacles as small as 2 inches wide and 1.1 inches tall. So, if children's toys or a pet's mess is blocking the way, the Roborock S6 MaxV has a much better chance of not getting tripped up, as other robot vacuums tend to do.
Avoiding an obstacle is one thing, but the Roborock S6 MaxV takes it even further. In the app, the Roborock S6 MaxV shows you everywhere it has cleaned and tags the locations of obstacles, even going as far as labeling any that it could identify.
The Roborock S6 MaxV can learn the layout of your house and has the intelligence to be able to automatically identify individual rooms. Impressively enough, it's even able to understand different flooring levels of your home and map them separately. You can even set different no-go or no-mop zones on each and every level of your home, and the Roborock S6 MaxV will automatically recognize each level without any user intervention.
When it comes to the cleaning itself, the Roborock S6 MaxV has another considerable upgrade in store. This model has a 25% increase in power when compared to 2019's Roborock S6, and now offers a maximum suction of 2,500Pa. But, when you want to keep the noise down, the Roborock S6 MaxV can clean at a low 58dB in quiet mode.
If you need to do a deeper clean on hard floors, there's a 290ml water tank to add some mopping into the mix. That's the same extra-large mopping tank from the Roborock S5 Max. It even applies constant pressure to the floor for a consistent clean, so you don't have to worry about the tank being full just so it can push down on the floor.
The Roborock S6 MaxV's 5,200mAh battery lets it clean for up to 3 hours at a time. But, if there's still more cleaning to be done, Roborock's Smart Top-Up feature is there to help. This will let the vacuum head back to its charger for a quick recharge to get just enough power to finish cleaning. Since the vacuum already knows your floorplan and how long it takes, it will only charge up to what's needed to finish cleaning, cutting down on the cleaning time significantly when compared to many other robot vacuums.
This all makes the Roborock S6 MaxV quite a buy, which retails for a surprisingly competitive $749. You can find out more here.
Be an expert in 5 minutes
Get the latest news from Android Central, your trusted companion in the world of Android