New Netflix app runs just fine on Honeycomb tablets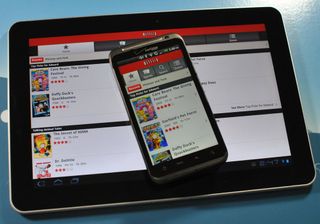 Youtube link for mobile viewing
When Lenovo announced the IdeaPad Tablet K1 as the first (and only) Honeycomb tablet to run Netflix, well, you know that just wouldn't stand. Turns out the update that gave as slew of new phones access to streaming movies also indirectly opens it up for other Honeycomb tablets as well. We've got it running just fine on the Galaxy Tab 10.1.
This is the stock Netflix app, pulled from one phone and installed on the tablet. No hackery was involved -- we've never been crazy about people cracking open someone else's app in the first place. But this is pretty much fair game, and we're going to spend the rest of the afternoon watching Phineas and Ferb, or whatever else our preschool-age daughter has polluted our Netflix recommendations with.
via Droid-Life
love phineas and ferb. great show.

Does not work on transformer get same error as before

http://forum.xda-developers.com/showthread.php?t=1178773
Transformer fix here. Root required.

it works on mine bro. but im completely stock, no root

It does not work on the transformer.

Did you install the new APK?

Yes cant find anyone with a transformer that has it working or the acer

after ue second updated post I pulled my apk and installed on my xoom and um zooming along with Batman

Fact is that the app has always worked for A LOT more devices than the app description has stated. Even back when the app was very first released, there was a version floating around within a few days that disabled the line of code that checks which device you are on to see if it is one that is supported. For the life of me, I don't understand why Netflix isn't opening this up for *ALL* phones running *ALL* versions of Android. It seems like it would be good business sense to get your product out to everyone possible instead of limiting it for unknown reasons.

Check out the android market through the browser, and continue through the browser after searching "netflix"... They are showing the ASUS Transformer and Toshiba Thrive. Although still greyed out, I can tell you that they were not there a couple of hours ago. Maybe some honeycomb netflix tablet love is finally here!. I took this video, see for yourself:
http://www.youtube.com/watch?v=xP3dW8xG3BI

Very cool on the Samsung 10.1

How in the world did you get it to install? It still says it's incompatible via Android Market :(

i backed up my new updated version from today, and titanium backup'd it. then just copied the .gz file and uncompressed it to see the apk then just installed it on my tab. works like a charm!!!!!!!

Thanks rub2008. Got it working on GTab 10.1 as well :)

I did it even easier. I have netflix on my phone already with the latest version so I just used my file manager to make a copy of the apk in my downloads folder (the apk is under /data/apps). Then I simply emailed the APK to myself. Then I downloaded it from my email on my tablet, installed and boom. 2 minutes of work and it works flawlessly. LG G-Slate running HC 3.0 running netflix with no fuss or hiccups.

works on my galaxy tab 10.1 http://static.droidnetwork.net/wicked/files/com.netflix.mediaclient_246.apk

used this link for my 3.1 XOOM, works great, thx It downloaded automaticly, and installed when I clicked on the completed download. Thx for posting the link. It also worked for my 2.3.3 Droid X, works great.

Thanks PGiovanni for to link. It works flawlessly on my 10.1.

Works great on my Galaxy Tab 10.1. Thanks!

Works perfectly on my transformer. Thanks!

Where can I grab the apk? Or at least a guide for extracting it myself?

To extract an APK for yourself:
Install ASTRO File Manager.
Install Netflix.
Use ASTRO to "back up" Netflix. (It won't be a backup in the same sense as a backup made by Titanium Backup, but rather just the APK backed up to your SD card.) Boom. You have the Netflix APK on your SD card. Sideload it onto your tablet from there.

Thank you very much for that information!

Thanks a lot! Works like a charm on my 10.1!

Perfect. Thanks for the quick steps. Works fine on my GTab with CyanogenMod7.

Works fine on unrooted XOOM wifi with 3.2.

How did you get it on your XOOM..... I can not find the app Thanks

It still displays as incompatible with my GTab 10.1 in the Android Market :(

It was same for me with Xoom, get apk file in Xoom forum. Download and install! Then Enjoy!

Netflix works now on the samsung vibrant. Installed old versions, cleared cache and installed. Froyo not gingerbread

Worked perfectly! I went into astro on my evo and emailed the apk to myself. I then opened it up on my xoom then viola! Netflix on my xoom. I was going to cancel next month but now im staying.

Works great on my Viewsonic G-Tablet rooted running Vegan Ginger.

Just did the same. +1 for easy to install and working on VeganTab Gingerbread!

Someone posted apk in Xoom forum, I got it there and worked great on my Xoom! I even called my 12 year old to try it on her NC running CM7 and it worked great for her too! Great day!

Downloaded Netflix using my Vibrant, copied the APK to my GalaxyTab 10.1 and it works great streaming movies!

This is Great News! i have the updated 1.3.0 build 246 working on my Galaxy Tab 10.1 I hope this does not turn out to be the same as before where Netflix opens it for a while then they close down the services to non supported devices... but till then i will be streaming some Netflix on my ride home today....

We need Dr. D to invent the, MAKENETFLIXWORKONMYTABLETANATOR!

Works on my transformer. YEAH!

How? Doesnt work for me on my stock 3.1

Got it loaded on my Transformer and it opens, but when I select something from my instant queue, it gives me this error message: "Sorry we could not reach the Netflix service. Please try again later. If the problem persists please visit the Netflix website (12001)." Get through just fine on my EVO 4G, but the Transformers keeps giving me this message.

I got the same result on my Acer Iconia tablet.

Same on my transformer. Any fix yet?

Glad it works on the xoom

Confirmed, this is now working (YES STREAMING) on my Xoom wifi AND my myTouch 3g slide. looking good....

Working on stock wifi Xoom... incoming 85 episodes of Robotech: Macross Saga. woot!

Comfirmed! Working on my stock 3.2 Xoom. :) Just in time for Netflix to double their rates and my dropping streaming :(

Confirmed working on the flyer! Apk on xda flyer forums under themes and apps!

works on dell streak 7 but running froyo

Works like a champ on my Motorola Xoom!!!

Up on 10.1. Looks real nice!

works on my droid charge but its a nogo on my transformer

Full HDMI out on My Motorola Xoom!!! perfect for those times when you are in a hotel with one of those new HD TVS , and now or to the big TV at home

Downloaded update on Acer Iconic, but won't work.

what better to watch than phineas and ferb! yup, i'm a grown man and i love that show...

what better to watch than phineas and ferb! yup, i'm a grown man and i love that show...

Works on Samsung Fascinate too! Just played part of a movie to try it out!!

I have a rooted 10.1 , its not working. Only says the page times out. It works on my co-worker's 10.1 just fine.

Works great on LG G-Slate. Watching some Toy Story 3 right now..
Android Central Newsletter
Get the best of Android Central in in your inbox, every day!
Thank you for signing up to Android Central. You will receive a verification email shortly.
There was a problem. Please refresh the page and try again.