New Moss content is coming to the Oculus Quest at launch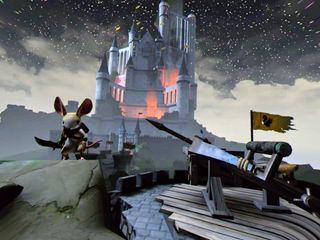 Polyarc, the makers of the critically acclaimed VR game Moss have announced new content will soon be available. On May 21 2019, to coincide with the launch of the Oculus Quest, Polyarc will be releasing a free update to Moss which includes new puzzles, quests, and even armor.
"The Quest is a game changer for the VR industry, " says Josh Stiksma, Lead Designer at Polyarc. "Now you can explore the whimsical fairytale from home or on the go as you travel, commute, and visit friends or family."
It seems the technology behind the Quest made adding content to Moss appealing, and I hope it uses the freedom that the Quest gives you to the fullest effect. After all, with the Oculus Quest, you could walk all the way around Quill.
The Twilight Garden
The Twilight Garden is the new area that is opening up in Moss. While it seems the update isn't as full as the upcoming Book 2 it does contain all new storylines, new puzzles, new environments — if you have never played Moss before, the environments are something very special — and even new armor!
The armor sets don't just work in the Garden either, you can take them with you throughout the game which makes it even more awesome. There also appears to be multiple sets, not just one, so you should be able to customize your Mouse companions look in a way that wasn't possible before.
Is this Book 2?
Unfortunately, no. Polyarc made it clear that this is new content for the first game and not a continuation or sequel. What that does mean is that there is even more content coming from Polyarc for Moss and we should all buy the original game, play this new DLC and generally sing the praises of this marvelous game so they will continue to give us even more content.
Is it Oculus Quest-exclusive forever?
Never fear, The DLC for Moss will be available on all other platforms in June, so you won't have long to wait if you already own it. If you are looking to pre-order the Oculus Quest I would buy Moss as well, so you can play on launch day.
Get ready for the DLC
You are going two things to get the DLC on May 21. An Oculus Quest and the game, Moss. Here's the best place to grab both:
Oculus Quest (opens in new tab) ($400 at Amazon)
Place your order for an Oculus Quest, the latest VR headset from Oculus. It's the most powerful standalone headset Oculus has made and has an impressive library of games already.
Moss (opens in new tab) ($30 at the Oculus Store)
With over 80 industry awards, the VR hit Moss is a beautiful adventure that you owe to yourself. You will fall in love with Quill, your partner, and the bravest mouse that ever lived.
Android Central Newsletter
Get instant access to breaking news, the hottest reviews, great deals and helpful tips
Since the days of the HTC Hero James has had two or three Android phones stuffed into pockets. James is always on hand to offer advice on phones, apps and most recently, PlayStation, especially VR, It's now something of an obsession. Find him @keridel wherever Media Socials itself.
Android Central Newsletter
Get instant access to breaking news, the hottest reviews, great deals and helpful tips
Thank you for signing up to Android Central. You will receive a verification email shortly.
There was a problem. Please refresh the page and try again.