Never wonder about who you're listening to with Shazam on Android Wear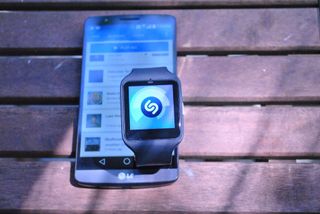 Ever had that moment when you hear a song but can't for the life of you remember who sings it, or what it's called? Yes, you could grab a hunk of lyrics and look it up on Google, but you could also go ahead and use an app made for just that. Shazam, the music recognizing app has been around for some time now, but you might not know that it works with Android Wear So check it out, and see what you've been missing.
Shazam works with your smartwatch in much the same way it works with your phone. Open the app with a tap, or by saying "Ok Google, open Shazam" and it will automatically begin to detect for audio being played. Once it has recognized your audio, you'll get a screen with the Artist, Song name, and Album artwork. Popular or well known music also has lyrics available, if you swipe over. They even scroll along with the song, karaoke style. In the rare instance that it's unable to recognize what is being played you'll get a message asking you to try again.
It doesn't stop at just music either. Shazam will also detect movies and television programs you have playing. The catalog isn't quite so large as their music is, but it's still quite impressive. It caught onto Last Week Tonight with John Oliver, but not Pentagon Wars with Cary Elwes and Kelsey Grammer. If you open up the main app on your phone you'll even find a list of all the audio Shazam has identified for you, along with relevant links to purchase them on the Google Play Store.
There are plenty of times, and ways to use Shazam. Especially when you consider how easy it is to open and use. Whether that means schooling your friends when they try to belt out some questionable lyric, finding new bands after capturing their info at live events, or making sure you have the info on that fantastic new tune you heard while driving to work, Shazam has you covered. Their catalog of media is definitely impressive, though certainly not all encompassing it definitely gets the job done. Using the app on Android Wear, you can easily see why Shazam is such a popular app already.
Shazam for Android Wear makes sure you'll never be left wondering who it is that you're listening to on the radio, and that is a very good thing. It makes grabbing new music easy, along with discovering more music from the same artists. If you're always trying to jot down another artists, or song name then this is definitely an app to check out. Especially since it gives you links to the Play store from your phone. Do you use Shazam, or is there a music recognizing app that does it better? Sound off in the comments!
Jen is a staff writer who spends her time researching the products you didn't know you needed. She's also a fantasy novelist and has a serious Civ VI addiction. You can follow her on Twitter.
Pertinent article... in 2005.

I wasn't aware that Android Wear had been around since '05... Posted via the Android Central App

Touché... can't wait for the article that explains how I can now use a calculator on my wrist, instead of on my phone... and telling time with a smartwatch as well.

I don't have a smartwatch. I don't use Shazam, but I use Viggle and SoundHound. Viggle is my favorite, since it recognises music and TV shows. Viggle also gives points for checking in for songs and shows and extra points for watching ads. The points can be used to purchase items such as songs. Posted via the Android Central App

Great to see this being launched. I've been wanting to be able to shamzam songs with my moto 360 since getting it Posted via the Android Central App

Yeah, I was pleasantly surprised at how well it worked from my Sony Smartwatch 3. I hope it's everything you've been waiting for!

Android Central you guys should do a comparison showdown between the Shazam and Sound Hound app. I use Shazam a lot so I didn't want to use two apps that are very similar but with vehicles now a days being integrated with phones and whatnot, I've seen Sound Hound on more vehicles now. I think Shazam is not even on a "smart vehicle" so I was wondering why car manufacturers go with the Sound Hound app over the Shazam one. I would love to hear what are your guys thoughts. Thanks. Posted via the Android Central App

I listen to a lot of pop, dance, and remixes and Shazam has always been on point for me, even with the mix names. Posted via the Android Central App

Its built into Google Now. Nobody needs this bloatware installed any more.

I've found GN sub par for identifying music. Can't beat Shazam or Soundhound Posted via the Android Central App

Except it's not on Android Wear. When you ask your watch "what's this song?" you only get search results. Posted via the Android Central App

SoundHound is much better than Shazam. At leasr in SoundHound u can hum the song in the app if u don't remember the lyrics and it will still find the sound for you. And that's really great Posted via the ONE M9

This was more advertisement than article. AC seems to be going that way more and more these days. Curious to know if they were paid to write this.

Hmmm...doesn't work for me..."Ok Google...Open Shazam" just gives me a message telling me to open Shazam on my phone. (Azus Zenwatch/5.11 & Galaxy S4 5.01)
Android Central Newsletter
Get the best of Android Central in in your inbox, every day!
Thank you for signing up to Android Central. You will receive a verification email shortly.
There was a problem. Please refresh the page and try again.