Netflix expands to 130 new countries, including India, Russia and South Korea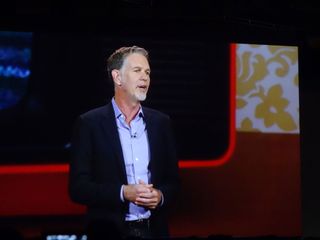 Netflix is now available nearly everywhere in the world, with one big exception. Company CEO Reed Hastings revealed during his CES 2016 keynote speech that the streaming video service has gone live in 130 new countries, including India, Russia and South Korea.
Hastings noted that Netflix is still not available in China, but he stated the company is working to add that country to the list in the near future. LG has announced a partnership with Netflix to help offer prepaid access to the service in many of its new markets.
Press release:
Netflix Is Now Available Around the World
World's Leading Internet TV Service Now Live in More than 190 Countries
Las Vegas, January 6, 2016 -- Netflix launched its service globally, simultaneously bringing its Internet TV network to more than 130 new countries around the world. The company made the announcement -- and the service went live -- during a keynote by Co-founder and Chief Executive Reed Hastings at CES 2016.
"Today you are witnessing the birth of a new global Internet TV network," said Hastings. "With this launch, consumers around the world -- from Singapore to St. Petersburg, from San Francisco to Sao Paulo -- will be able to enjoy TV shows and movies simultaneously -- no more waiting. With the help of the Internet, we are putting power in consumers' hands to watch whenever, wherever and on whatever device."
For one monthly price, members around the world will be able to enjoy Netflix original series including Marvel's Daredevil and Marvel's Jessica Jones, Narcos, Sense8, Grace and Frankie, and Marco Polo, as well as a catalog of licensed TV shows and movies. In 2016, the company plans to release 31 new and returning original series, two dozen original feature films and documentaries, a wide range of stand-up comedy specials and 30 original kids series -- available at the same time to members everywhere.
While largely available in English in most new countries, Netflix today added Arabic, Korean, Simplified and Traditional Chinese to the 17 languages it already supports.
"From today onwards, we will listen and we will learn, gradually adding more languages, more content and more ways for people to engage with Netflix," said Hastings. "We're looking forward to bringing great stories from all over the world to people all over the world."
Netflix will not yet be available in China, though the company continues to explore options for providing the service. It also won't be available in Crimea, North Korea and Syria due to U.S. government restrictions on American companies.
Since Netflix launched its streaming service in 2007, the service has expanded globally, first to Canada, then to Latin America, Europe, Australia, New Zealand and Japan to include 60 countries.
I'm happy for everyone who'll get Netflix where they live, but I'm guessing the Philippines will be left out. Or maybe not, can anyone tell me please?

Go to Netflix website if you want to find out. If they are available in your country, they'd redirect you to the country specific site along with pricing in local currency :)

I have a copy of the Android app lying around, sideloaded it, and it finally ran. Said I'd have to pay 370PHP (8-ish USD.) Thank you, mate.

Netflix just went global and the best thing about that is that you can unblock all these different Netflix regions using this guide https://thevpn.guru/netflix-proxy-region-how-to-change-dns-vpn and thus get access to the complete Netflix movie library.

I guess Philippines wasn't left out! They expanded to 130 new countries and according to the reports, the regions that were left out were China due to governmental issues and other countries such as Crimea, North Korea, and Syria due to US government's restrictions on American companies. In any case, I believe that the content library won't be as illustrious as other Netflix regions (such as in USA). However, check this blog out, it has gathered users reaction over Netflix's regional expansion brilliantly: http://www.bestvpnprovider.com/netflix-expands-to-130-new-countries/

Wish they'd improve their content here though. It's really been lacking! Sure, expand to other regions... but don't forget about the ones that already have it! Can't believe there are more new A-Movies in Netflix Mexico or Netflix Canada than on Netflix US! VPNs in Mexico for US Netflix used to be popular; now US users are better off using a VPN to Mexico's site!

I was watching a movie in Mexico with my account from US, it was an American movie in English but I didn't finish it and when I came back to USA the movie wasn't available here... different catalogs I guess :(

VERY different catalogs, and that's my point. Netflix, at least in the US, has been more preoccupied with filling the service with TV Shows and crappy B-movies it has left out what made the service what it once was: MOVIES. Sure, licensing deals have played a strong role in the US (Disney with Starz, Epix with Hulu/Amazon, etc.) but still, they should pay more attention. Like you, I was amazed at how many newer films were available in Mexico's catalog and weren't in the US. It used to be the other way around a couple of years ago. Now I keep Hola Unblocker handy because, quite frankly, current Netflix US catalog doesn't leave much to watch anymore.

I STRONGLY recommend you to stop using Hola. When using Hola Unblocker you turn your PC into a drone and they will use your PC to send traffic from OTHER people through your connection. And worst, if you are not paying for the service then you will be an EXIT node, meaning you will be the one that can be identified, so if people are using the Hola network to send malicious things you will be the one facing the problems.

No issues with their content, but they've totally borked every single app they maintain (and their web interface). And they refuse to listen to customer requests and complaints...if one is lucky enough to actually get someone there who'll actually listen. From my point of view they've really gone down hill...be interesting to see how they do in the new countries.

so can I use my account in any of these countries? or only in the USA. N5x on Fi Network here

Yup, your Netflix account works anywhere they have service (something they do have over Hulu or other services). BUT depending on where you are, you get the content of that region, not where the one from your account's 'home' region (for instance, an US account will work in Mexico but with Mexico's library and a Mexico account will work in the US but with the US catalog). If Netflix doesn't have service in the region you're in, then you won't be able to access it in said region.

How to change region or would you need a VPN or something but I'll just Google that and check out Hola Posted via the Android Central App on my Frost Nexus 6P

Yup, basically it's geo-fenced. If the system detects that your IP is in a supported country, that's the catalog it shows you. Using VPNs (Hola works, but it's not perfect...actually, most of the time it doesn't work right away, but it's free, and most VPNs aren't) you can mask your IP and make the service think you're in a different country. Thus, you can be in the US and be looking at Mexico's or Canada's catalog (Canada will get Star Wars: The Force Awakens I think next year. Yes, on Netflix. And Mexico has the first film there, too. )

What about North Korea? I heard they are the bomb. Posted via Nexus 6 running on any data plan I want

It's not available in the Phillipines... There's way more than 190 country in the world... False advertising. Posted via the Android Central App

Nowhere does it say that the world only has 190 countries. It says that now Netflix is supported in over 190 countries. Period. Sad that the one you're looking for isn't on the list yet, though :(

It IS available here. I can download and access the app from my phone here with no errors and such. Posted via the Android Central App

Now in more countries in Africa, which in itself is a good thing. The more interesting part would be how many subscribers they get from these countries considering the problems of exorbitant costs and struggling network quality of broadband internet on the continent. Unlimited data (and even capped data sometimes) is way too expensive or mostly nonexistent over here... Posted via the Android Central App

Something that I want to share is that the best Quality video from Netflix in a computer is offered only using Internet Explorer or Safari on a Mac.
Also on Windows10 using Edge or the Netflix App. I know that suxs but those are the requirements from Netflix to watch True-HD content in a computer. Firefox, Chrome or others offers only 720p with a bit rate lower than 3000, if you have a good internet service and a big screen use IE for better quality, the bitrate is above 5800 and the resolution is True-HD 1080p When a movie starts you can test your connection and supported bitrate on your browser with the following commands: Ctrl+Alt+Shift+D
Ctrl+Alt+Shift+S Even if there are some 4K movies and series available in their catalog, it is not possible to get 4K content from Netflix in a computer, only in selected devices (some streming boxes and smar tv's).

Thanks for the article. Although this is great news, the new Netflix regions will lack content compared to the US Netflix. If you want to get a good value for your money, you can use services like Unotelly and access all regions of Netflix. You get about 1000% more content with a minimum cost.
Android Central Newsletter
Thank you for signing up to Android Central. You will receive a verification email shortly.
There was a problem. Please refresh the page and try again.