MrMobile on the LG V40: Five reasons to buy it – and 900 to hold off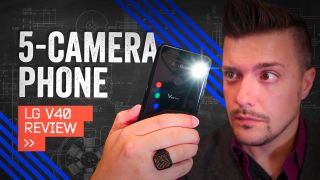 On paper, the LG V40 is the phone I've always wanted LG to make. Standard, ultrawide and telephoto cameras on the back plus narrow- and wide-angle options up front makes for a penta-camera powerhouse that seemed predestined for my pocket. But then two things happened: I used the phone in the real world for a week ... and LG released its official pricing. When I factor in my own inconsistent experience with the spectre of spending $900 on the LG V40, I come away with the conclusion that most folks should wait until the inevitable price drop before pulling the trigger on this one.
I say "most folks" because there is one exception: if you're a devoted mobile videographer with a real need for the versatility only five cameras can provide, you should take advantage of LG's pre-order deal, which will net you a DJI Osmo Mobile 2 gimbal and a 256GB MicroSD – a combined value of over $250. That's a fantastic deal and it makes all the sense in the world for the vloggers that LG is targeting with the V40.
Hit up my 7-day review in the video above, and if you're looking for a different take, check out Andrew Martonik's slightly more forgiving V40 review right here on Android Central!
Stay social, my friends
Get the Android Central Newsletter
Instant access to breaking news, the hottest reviews, great deals and helpful tips.
The fact that I'm not persuaded to trade in my S8 for this device (which was planned) kinda makes me sad. I used to love LG.

Overpriced again. This is a $750 device. The G7 ThinQ should have been a $600 device.

The LG V40 is a $700 device.

Why all the negativity towards LG? I can't stand it.

When you have a stand out feature like the quad DAC coupled with those cameras, yet you pack a 3300 mAh battery to power it and that big ass screen, AND have the nerve to ask for $900+ for it, LG deserves the criticism. I don't care how good the battery optimization is. Not to mention the fact that the software, which isn't even updated to the latest, is in serious need of an overhaul. Yeah, they deserve all the crap.

I agree. I'm going with the AT&T next plan for 30 months. What is wrong with the haters?

LG brings all this negatively on themselves. They have the money and resources to make a better phone but always missing something. Ever notice they are never the best in class at anything especially the photo image quality. If Google, who NEXUS phones had garbage cameras can improve, what's stopping LG from improving? I'm saying this as a LG V20 owner. I want LG to win but they shoot themselves in the foot almost every time.

I'll be grabbing the 6T instead, unfortunately I lost interest after hearing the price, just decent camera performance, mediocre battery size, and lack of the Blue or Red option openly available. Maybe in Jan when the S10 comes out and this is $600 I'll possibly grab it as a spare device. If the S10 ends up being that good it'll replace the 6T as my daily driver.

This is an LG phone. 980.00+ tax thru Verizon, wow it's just too much!

I think there is a $200 rebate (via monthly bill credit) if you buy from Verizon.

There's $350 rebate when trading in an eligible phone from AT&T

I'm not buying one but I don't think it's priced too high based on all the other phones out in this category

Here's the main issue, 5 mediocre cameras still equals net mediocrity...

All those cameras.....still not better than the Pixel 2's two....smh.