Mojang gives a first video look at Minecraft for the Xperia Play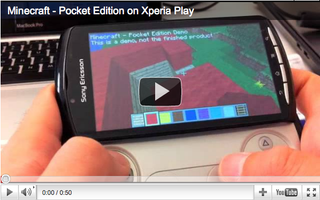 Just the other day it was confirmed Mojang studios would be bringing its mobile version of Minecraft exclusively to the Xperia Play. Now, they've gone ahead an unleashed just a small taste of what is to be fully unveiled at this years E3 Expo taking place June 7-9, at the Los Angeles Convention Center.
Go ahead; click play on the video to see it in action. Just don't blame us if you happen to drool all over the place and short circuit some electronics. Drop a note in the comments when you get cleaned up, and let us know what you think. Now if you'll excuse me -- I have to see how much an Xperia Play is going to cost me.
Source: Mojang
Android Central Newsletter
Get instant access to breaking news, the hottest reviews, great deals and helpful tips
I seriously fail to see the allure of this game.

i was thinking the exact same thing. What is the purpose? what is the goal? I'm too lazy to look it up because it looks boring.

The purpose of the game is to survive and discover.

there isn't a set "goal" per se. basically you mine and craft (duh) and build shelter to protect you from the monsters that come out at night. the monsters also lurk in the dark underground. it gets pretty creepy, especially with the crazy zombie gurgly-growl noise. you can craft tons of stuff, like weapons, minecarts and tracks, wires and switches to control things, etc. plus they are constantly adding things, almost biweekly.
they are working on making a demo, you should definitely try it out. i kept seeing stuff online about it and finally decided to just try it. its so dope

also has multiplayer plus downloadable maps that have goals.

http://www.youtube.com/watch?v=FaMTedT6P0I Thar be a good fan trailer with the music from Inception.

Don't judge until you've played it. I was the same way until I played it, changed everything I thought about it. It's a sandbox game, mostly the limit is your imagination. You get to do things along the way to further you exploration and make tasks easier. go find the downloadable demo and give it a shot.

I thought the same thing, but the more I read about it the more interesting it seems, try this: http://en.wikipedia.org/wiki/Minecraft Also there are lots of videos on youtube, try searching for "minecraft tutorial"

You AND Me Both ... And I really tried but failed.

Runs better on the phone than it does on most computers. Beta 1.6 has way too many issues right now.

I use to "Not Get" Minecraft at all. My friends discovered it a while ago and kept telling me to try it and I continued to say it was dumb and stayed with FPSers. Then I saw some YouTube videos of things and was intrigued enough to buy it before it left alpha. I Love the game. Their is no motive but to survive, build, and explore. But it is crazy addictive for some reason. I'll get bored after a few weeks, then return to it later on, but it is an excellent game. As someone who use to think it was moronic looking myself, I suggest trying it. Note: the free "Just Building" demo is really no fun to me, I hated it. The most fun I have is playing on a friend's server and playing Coop personally.

This game is effing awesome. I really hope it comes to not just the Xperia Play.

The play will only be the first to receive it, I'm imagining that it'll come to other devices later on. Would be amazing on a 10" Android tablet with some sort of new bluetooth game controller :)

If that happened I would be pretty much obligated to buy a tablet. Can't wait!

Yeah I'd finally break down and get a Tegra equipped device in that position. Hmm Sony-Ericsson might need to call upon SCEA to help them out here, I smell bluetooth sixaxis PS controller for Android.
Android Central Newsletter
Get instant access to breaking news, the hottest reviews, great deals and helpful tips
Thank you for signing up to Android Central. You will receive a verification email shortly.
There was a problem. Please refresh the page and try again.