Misfit introduces new Shine 2 wearable activity tracker, available now for $99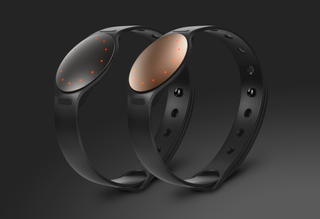 Misfit, a continuous competitor in the fitness wearable space, has just announced its newest wearable, the Shine 2. This new model builds on the success of the original Shine, and adds plenty of new features. The Shine 2 has a new three-axis accelerometer as well as a three-axis magnetometer for finer activity tracking, as well as a new set of LEDs for information display and a vibration motor inside for call and text alerts from your phone.
All of these new features are packed into an even slimmer aluminum body, which was already thin on the original Shine, and its modular design means you can wear it however you want — whether that's on your wrist, your belt, or somewhere else. The Shine 2 also keeps its six-month battery life and water resistance rating.
The new Misfit Shine 2 is available from Misfit's website today in both black and rose gold colors for $99, and will hit additional retailers in November.
More: Misfit (opens in new tab)
Press release:
Misfit Introduces Shine 2 Fitness and Sleep Monitor
BURLINGAME, CA October 20, 2015 — Today Misfit announced Shine 2, the next generation of the award-winning Shine Fitness and Sleep Monitor. Fully redesigned and enhanced, Shine 2 leverages the best of Shine's elegant aesthetic and introduces powerful new functionality.
Shine 2 tracks activity and sleep more accurately with a 3-axis accelerometer and newly added 3-axis magnetometer. Users can now easily see progress and tell time in a halo of rainbow-colored lights, or get motivated with Misfit Move, a feature that encourages you to be active with a vibrational nudge. Text and call notifications and a silent vibe alarm are also new with Shine 2.
Shine 2 incorporates more advanced hardware and firmware—which means dramatically improved touch responsiveness with capacitive sensing technology, faster syncing, and extended Bluetooth range. Its 12 lights display over 16 million colors and are bright enough to be seen in direct sunlight.
Compatible with Misfit Link, the groundbreaking software experience, Shine 2 is more than just an activity tracker—it's now a remote to connect with the world around you.
Communicate with friends, turn your lights on, change your music, take a selfie, advance slides, and more, all with a double tap.
Shine 2 references Shine's iconic original design but features an even thinner aircraft-grade aluminum body, while retaining its signature 6-month battery life, 50 meters water resistance, and modular design. Wear it anywhere, all the time, without having to charge
"We've packed a lot into Shine 2, adding more functionality into an even smaller form factor with the same battery life," said Adam Mack, Misfit's Director of Mechanical
Design. "We didn't compromise on craftsmanship or the user experience." Shine 2 comes in Rose Gold and Carbon Black, now available for purchase on misfit.com, and will be available in retail locations worldwide in November for $99.99.
About Misfit
Misfit invents and manufactures wearable and smart home products. The company was founded by Sonny Vu with John Sculley, the former CEO of Apple and Pepsi, and Sridhar Iyengar, co-founder of AgaMatrix and Elemental Machines.
Andrew was an Executive Editor, U.S. at Android Central between 2012 and 2020.
I loved the original misfit shine, and definitely want to get one of these now that it has so many useful functions!

Yeah.... Misfit burned me with promised functionality that was late or never delivered and a very clear slant toward iOS support with updates and new features. The last one wouldn't even auto-sync on Android!
Won't happen this time around.

Did they fix the band so that the Shine didn't fall out as easily? The modular design is nice, but would prefer a better watch band that actually holds the Shine in place better so I don't lose it like my original one. Posted via the Android Central App - Verizon S5

Are you talking about the Shine or Flash? I have 2 shine's and 3 flash's...the Shines on the wrist haven't had too many issues, however, using the magnetic clip, we've had them jump off clothes onto just about anything you get close to that's metal. Cars in parking lots, bleachers at school, metal door frames...its very easy to loose them. The flash's have tended to just fall out of the wrist band, but stayed put when using the clips. This one does look to be designed a bit better from the wrist strap. Definitely interested in seeing more reviews.

The original band did have some issues (nearly lost my Shine at the Verizon Center when it popped out for the 8th or 9th time). I contacted their customer support about it a couple times and they eventually sent me a new band which was redesigned a little (small gaps on each side of the ring that held the Shine) and I haven't had an incident since. The pictures on their site show some with the old style, some with the new. Only problem now is that there is some cracking around the snap holes. It looks like, with the Shine 2, there's something that clips into those gaps to cross behind the Shine.
Android Central Newsletter
Get the best of Android Central in in your inbox, every day!
Thank you for signing up to Android Central. You will receive a verification email shortly.
There was a problem. Please refresh the page and try again.