Advertisement Feature
Mint Mobile's $20 data plan sounds too good to be true — here's why it's not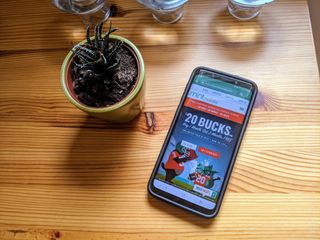 Here at Android Central, we consider ourselves pretty thrifty people — it's no accident we've partnered with the amazing folks at Thrifter, after all — and in the U.S., wireless service feels like a treadmill of endless fees and price increases.
That's why, when we had an opportunity to check out Mint Mobile, we jumped at the chance. The MVNO runs on T-Mobile's nationwide network, but does things a bit differently than the rest of the pack, and as a result can offer plans that even its most penny-pinching competitors can't approach.
"Customers are value-conscious," Mint Mobile's SVP of Marketing, Aron North, told Android Central during an interview prior to the airing of the company's first Super Bowl commercial last week. "They want to buy in bulk," likening the experience of shopping for cellular service these days as stocking up on basics at Costco or Sam's Club. While the Big Four — T-Mobile, Verizon, AT&T, and Sprint — are all clamoring to impress customers with unlimited plans and extra, often unnecessary, services, North says Mint's strategy is pretty clear: providing the best value for customers.
They do this by forgoing the traditional retail model, selling direct to consumers through the playful green-and-orange color scheme of its web portal. Right now, to promote the service, you can get 8GB of data for just $20 per month (opens in new tab), and get the second and third month free. It's an unbelievable deal, and one that sounds too good to be true.
But is it?
It's no accident that some of the most popular search results for Mint Mobile show a healthy amount of skepticism, but North says that's totally fine — he loves completely obliterating his customers' expectations. "When a customer gives us a shot, they often save as much in three months as customers on other [discount] networks do in a year." The secret is in the distribution: every Mint Mobile customer buys service in bulk — in either three, six, or 12-month increments. The more they buy up front, the more they save. Couple that with the various promotions, like the Buy One Get Two Free offer right now, and it's a recipe for customer satisfaction.
Of course, there are other ways that Mint Mobile keeps costs down (opens in new tab) so they can pass them along to customers. The carrier is almost entirely domestic-focused; while international calling from within the U.S. is included with each plan, roaming outside the U.S. on a Mint Mobile SIM card isn't cheap.
That's by design — most Mint Mobile customers, says North, are savvy enough to buy a local SIM when they get to their destination, but they can use their Mint Mobile plan in a pinch when needed.
In the U.S., though, using a compatible phone on Mint Mobile is almost exactly like it is on any other provider — Mint, like all other MVNOs, doesn't disclose its network partner, but based on coverage maps and other factors, we can easily glean that it's T-Mobile — and that includes useful features like unlimited hotspot support as well as Wi-Fi Calling.
"The market is getting smart very quickly," says North, who points out that Mint's increasing popularity is running parallel with a growing appetite for unlocked smartphones in the U.S. According to NPD Connected Intelligence, a U.S.-based research firm, unlocked smartphones accounted for 15% of the market in 2018, and that number is expected to rise quickly in the coming years. That means there are millions of Americans separating the purchase of their phone plan from the smartphone itself, taking the transaction out of the retail store and putting it entirely online.
[
](/e?link=https%3A%2F%2Fmint-mobile.58dp.net%2Fc%2F221109%2F1152985%2F7915%3FsubId1%3DUUacUdUnU72458%26subId2%3Ddac%26u%3Dhttps%253A%252F%252Fwww.mintmobile.com%252F&token=jjb62U4a
"I'm trying everything there is not to trade features for price," North continues. He notes that Mint's parent, Ultra Mobile, became the fastest-growing company in the U.S. in 2015 with a similar growth strategy to its data-focused counterpart: ruthless cost-cutting, heavy marketing, and a focus on customer retention. While the private company doesn't disclose subscriber numbers or revenue, being able to count on customers buying in larger bundles than a typical MVNO brings its business model closer to a postpaid system than any of its competitors. "Our customers are the driving force of the business. They tell everyone; they want to spread the news about all the money they're saving."
"There's an unmet market need and we think we've found it," North concludes. "We want to grow so, so fast, and we have a leadership and management team that's so excited about the business that we're going to try and grow and scale" to meet consumer demands. "People heart $15, $20 a month with two free months and there's this lingering doubt that it's all too good to be true."
According to Ultra Mobile co-founder and Mint Mobile CSO, Rizwan Kassim, it's not too good to be true. It's just good.
"It's been a crazy six years," says Kassim, on a separate call with Android Central. He notes that with the proliferation of unlimited plans in early 2017, U.S.-based wireless customers ended up paying more per month when they upgraded just so they could have a data buffer that most didn't use. Mint Mobile's plans, which start at $15 per month for 3GB of data and go all the way to $25 for 12GB, are for people who can police their own usage. (The $20 Buy One Month, Get Two Free deal (opens in new tab) right is a promotional price until the end of February, 2019.) And even when they go over their usage, Mint's network still supports them with 2G service for the rest of the billing cycle.
So what about the future? Kassim is looking towards 5G and eSIM, two technologies that are certain to shape the MVNO market in the coming years. The former adds an incredible amount of capacity to its partner carrier's network, an amount that's certain to increase if its merger with Sprint is approved. 5G promises to improve every possible metric one could track, including wireless speed, latency, coverage, and price. "5G offers more bang for the carrier's buck, so it's absolutely in their best interest to roll it out as quickly as possible."
The promise of 5G is also good news for MVNO owners like Kassim, since when there's congestion at the partner level, everyone on the network gets slowed down. But he says Mint Mobile customers either don't notice or don't complain about it; as T-Mobile's network has improved over the past few years, so has Mint's. And as T-Mobile rolls out more rural coverage based on the 600MHz spectrum it acquired a few years ago, thrifty Mint Mobile customers get better service — or service in general — in places that aren't typically prioritized.
And then there's eSIM, which has the potential to impact the mobile industry even more than 5G in the short-term — and provide an outsized benefit to MVNOs. That's because it removes the need for a physical SIM card being purchased and placed in a smartphone; instead, it makes signing up for mobile service as easy as downloading an app or signing into a web page. Big carriers hate it because "it puts us on the same level as them," says Kassim, and it's something Mint is excited to pursue.
So how does a small, lean company like Mint Mobile grow at the speed of its parent? By releasing a Super Bowl commercial and unleashing one of the most aggressive mobile plan promotions we've ever seen. We asked Aron North about the response since that all-important Sunday and he just smiled and said it's been an exciting week.
See at Mint Mobile (opens in new tab)
Android Central Newsletter
Get the best of Android Central in in your inbox, every day!
Thank you for signing up to Android Central. You will receive a verification email shortly.
There was a problem. Please refresh the page and try again.