The MiniSuit Keyboard stand case for Nexus 7 (2013)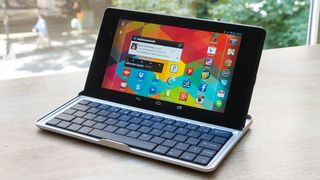 There's no denying that the Nexus 7 is an extremely popular device for gaming, video watching and reading. But even with its small size some people want to do a little more with their tablet in terms of content input. That's where keyboard cases come into play, and on these smaller devices they're walking a fine line between compactness and functionality.
We recently took a look at another keyboard case for the Nexus 7 (2013) by MiniSuit and came away impressed by how capable of a keyboard it was given its size. Can this slimmer, lighter and less bulky version live up to the same standard? Read on after the break and see how it stacks up.
Let's start by quickly covering the build of the case. You're basically looking at a combined metal and plastic shell that is just larger than a Nexus 7 and hollowed out on the inside. From the back it even has a similar black rubberized or soft touch coating as the tablet, and from the front you'll see a physical keyboard layout. The entire case is well put together and feels solid, which is important because when you're not using it to type, it does double duty as a case for your tablet. Put the tablet screen-down onto the keyboard and clips hold it sturdily in place.
The case doesn't actually attach to the Nexus 7 when you're using the keyboard though — instead the tablet slots into a channel at the top of the keys, holding it at a nice angle. While the bottom of the channel is rubberized, the sides that press up against the tablet aren't, and that bothers us a little in terms of long term wear on the tablet's edges.
In stark contrast to our surprising typing speed on MiniSuit's leather keyboard case for the Nexus 7 (2013), typing on this keyboard is generally a nightmare. The keys are entirely too small to be used and are arranged in an awkward layout that just exacerbates things. MiniSuit has crammed a full number row, two shift keys, Android navigation keys, a tab key and even a set of directional keys onto a keyboard that is the same height as a 7-inch tablet here.
That's too much to try and do in a keyboard this small, and we would prefer a simpler layout that prioritized the main QWERTY keys and used a function key for more advanced buttons. Layout aside, the keys themselves are shallow, too close together and often stick down or twist in weird ways. It's downright uncomfortable to type on the keyboard, and that's going to be the case for those with hands of any size.
Buy the MiniSuit Keyboard Stand Case for Nexus 7 (2013) on Amazon
The idea of an ultra-compact keyboard that doubles as a sturdy and protective case is a great idea, but it just isn't in the cards for a tablet this small. If you're in the market for a keyboard for your Nexus 7 (2013), there are options out there that will give you a better experience.
Image 1 of 9
Image 2 of 9
Image 3 of 9
Image 4 of 9
Image 5 of 9
Image 6 of 9
Image 7 of 9
Image 8 of 9
Image 9 of 9
Andrew was an Executive Editor, U.S. at Android Central between 2012 and 2020.
Would be nice to get a keyboard for using Onenote or Evernote.

Why can't you use this one for Evernote? Anyway, I had the previous model for last year's Nexus 7 and it was okay. The biggest issue was that it is just too small to type comfortably. You want to type like you're using a full sized keyboard but you can't. The keys are just too close together so you end up hitting two keys way too often. The design is pretty good and clips on to the nexus 7 pretty well. The size issue is just too much to justify buying it.

Give the Logitech 8" bluetooth key ago, I use it on my Nexus (both 12 &13) with no issues. The only downsides are
1) that as it was designed for a fruity mini product it does not hold the tablet, but a little tweaking quickly fixed that.
2) It does not work as a case

I have a keyboard that looks almost exactly like this for my 2012 Nexus 7. The small keyboard definitely took some time to get used to, but after half an hour or so, I was at least quicker using it than the on-screen keyboard. After a few days of practice, I was typing on it almost as fast as I can on a full-size keyboard.

I've read several of your reviews.. Good stuff, appreciate your honest and objective perspective. Thanks! Posted via Android Central App

what are some of those better options, just curious. I currently have the hp wireless one and the length of that isnt even right, just feels too big. i might need a smaller keyboard.

BIG miss on this review... The letters on the keys rub off REALLY fast. I had to use a silver sharpie to put the letters back on then use clear nail polish to seal it on. The small size you can adjust to pretty quick, it's like using a small netbook.

Yes, I had the same keyboard for my Nexus 10 and the letters are all but gone. There's no way for Andrew to know that though after a couple days use. Posted via Android Central App

Quote: It's downright uncomfortable to type on the keyboard, Yeah, even if the small size wasn't enough of a problem, having that sharp edge directly in front of the space bar seems problematic. 7 inch devices either need a fold out or roll out keyboard for greater width, or a detached one, because 7 inches is just to narrow a place for two adult hands. It barely works on a 10(ish) inch device.

reminds me of the psion 5

You could type on the Psion 5 keyboard. Fast. With nine fingers. (you only needed one thumb for the space bar. Perfect travel and touch for a small keyboard. Who owns the patent for the key switch design? You could sell a ton of them to modern tablet owners. Posted via Android Central App

The 5mx keyboard is 6.5 inches wide. I just measured mine. Posted via Android Central App

I used the incredible Psion 5 and 5mx for years. One friend still does! Considering the processors and batteries of the time it was utterly superb. Nothing since then has really beaten it as a properly productive PDA. I just do not understand why. Perhaps Nokia + Microsoft could finally crack it; but looking at surface RT one has to be pessimistic about them wanting to. Awesome A C

I was anxious to get my hands on this keyboard and bought it as soon as it was available. So, far I am not happy with the experience. I am not even sure that it is better than using the on-screen keyboard. I will keep at it and hopefully get used to it enough to be able to productively use it.
I have small hands and thought that would be a plus. However, using it on my lap proved to be a nightmare with frequent corrections required. Perhaps using it on a hotel desk would be better, especially with careful typing. I touch type and this is actually my problem. It would be better if I were a hunt and peck typist. So, maybe I will just have to slow down and use that way. It really should be better than using the screen.

I bought one of these for my girlfriend mainly because of the great screen protection it offers when in her purse. The typing is so so, but for cranking out a quick email it seems to work fine. Very happy with the build quality, although I am a little worried as well with the possible wear from the metal clips. For the price it really can't be beat. Posted via Android Central App

I purchased another similar keyboard for my 1st Nexus 7, could never get use to the small footprint, but my 14 yo daughter loved it. Just not right for regular hands and speed. Posted via Nexus 7

I had this for the 2012 Nexus. It was a cute gimmick and screen cover but only fair as a keyboard. I paid $20 and sold it for $10 with old nexus. Posted via Android Central App

Although i don't use portable keyboards i think a lot of people miss the point of these keyboards. The people these might appeal to are not the ones who had formal typing training, who learned to type on fullsize keyboards or laptops. These would appeal to the self taught hunt and peck whose experience of keyboards has been for the most part mobile phone or tablet keyboards in the first place. To them this keyboard would be large. There is a whole new generation coming up whose experience of keyboards is entirely what has been on their mobile device and have learned to type by hunt and peck with a couple of fingers or thumbs. Asus Fonetab

I bought a Bluetooth keyboard and a poetic slimline. Keyboard lives in my bag for when needed, this works best for me with Evernote. Can't see why I'd want a keyboard like this as it's a compromise that means small keyboard and you have to carry it all the time. Posted via Android Central App from my Nexus 4

Hi Andrew. I really want this to work: A VERY long time ago (at less than this size) the Psoin 5 keyboard was superb - no honestly, it really was. But it was designed from the ground up to work that way. My ASUS Transformer has become my main Email device these days; but it is twice the size; and in my opinion the connector is a weak point. So - Does this one actually fail, or will it just take longer to get comfortable with it? A compact, but workable, keyboard case should be possible. But will anyone else try to achieve it now? Awesome A C

No amount of time or typing on this thing could help me get comfortable with it. If you want a tiny keyboard that you can actually type properly on, take a look at the other MiniSuit leather folio keyboard case we reviewed (linked to in the article here). There are also other good ones out there, but this particular model just doesn't cut it.

I am wondering if this is scratches the tablet? Does it leaves marks?

I had one identical to this for last years tablet and it didn't scratch mine. only problem I had it was hard to use but you do get used to it over time, I keep catching the screen especially when using the numbers. the lack of tab really annoyed me too

I never noticed scratches or marks, but as I noted in the review I'm worried that over time it might if you're not careful.

Or you could just buy a laptop. I hear they have nice keyboards with good functionality. Posted via Android Central App

I got a ZAGGKeys Flex. It is the perfect size for my purse, doesn't compromise too much on key size and has all the keys in their normal places. Works on both iPads and Droids. And the case for the Flex operates as a stand for the tablet. Most other Bluetooth keyboards suck - too heavy, too bulky, strange key layout, or it's cheap and you got what you paid for with sticky keys.

I had one of these for my first gen nexus 7, and I just bought one for my 2013 Nexus 7. I am 6'5" with big fingers. Why would I buy one, you may ask? Not for typing! The case makes an excellent desktop stand. I can let it sit on my desk at work charging, and have quick access to music player controls no matter what screen I may have left it on previously. A phone call comes in- bam, pause the music player. It holds the tablet at a perfect angle for desktop use. Plus it really is a great case to boot. Just my two cents- if you view this thing as a desktop stand with the bonus of a keyboard for that quick search moment- it kind of changes the whole paradigm.

Had one just like this I bought for $17. Connectivity was fine and it worked well. But sold it later because I really had no use for it. Seemed more like a neat gimmick. Posted via Android Central App

Hello Y'all,
I bought one of these minisuit keyboard cases for my Nexus 7 and I absolutely love the thing and I have big hands. I have to admit though, I do very little typing, occasional emails, forum comments, shit like that, so this is perfect for me. The keyboard now has a Tab Key. I've read previous comments and reviews that say the keyboard doesn't have the much needed "Tab" key so I thought I should mention that ;-) The case factor is what really sold me on this thing. The part of it being a stand/dock is great too. I'll pick up a silver sharpie for remarking the keys if needed as several people have mentioned and I think I'll be very happy with my purchase. Posted via Android Central App with my Nexus 7 & a minisuit keyboard/case

I love this one, maybe because my fingers are really slim that I can type without any problems and I like this more than the leather type. Really useful when I'm at the lib that I don't have to put my N7 flat on the table. This keyboard is really nice for people who want to watch videos and read ebooks without needing to hold the tab. likey likey ♥

there are better options for the nexus 7 right? what are those options?
Android Central Newsletter
Get the best of Android Central in in your inbox, every day!
Thank you for signing up to Android Central. You will receive a verification email shortly.
There was a problem. Please refresh the page and try again.