The MiniSuit Keyboard stand case for Nexus 7 (2013)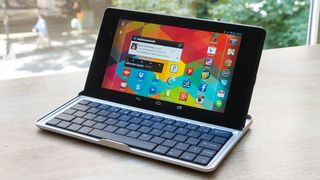 There's no denying that the Nexus 7 is an extremely popular device for gaming, video watching and reading. But even with its small size some people want to do a little more with their tablet in terms of content input. That's where keyboard cases come into play, and on these smaller devices they're walking a fine line between compactness and functionality.
We recently took a look at another keyboard case for the Nexus 7 (2013) by MiniSuit and came away impressed by how capable of a keyboard it was given its size. Can this slimmer, lighter and less bulky version live up to the same standard? Read on after the break and see how it stacks up.
Let's start by quickly covering the build of the case. You're basically looking at a combined metal and plastic shell that is just larger than a Nexus 7 and hollowed out on the inside. From the back it even has a similar black rubberized or soft touch coating as the tablet, and from the front you'll see a physical keyboard layout. The entire case is well put together and feels solid, which is important because when you're not using it to type, it does double duty as a case for your tablet. Put the tablet screen-down onto the keyboard and clips hold it sturdily in place.
The case doesn't actually attach to the Nexus 7 when you're using the keyboard though — instead the tablet slots into a channel at the top of the keys, holding it at a nice angle. While the bottom of the channel is rubberized, the sides that press up against the tablet aren't, and that bothers us a little in terms of long term wear on the tablet's edges.
In stark contrast to our surprising typing speed on MiniSuit's leather keyboard case for the Nexus 7 (2013), typing on this keyboard is generally a nightmare. The keys are entirely too small to be used and are arranged in an awkward layout that just exacerbates things. MiniSuit has crammed a full number row, two shift keys, Android navigation keys, a tab key and even a set of directional keys onto a keyboard that is the same height as a 7-inch tablet here.
That's too much to try and do in a keyboard this small, and we would prefer a simpler layout that prioritized the main QWERTY keys and used a function key for more advanced buttons. Layout aside, the keys themselves are shallow, too close together and often stick down or twist in weird ways. It's downright uncomfortable to type on the keyboard, and that's going to be the case for those with hands of any size.
Buy the MiniSuit Keyboard Stand Case for Nexus 7 (2013) on Amazon (opens in new tab)
The idea of an ultra-compact keyboard that doubles as a sturdy and protective case is a great idea, but it just isn't in the cards for a tablet this small. If you're in the market for a keyboard for your Nexus 7 (2013), there are options out there that will give you a better experience.
Image 1 of 9