Less than 1% of active Androids run Nougat, 29.6% on Marshmallow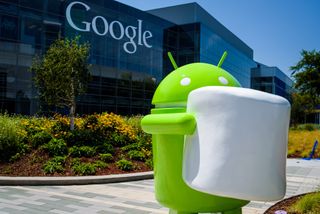 Google's latest report on Android version distribution amongst active devices shows that nearly 30% of devices are now running on Marshmallow, up from 26% this time last month. Lollipop and KitKat both saw a slight dip, but together are still running on more than half of all Android devices.
Meanwhile, Nougat saw minor growth over the month of December — from 0.4% to 0.7% (split between versions 7.0 and 7.1). 2017 should see devices new and old adopt the latest Android software, but the typical rate of adopting a new Android version continues to be present even a couple months into Nougat being available.
One has to wonder how much of those KitKat and Lollipop numbers are holding strong in part to the growing prevalence of cheaper Android TV boxes and tablets that are typically running older software with no prospect of being updated. Anything running KitKat in 2017 isn't going to see any major platform update, and the same goes for just about any Lollipop device.
So that begs the question: How many Android devices do you own, and what versions of Android are they running? Let us know in the comments.
Android Central Newsletter
Get instant access to breaking news, the hottest reviews, great deals and helpful tips
Marc Lagace was an Apps and Games Editor at Android Central between 2016 and 2020. You can reach out to him on Twitter [@spacelagace.
I own several devices all on lollipop or above :)

My 2 tablets and 1 phone on 7.1.1, 1 phone on 7.0, 1 phone on 6.0.1.
My iPad is on iOS 10, iPhone still on iOS 8.

I have a RCA 8Apollo tablet and it's running Android KitKat can some one know how to send Google a support request social can upgrade it to atleast Android lollipop

Make that 29.8%, my brother just updated to Marshmallow.

2 on Nougat, 2 on marshmallow, 1 on lollipop, and 3 on IOS 10.2. + 1 Android wear, 1 Apple watch, and 2 Tizen (wear) on the most current (publicly released) builds.

Pixel c on 7.1.1 2 galaxy s7 series phones on marshmallow nexus 10 on lollipop old lonely galaxy tab 2 7" on jelly bean

Most of my devices are on Lollipop or earlier, simply because their OEM won't release an update. That's the sad truth about Android. It isn't because a majority of these devices are cheaper Android TV boxes or tablets. Even phones are doomed from the start, unless they are Nexus/Pixel.
I have one phone, Moto Z Play, that I'm hoping will see Nougat this month, as Motorola said it would. That doesn't mean it is guaranteed to, but I'm hopefully optimistic.

That's the price of being an open source operating system that every OEM uses and has functionality that iOS doesn't have

To a point, you're right. AOSP is the open source bit. But not Android; each device vendor takes that code and customises it to their device, which is why you can't take the OS image from one device and drop it on another, and expect it to work.

I know exactly what you're saying. But I was implying it needs to be open source in the first place for OEM's to be able to use and modify the code base however they choose

this is really Google fault for not mandating that OEM's issue updates for a period of time, say 3 years or whatever; otherwise they just want to shell out more money for a device is perfectly fine & NOT old or outdated.................GOOGLE are you listening????

Android is popular because it is friendly to manufacturers. This would be a hostile mandate. How would Google enforce it? Obviously updates aren't a priority for many people. If they were, Windows 10 would be on more than 26% of Windows PCs, especially since it was free and readily available for the vast majority, and Nexus would have been a bigger seller.

Most of the time when Google update the OS they're only catching up with the oems anyway I just need security and I'm OK

Correct sir. The need to have the latest is part of a flawed commercial construct. I went from MM on my Note 5, to KK on my LG G2 and back to MM on my OPO... will have nougat when my OP3T arrives, The phones are different, but with all honesty going back to KK wasn't a big deal. Everything worked just dandy. The need to upgrade software all the time is a never ending **** show. A tonne of promises that are never ever delivered, and when they are, make no difference in the real world.

Ya, 99%. Of mobile users couldn't care less about having the latest OS on their phones, but there are those millions of us who do obviously see the benefits of the performance optimizations and added features that come with updates. And seeing Apple pull it off so quickly with their closed Source OS is annoying to many of us in our tiny minority. But that's a price of using the platform that provides so much additional functionality like Android does

Google are only updating their own phones for two years, how can they force OEMs to upgrade theirs for a longer period?

I have 2 android TV boxes. Nexus Player on Nooooougat and a generic running Marshmallow.... I have an HTC 8 / HTC 9 / HTC 10 running Marshmallow... Pixel XL running Noooooougat......

I have a Nexus 6P on 7.1.1 and a LG X-Power on 6.0.1. Hopefully Nougat starts to increase with the new batch of phones being announced and released early this year. Im looking forward to Nougat on the BlackBerry Mercury!

I own two and they run Marshmallow and Nougat
HTC M8 & Google Pixel

Froyo finally isn't on the list. Now Gingerbread is next...

Both my phones are on 7.1.1 Nougat, (Nexus ftw, RIP) but my Sony Android TV is marooned on Lollipop with no update in sight.

Running 7.0 on my HTC 10!

Wish all phones where like Nexus and Google and iPhone, where the Carrier or Manf. did not release the Updated OS. With AT&T, we be lucky to see Nougat in April. Carriers all have to get it to work with their Bloatware that most people do not want or use. Carrier should give you that choice to install it.

Interesting, ain't it. I mean, with most apps, the developers don't seem to have much trouble making them ready for a new version of Android. They get their butts in gear and make it happen. But the carriers, with all their resources, can't seem to move as quickly, so they hold up the entire OS until they can get their apps ready for it. And it's interesting that they don't seem to have this issue with iOS, probably because they know Apple won't hold off on releasing a new version while they fart around.

The apps don't need to change for the new version of Android to use them, the new version of Android is backwards compatible with the existing apps. Part of the issue with the carriers is they want to test everything extensively to make sure it's stable and won't cause problems, bugs and problems lead to unhappy customers, unhappy customers look at the competing carrier. It may be great that Apple pushes the update directly, but trust me as a former Verizon rep we hated it, because every new IOS version brought increased traffic flow for tech support and troubleshooting. I forget if it was iOS 7 or 8, but one of them knocked thousands of devices off Verizons network and we had customers coming in that we couldn't help, it was literally sorry, you gotta wait for Apple to patch that so you can have cell service again. I blame the OEMs, Samsung still doesn't have Nougat ready for release.

I blame both the manufacturers and the carriers. The manufacturers are slow to get the updates ready, and then the carriers take their sweet time testing. Yes, I get what you're saying, but the carriers aren't blameless, especially when they include non-removable bloatware that actually hurts performance. That awful Blockbuster app is one that comes to mind. The thing gobbled up resources even when it wasn't being used, so you had to go in, find its services, and manually disable them. And all of this could've been avoided if Verizon had simply given users the option to uninstall it. It wasn't like it wasn't in the Play Store, should someone, for some unknown reason, actually wanted it back.

6.0.1 on my unlocked S7 edge on T-Mobile.

In my family we have the following Android devices: Nook Color 8GB: Gingerbread 2.3.7 (CM 7.2.0) - my first tablet and it's on its last legs so my kid won't even use it so it will be recycled soon
HP Touchpad 32GB: KitKat 4.4.4 (CM 11) - dual-booting with webOS 3.0.5 and running like a champ (weather/digital frame/internet)
Nexus 7 2012 16GB: Lollipop 5.1.1 (CM 12.1) - kid's tablet and it's sloooooow so I will be donating it to the Senior Center
Nexus 7 2013 32GB: Marshmallow 6.0.1 (CM 13.0) - works great so my kid will inherit it
Nexus 5X 32GB: Nougat 7.1.1 - overall great phone (wife's)
Nexus 6P 64GB: Nougat 7.1.1 - still have variety of minor issues but overall good value (mine) Testing out CM 14.1 (Nougat 7.1.1) on the 7 2013 and it is smooth as butter with no crashes (updating to Franco Kernel helps too) I have an iPhone 6S Plus 64GB and an iPad Air 2 64GB from my employer as well

If CM 14 gets excluded from the list then I think we'd be having a result that is less than 0.7% for Nougat. Very slow adoption rate.

Samsung S5 from Verizon running Marshmallow 6.0.1. Samsung tablet Tab A also running Marshmallow 6.0.1. By the way my S5 is still going strong!!

Nexus 6p running 7.1.1 and Huawei mediapad m3 running EMUI 4.1 (6.1)

Unless the hardware vendor support it, you can't update to the latest release. The notion that we should purchase new components every couple of years us overconsumpion insanity. For all its faults, Microsoft has done a much better job of supporting legacy devices than the Android ecosystem.

Microsoft dropped support for a lot of phone when the released windows 10 mobile.

Xperia E4 stuck with Andorid 4.4.4
Galaxy S Duos with Cyanogenmod 11(Android 4.4.4)
Galaxy Mini with Cyanogenmod 11(Android 4.4.4)

Waiting on Marshmallow for XPOSED support :-(

Just got my pixel xl today, 7.1.1, and my Nexus 6 is 7.1.1 as well. OG Moto 360 is still on 6.0.1. It rows well and continues to live.

I'm thinking about buying an original Moto 360 this week. For the price it is now it still looks great to me.

Well only high end phones will get the update to the nougat and marshmallow.that is the reason why kitkat and lollipop are still the most no: in the chart. Most people are using their old phones.

Proud to say I joined the 7.1.1 club today. Also proud to say my Nexus 6 feels like it has twice the battery life of yesterday.

When did u get the update

I had to update it manually with the OTA file cause I was tired of waiting.

and that would be the placebo effect. New is better. You think it is because you have been told it is. It's all a pile of BS.

All of my devices are Nougat

That odd moment when your Moto Z is on 6.0.1 but your old phones are on 7.1.1 via custom firmware.

S6 & S7 both on 6.0.1 (M)

My LG g3 is rooted and running 7.1 with some added flashing and so it runs like the new pixel phones..

And 100% of Asus Zenfone 2 users are still stuck on Lollipop Version 5.0.

Verizon Moto X 2014 on 7.1.1 ( CM14.1).

How's Nougat working out on your's? Thinking of doing LineageOS for my 2014 X.

Works really good. Sometimes the Bluetooth and wireless act a little funky, but not too bad. Had some issues with Moto's camera locking up going between photo and video modes. Google's camera seems to work well, so going with that for now.

Hmm I contribute 2 devices to that percent.

I have a S6 Edge Plus on marshmallow a Nexus player on nougat and shield TV which is currently on marshmallow. My wife have S6 Edge and my daughter has an S6.

Considering how many Android devices are out there, that's a lot of Gingerbread devices still active. Is Gingerbread pretty much the Windows XP of Android?

Running the latest on my Nexus 5X but my Nexus 7 2013 hasn't had a security update since August I think? I know it wasn't getting Android N officially, but I thought I would get security updates. Flicked via the BlackBerry keyboard on my Nexus 5X

I own ZENFONE 2 LASER ZE500KL, running unofficial Lineage OS 14.1(Android 7)

Three phones on Marshmallow (two 2014 Moto X PEs with official build, and one Nexus 4 on CM13), one phone (other Nexus 4) on Lollipop still, and one Nexus 10 on CM13... and one 1st generation iPad that literally has zero apps compatible with it anymore.

Galaxy Note 10.1 Original version on a Kit Kat Rom.
Galaxy Note 3 on lollipop
Galaxy Note 4, 5, Galaxy S7, Galaxy Tab S2 all on Marshmallow Yeah I'm a Samsung fan boy.

I am the 1% thanks to Galaxy S7 Nougat beta!

Nexus 5X nougat
HTC M8S marshallow
Nexus 5 marshmallow
Moto E lollipop
Android TV box lollipop
Kindle Fire 7 lollipop
Samsung Galaxy tab 2 Jellybean

I have a lg stylo 2 plus that's running on marshmallow

Froyo is dead!!! Finally... Right I'm running Marshmallow on my Galaxy S6 and Nougat 7.1.1 on my Nexus 9.

What a friendly article... This is disgrace and don't get why all the writers are so "nice" with this joke.... The title should be "What a disgrace - 5 months later only 1% on Nougat and phones still running GB". ;) Until all sites and blogs start hitting Google and OEMs don't expect to get any better!

Yes. Less people on Nougat than on Ginger Bread is quite shocking.

My S7 Edge is still on the November security patch. I'm wondering if AT&T and Samsung are being uncharacteristically slow with December's update because it will just come with N.

my z play is on july , so what? Could update to December / January now but my phone is running perfectly fine , not want mess around with it.

My point is that historically speaking, both Samsung and AT&T have been very timely with the monthly security updates (which matter). The fact I'm still on November might be an indication the next security update might just come with N. Furthermore, you have a different phone than I do. What goes for your device (let alone your personal usage habits and needs) is going to differ from mine so I'm not sure the point of your response.

I would not hold my breath with AT&T phone. I say the other carriers will have out Nougat before AT&T as Usual!!!

That's better than my Nexus 5 which is still on October's patch. My Nexus 5X though is on the January patch.

My S7 still on Nov. Patch

I wonder the same thing
Im on November security on S7 Edge from Sprint
But already got December update on my note 5?

Android N, meh NOT GOOD and no one really wants it, hope they skip it for my moto z play , staying on M then go directly to O

Haha. All my devices are hilariously low percentage... 3 on 7.1.1 and one on Honeycomb which doesn't even warrant mention anymore. ("It's not on any of my charts...")

Ask a normal what version of Android they are on and they will probably answer "what's android?". While I like being on the latest (my GS7E and Honor 8 are in the Nougat betas and my laptop is on the insiders fast ring) what is more important is the security patch level. I found Xiaomi poor for Android version updates but very good for getting the latest security patch out. there.

Yes but "normal" people don't comb through AC comment sections, let alone the articles. Hell, most of the geeks working at Best Buy using Android handsets don't follow this site (mores the pity). So this information is for us and matters (or doesn't) to us. I agree with you about security patches being more important though. Still I would like the semblance of the Grace UX I miss from my Note 7 back (using an S7E).

If Google really wants the number of devices on Android 6/7 to increase, then they need to lean on the carrier's that are holding our phones hostage to force the issue. Apple and Microsoft don't have this issue with pushing updates to their devices so why should Google?

What device do you have that's being "held hostage", what did you pay for it and how old is it? What app do you have that won't run on 5.x or 6.x? The carriers don't want to make your old phone good enough to skip buying a new one for a while. It costs $ to update, test and support the new versions with their bloatware and services. Android phones can use hundreds of combinations of cpu, gpu, camera, gps, etc Apple gives you a couple of versions of very expensive phones with limited hardware capabilities. Where are the inexpensive Apple phones? Windows phones were a non starter, and again pretty limited to few suppliers. If you want android and constant updates get a pixel. You'll get system updates for 3 years and security updates longer than that. I bought a Nexus 6 two years ago on black friday for $189 and its got 7.1.1 on it.

I currently have the Galaxy S7 Active which I found out later, is exclusive to AT&T, so I'm not trying to upgrade a 2-3 year old phone here.

Gingerbread, Jellybean and Marshmallow were all fantastic landmark android releases with significant improvements and features whereas Nougat is just another one of the in-betweens that is not a must-have, by any stretch.

I guess those folks can spend another $69 on a current cheap phone if they feel its important or replace their 2-3 year old flagship device with a new one. I still have amazon fire devices that I think are running on v4 and v5 android, and I have a huge hang on the wall touchscreen device stuck forever on 4.4. They still do everything I want. On very rare occasions I find an app that won't run on 4.x and use it on my phone or tablet. The android fragmentation "problem" hasn't really ever been a problem for most people. Its a stupid anti android talking point from 2012. Now if you bought a 2016 flagship phone for $600 and its going to get stuck on 6.x, then I'd be po'd. I don't think that happened. Another layer of obfuscation is that the vast majority of 3+ year old apple devices are used by young children as their parents upgraded.

BlackBerry Priv, Asus Zenpad Z8, LG G5, Moto X 2014, Nexus 7 2013 all on Marshmallow which I am happy with. The G5 probably has an update to N if I turned it on but it's my backup to the Priv. I'm on Verizon and got the Priv when they finally updated it to M, wasn't really satisfied with the G5. The Pixel looks too much like an iPhone for my liking and I am now used to the physical keyboard again. Will most likely get the BlackBerry Mercury when it comes out and fingers crossed that the unlocked one works with Verizon for the sake of updates. But seeing how the DTEC ones have not, I don't have high hopes.
Android Central Newsletter
Get instant access to breaking news, the hottest reviews, great deals and helpful tips
Thank you for signing up to Android Central. You will receive a verification email shortly.
There was a problem. Please refresh the page and try again.