Lollipop now on nearly 30 percent of Android devices, Marshmallow up to 0.5 percent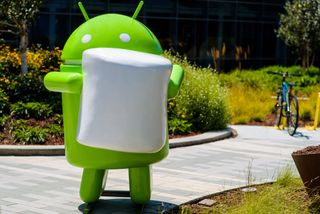 Google has released its latest monthly update on the distribution numbers for each version of Android. In the latest update, we see Lollipop continuing its rise, while Marshmallow has also bumped up a tad more. The new numbers show that Marshmallow is now on 0.5 percent of active devices, after having made its debut on the chart in November with a 0.3 percent share. Similarly, Lollipop now claims a share of 29.5 percent compared to 25.6 percent in November.
As for the rest, KitKat is down to 36.6 percent of active devices from 37.8 percent a month ago, while Jelly Bean has also dropped from 29 percent to 26.9 percent. Ice Cream Sandwich is down to 2.9 percent from 3.3, and Gingerbread dipped slightly to 3.4 percent from 3.8. Finally, rounding things out is Froyo, which is still managing to hold steady at 0.2 percent.
Source: Google
I would be curious to learn how many of those lollipop installs are on 64 bit since 64 bit android runs like ****.

5.1.1. running perfectly fine on 64bit SoC , i never had lag and this thing just flies especially webbrowsing LG Flex 2 (5.1.1)

A. I said 64 bit android not 64 bit SoC.
B. Every impression and review I have read on that phone say its laggy as hell.

A. What's "64 bit android" for you? Android support 64 bit architecture anyway... All devices with 64 bit architecture are supposed to have Android OS that supports it.

This may sounds shocking because you must not have been around in the old windows days when there was a 32 bit and 64 bit version of windows. Even though all cpus were 64 bit lots of pcs were still shipping with 32 bit windows installations. You can run lollipop in 32 bit which is why the performance on some phones like the moto g and old moto x does not suck. I have yet to see a single Android phone running 5.1/6.0 that has a 64 bit soc and is running android in 64 bit that does not have some sort of performance issues. My new 5x? Performance issues.
The brand new Pixel C? Performance issues.
Sony Z5? Performance issues.
Moto X pure. Performance Issues

Actually I have, and when you have a device with 64 bit SOC, there is no reason that the OEM won't provide an Android rom that suits it.

Which is why all new Android phones run like ****.

I can't say that, because I haven't noticed any performance issues since the G2 .
Then again, I don't get to see a lot of the newest devices.

My 2013 Moto X on 5.1 is consistently more performant than both my nexus 9 and my nexus 5x. Sure its not super fast but it doesn't have random stutters, stalls and memory leak type issues. The best part is when the 2013 Moto X came out the cpu was already really old.

And you think it's because of 32 bit vs 64 bit?
Why?

That'd be a great question for the Android team.

Well the Nexus 5x unlike your Moto is encrypted same as the Nexus 9. All Nexus Lollipop devices came out encrypted which include these batches of Neuxu devices running marshmallow and are you blind because all devices this year have 64 bit CPU which Android is full fledged compatible and if there are any inconsistent performance could because of 5.0.X Lollipop that had issues and OEM software like Touchwiz Posted via the Android Central App

No I'm not blind and I'm aware of everything you just stated. Clearly. Sobyour telling me my nexus 9 and 5x don't have performance issues?

Idk I haven't used neither of those devices but if any I would guess it would be the encryption which if I remember was kinda of a problem back when the Nexus 6 came out. If you know what I'm talking about than why make a big deal if you already know Posted via the Android Central App

There still is a 32 or 64 bit version of Windows lol. Posted from my Nexus 6/Nexus 7 2013/Surface Pro 3

Not the 6P my friend owns. Nor my Note 5.

If you reboot the 5x and the 6p on a regular basis you wont see the issues

Agreed my G flex 2 runs like a champ. Posted via the Android Central App

?!?!?!?!?!?!?! Posted from my Nexus 6/Nexus 7 2013/Surface Pro 3

More like Android 5.0 ran like crap. 5.1.1 and especially 6.0 runs much smoother.

Yeah... No. My nexus 5x is a laggy mess as well as my Nexus 9.

They are both encrypted out of the box
And um yea that is correct. 5.0.X was horrible Posted via the Android Central App

I agree about 5.0.x im just saying no to 6.0 running much smoother.

Yeah it's crazy how the nexus 6 is better than 5x still and they still haven't sped up the software. Posted from my Nexus 6/Nexus 7 2013/Surface Pro 3

I feel like Google had to take two steps back with all of 5.0 to move forward and create 6.0. But for all the bugs 5.x wasn't terrible, but I love how much battery my N6 save now with 6.0. 2 hrs of Bluetooth podcast and music and only use 8% battery

Unfortunately, the Lollipop 5.0 numbers that had actually dropped from September (15.9) in October(15.6) and November (15.5), is up to a new high of 16.3 now. Manufacturers and carriers finally at long last getting around to pushing out 5.0 updates may be doing more of a disservice than just leaving it alone.

No doubt that Marshmallow is way smoother than Lollipop which was littered with issues like occasional random reboots and especially app crashes which neither are an issue on Marshmallow now. Posted via My Nexus 6 with Marshmallow goodness

I love updating the apps on all my Gingerbread devices at the beginning of every month just to so they show up in the distribution numbers =)

"some men just want to see the world burn" Posted via the Android Central App

Gingerbread and Froyo are like the iPhone 3G and 3GS of Android Posted via my Moto G 3rd Gen 2015 with only 1GB of RAM

Meanwhile iOS 9.2 was released today and will probably be on 20% of iOS devices by tomorrow... /troll :P

No surprise there. The main advantage of living in jail is that distribution of anything is quick.

LOL! Via the Moto X Classic

I love sarcasm! I wonder if illiterate people get the full effect of alphabet soup

How does that differ from Nexus devices? Android 6.0.1 came out yesterday afternoon and many users already installed it, rooted it, and are running custom ROMs built off of 6.0.1.

It's actually a bad comparison since Apple has no OEMs. Microsoft with Windows 10 is closer, and there OEMs have no way to stop you from updating. This is what Google should drive towards. Being able to update the OS without OEMs having to do anything

Yeah, but to get it you have to be running an ios device. No thanks.

If there are more than 5 different Android device models with Marshmallow, you can already say distribution is better than that of the latest iOS. Posted via the Android Central App

Woo hoo, .5%. So glad I spent all that time updating my apps to work with individual security permissions. Actually, I am glad I did that because not many have. Not related to this article, but I wonder what is the real market share of Android? I'd like to see numbers based on "flagship" phones. Not all the cheap/free Android phones, or the $37.00 tablets, or the free junk Android devices they give you when you buy a mew mattress. The market share numbers and activations are astounding, yet app sales don't reflect the same.

*Boots up old Dell Streak running froyo and opens Play Store * Froyo is safe for another 3 months. Posted via the Android Central App

If you're actually doing this that's hilarious. Props for the continued effort.

For Froyo to be holding steady at 0.2% even when the number of Android devices is increasing is an amazing feat.

Continue doing that mate until that little ****** dies. The ultimate trolling Posted via the Android Central App

What's with the stars, never said anything vulgar? Did it autocorrect or something I just said bug/ger Posted via the Android Central App

You're hilarious! Thanks for the laugh!

KitKat is BOSS!!!!!! Dam It Feels Good To Be A Google Gangster

True via AC App on
VZW Moto X DE/N7

I'm running eclair on my note 7 right now... Posted via the Android Central App

You need to get the Note 8. It's the best on the market. Posted via the Android Central App

http://m.gsmarena.com/samsung_galaxy_note_8_0-5252.php Posted via the Android Central App

That's what I'm talking about!!? Dam It Feels Good To Be A Google Gangster

Considering that Android is supposed to be powering 1 billion devices, that means Marshmallow is on 5 million devices. I think that is some pretty solid numbers consider the limited number of devices that can have it.

That is actually a very meaningful point. For the other OS versions as well. Posted using SwiftKey on my LG G4 via the Android Central App

The numbers on Marshmallow are pretty sad actually...especially given that 2 devices have it. I'm not sure how Google doesn't look at this and realize that they have an issue. Back in the Froyo days, Google was making progress in this area and I thought this would barely be an issue (at least for more flagship devices) in the future. Fast forward to day and the issue is largely the same. Thankfully, some updates can be made outside of the OS but the lead times on OS changes are still extremely slow.

2 devices have Marshmallow? I wonder if illiterate people get the full effect of alphabet soup

this is so sad that note 3 N9005 still never received the new lollipop update 5.1.1. after all its a well power full device dont know why they so jealous of this device :D

Sprint Moto X (2013) is downloading to lollipop as I type, so this percentage is going up soon.

Wow did you barely receive that update! Posted via the Android Central App

I think Sprint had until Thursday to get them all out. This is pretty nice though, so far. Smoother and better RAM management it appears. And no lag on the keyboard makes me happy!

Least favorite part of the Android experience. Looks half ass with those types of numbers. Posted via the Android Central App

I honestly do not think you can combine the bad lollipop (5.0.x) with the good lollipop (5.1.1). performance and stability seems to be differently between the 2

I bought two Lollipop devices on Black Friday, helping to bring the numbers up. Maybe next Black Friday I can help out with Marshmallow. :) -- RCA Voyager II

Which of course will be even more disappointing as "Nutter Butter" will have been released and only on .01% of devices with Marshmallow only on 25%... and Froyo still hanging in there with .2% Posted via the Android Central App

I gave my old phone the Marshmallow treatment. Couple that with my G4 update and I did my role in helping the adoption of Marshmallow. Soft and sweet Marshmallow

I wonder what the top five Android handsets are by units sold? I wonder how the numbers will shift when they are updated to M. By the end of January my G3 and G4 will very likely be updated. I would imagine the same will be true for a number of Galaxy devices. I would think that should make a dent in adoption rates. Posted using SwiftKey on my LG G4 via the Android Central App

Hmmm gee wonder when my Nexus 6 is going to receive the update. You know the phone that is suppose to get updates first?? Oh and then of course it'd be nice if my 9 would get updated too. Posted via Nexus 6

Still on kk.Thank you xiaomi Posted via the Android Central App

Can't look at this any other way than say this is terrible after 2 months only 0.5 percent on marshmallow lol. This also just shows how small the nexus population is. It's safe to say it's no bigger than 1 percent of android market at most and that's being generous. I'm assuming this 0.5 percent not only includes the nexus 7,nexus 5,5x,6,6p,nexus 9 and htc a9 it includes all the rooters who flash custom roms with marshmallows so makes the number look even more bleak. I think the only way this will ever get fixed is if google reboots android and treats it like how they treat android wear. Posted via the Android Central App

And this is why Phil's rant about the incremental Marshmallow which is barely worthy of a new name, is ridiculous. Posted via the Android Central App

Still waiting for 5.1.1 on my verizon note 4. At this point, vzw should skip it and get a head start with marshmallow. I am in the process of making my Note 4 self aware.

Well I'm part of that 0.5 that has Marshmallow, (it feels good to be a Nexus user) Posted via My Nexus 6 with Marshmallow goodness
Android Central Newsletter
Thank you for signing up to Android Central. You will receive a verification email shortly.
There was a problem. Please refresh the page and try again.