Live from NVIDIA's CES press event!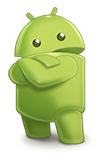 OK, boys and girls. We're actually still some 36 hours short of the start of CES, but things get really cooking tonight. We're here at Rain nightclub at The Palms with none other than graphics guru NVIDIA. Frankly, we've got no idea what's coming. An update to the Tegra 3 platform in the form of Tegra 4? Good guess. Something more? It wouldn't surprise us in the least.
We've got it all coming at you after the break. Streaming video, our liveblog commentary and photos -- and you're along for the ride. The show gets going at 8 p.m. Pacific time, or 11 p.m. on the East Cost. Let's go!
what i would do for a shield... did they announce pricing yet???

Hell yea!! I'm running a tegra 3 rite now :) one my one x plus

I hate that I didn't produce a good enough video to win a trip out there with you all, but this will be a small view into this fun!

I want more info on the PowerVR G6630, I mean a mobile chip that can do a TERAFLOP will completely smoke whatever NVidia can bring up to the plate

I need that dude's jacket, STAT.

anyone notice that when he was showing off the hdr camera, it was a windows tablet... with an android camera app... someone explain this...

Anyone else notice whatever that prototype tablet was for the HDR demo, it appears to be a Windows 8 Tablet?
Android Central Newsletter
Get the best of Android Central in in your inbox, every day!
Thank you for signing up to Android Central. You will receive a verification email shortly.
There was a problem. Please refresh the page and try again.