The LG V20's Second Screen is a gimmick that actually works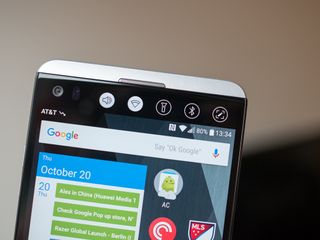 The LG V20 is a big phone with a twist — a second "ticker" display just above the main LCD panel that LG calls the "Second Screen." In reality, it is just a small extension of the main display, but thanks to improvements in battery efficiency and some software smarts, it is able to stay on all the time.
But is the Second Screen a gimmick? And what exactly can you do with that extra space? Let's break it down.
What is the Second Screen?
It's exactly what it sounds like: a place for displaying additional information and quick settings that aren't always in the foreground on a typical Android phones. Its resolution is 1040x160 pixels, which isn't quite as wide as the full width of the 2560x1440 display since it needs to leave room for the front-facing camera and proximity sensors.
LG has seven built-in panels that can be swiped through horizontally:
Quick Tools (Wi-Fi, Bluetooth)
App shortcuts (specific apps)
Recent apps
Quick contacts
Music controls
Signature (By default your name)
Upcoming plans
Some of these are considerably more useful than others, and I tend only to leave three — quick tools, app shortcuts, and media controls — enabled while the screen is on. The rest merely duplicate existing functionality.
Is it useful?
That's the big question. Andrew Martonik, in his review, dismissed the Second Screen, saying that it doesn't really add much to the experience. Here are his words:
Now, I agree with most of that, but after using the LG V20 as my main phone for a month, going back to a phone without the second screen feels like it's missing something. Here's why: by default, the second screen shows notifications that would have popped over existing content; you can expand it to create the "real" notification overlay, but generally the second screen version suffices.
The second screen also works when the main one is off, showing notifications when they appear while at other times offering the same quick tools as when the display is on. It's a system that works most of the time, and unlike the edge display on the Galaxy Note Edge, I never find this one intrusive or frustrating to use.
The best use cases
For me, the best use cases are the simplest: tapping on my most-used apps to quickly get to Slack, 1Password, Todoist, Spotify or Instagram, or quickly toggling Wi-Fi without having to swipe down on the notification shade.
I think LG understands the second screen is there to augment the first, and not to intrude on the primary experience of using Android. That the phone runs Android 7.0, which has an inherently better notification system than anything before it, also helps, since I often find myself relying on inline replies to communicate rather than entering the app itself. The second screen makes it easy to decide whether I should actually take action on a particular notification, since there's a small arrow to the right of the message that lets you expand it to its normal size. Think of it as notification triage.
The other part of the second screen that really works is media control. Having a permanent Spotify toast at the top of the display is just great, and it blends nicely into the rest of the Android experience. Yes, you can just swipe down the notification shade to access he same controls, but this is better.
A reason to buy the V20?
The second screen is one of many features that make the V20 compelling, and while alone it isn't enough to warrant a buy, it's definitely one of those features that impresses passersby and improves the phone's general desirability. Along with its removable battery, the second screen is certainly a check box on a list that includes a great big screen, a fast processor, plenty of storage, two awesome cameras, and a version of Android 7.0 that I've grown to appreciate, if not admire.
That's kind of the confusing aspect of the LG V20. It has so many gimmicky-sounding features on the surface, but they consolidate into something much better than their individual components. The second screen is something special: a gimmick that works, and improves, the whole.
Get the Android Central Newsletter
Instant access to breaking news, the hottest reviews, great deals and helpful tips.
Daniel Bader was a former Android Central Editor-in-Chief and Executive Editor for iMore and Windows Central.
I really do agree. It's tough to call this a "must have", but it is far from useless.

I have the LG V10, and love the second screen; I find it very useful. I use it for a few quick contacts that I actually make phone calls to; it's easy to do while driving. Primarily it displays my name so if i do leave my phone somewhere, someone can pick it up and know who's it is. I am not a huge fan of the app shortcut part primarily because that's what my home screen is for, but I can see it being useful. Great write-up!

So it allows you to do something illegal and dangerous...

It allows me to do something illegal and dangerous... safely! It's easier and faster to swipe the top screen than search or type through all my contacts to find the one I want.

I mean if you're going to put your's and other's lives on the line I guess this is slightly better but it's still illegal and dangerous.

This sounds like something that someone would put on the "edge"....like Samsung.

It's quite handy, sure, but It really should've been designed towards the BOTTOM of the phone. That way it would be significantly more useful because you can actually access it without Olympic training on hand gymnastics...

The bottom of phone, it would cut into the screen real estate, on top it goes well with the camera etc.
Now my hands are going to be trained for the hand Olympic this winter....🤣

On the bottom is how the Samsung Continuum (SCH-I400) had it. It wasn't well received or supported.

Being able to control music alone, without having to turn on the main screen, is enough for me to be useful.

It's all great until it boot-loops...

Definitely a handy feature. I use it often and is especially great for notifications.

I have found it useful. As burritoville above said, not a "must have" but well done and adds to the experience rather than detracts anything. Most useful is the flashlight and wifi on/off buttons. the other part i use is the phone answer/deny.

But... But what about the bootloops???

It does seem pretty neat for notifications. Rumor it LG is getting rid of it for the V30, lol. Poor LG.

Not surprised. Also rumor says they'll ditch the removable battery for larger sealed units. LG nerds will wail in anguish but LG might start selling some phones for once.

Oh I see.... A sealed unit.... That's the reason why people will buy the LG

Thank goodness. This gimmicky screens the only thing keeping me from the V series.

I love the fact that the font is larger and brighter on the V20 second screen compared to the V10. It really does pop on the V20. I never turned it off on either phone.

Doesn't work with Action Launcher :-(

What doesn't work? The second screen has nothing to do with action launcher

It is black. When I change launchers to NOVA or the stock LG launcher, everything works. When I use Action, which is my preferred launcher, it somehow disables the second screen. It is simply a black screen except for few notifications. It also turns back on when the phone is asleep.

It most certainly does work with action launcher! That's all I use and I have complete functionality

Weird.... Not sure what's up with mine then. It is the only launcher that it doesn't work on. The screen is, literally right now, black.

Loved it on the V10 and I love it even more on the V20. Using it to control music is great and also just being able to glance and see my notification icons is very useful as well.

I really liked it when I had the V10, though I will say that since getting my Moto Z Play I think Moto Display is a little better

Same here. I have both phones and I find myself using the Z Play around 75 percent of the time because Moto display is much easier to use than the second screen on my V20. Plus chopping the flashlight on is so much user friendly than scrolling through that tiny screen to plus a small button.

I love chopping the flashlight on, I sometimes do it even when I don't need a flashlight

The second screen absolutely adds another useful layer to how you'll use your phone. I remember reading that review thinking, this is written by someone who obviously hasn't really given this phone a chance as a daily. You do have to train yourself to utilize it at first, but once you do you start seeing the benefits and realize just how great it is to have.

I hope someone will port DOOM to second screen and play in it, like they did with Macbook Touchbar #itrunsdoom

Wish it came in a factory unlocked version

It does come in a factory unlocked version

Check out B&H photo. No taxes, unless you live in New York, and great customer service.

I have an LG G4 and it works well. However, there is NO WAY I will pay $770 for a new phone. There isn't a single phone on the market that is worth more than $400. We are being ripped off badly by these cell phone manufacturers.

your Lg G4 cost almost that much when it came out. Yea, its cool to wait for price drops. but some people use payment plans or upgrades with contracts. v20 will probably be $500 next winter.

My G4 was $499, which I thought was a little too much when I bought it (I got it the morning it was released). Phone prices are WAY out of control. I keep hoping that the not so well known cell phone companies will come out with units that are every bit as good as the top name brand stuff, but for half the price.

HALF the price? 3/4 or maybe 2/3 I could see, but HALF?

I returned the phone the first time I got it because I loved my Note. Got it again a week'ish later and that second screen has grown on me. I now use it daily.

What I like the most is preventing incoming calls from interrupting whatever you are doing on the phone.

Wanted one. But I get a great deal on two g5s.

I'd rather have a full 5.9" screen, but, if it is going to be present, I'd rather it were at the bottom to be much more accessible.

I use it quite a bit, but still could be made better, the notifications seem to only stay up for a fraction of a second, and it's too bright at night, there's no way to dim it lower, and no blue light blockers will affect it. I have to tape a red filter over it at night so if I wake up and need to look at the time.

I use it a lot. It's implemented better than the Edge IMO. Loved it on the V10, and I love it on the V20. Also, to anyone mentioning the boot-loop, there's a beautiful thing that LG does, they fix it for you, for free, if it happens.

I have to say it really helps me get over that I won't have BlackBerry Hub anymore. Helps me get in and out of my phone quickly. The peek at sms when the phone is off is awesome.