LG G7 Specifications: An extra-tall media powerhouse with a too-small battery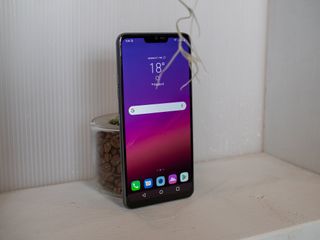 LG is back with another flagship phone, the G7, and it's a very powerful, feature-rich device. The main improvements come in the form of a more powerful Snapdragon 845 processor, a brighter, taller 6.1-inch LCD display, and dual 16MP cameras, with a new Super Bright Mode for low-light performance. And like the V30, the G7 features a strong amplifier, a headphone jack, and a powerful new speaker.
As with the G6, LG is releasing the G7 in two variants: a G7 ThinQ with 4GB of RAM and 64GB of storage, and a G7+ ThinQ with 6GB of RAM and 128GB of storage.
What else? Here are all the specifications you need to know.
Swipe to scroll horizontally
Category
Spec
Operating System
Android 8.0 Oreo
Display
6.1-inch LCD
3120x1440
Gorilla Glass 5
Dolby Vision, HDR10
1,000 nits brightness
Processor
Qualcomm Snapdragon 845
Storage
64GB / 128GB (Plus model)
Expandable
microSD up to 2TB
RAM
4GB / 6GB (Plus model)
Camera (Main)
16MP (IMX351), 1.0µm pixels, ƒ/1.6, OIS
71° lens, Super Bright Mode
Camera (Wide)
16MP (IMX351), 1.0µm pixels, ƒ/1.9
107° lens, fixed focus
Front Camera
8MP, ƒ/1.9
80° lens, fixed focus
Connectivity
Wi-Fi 802.11ac, Bluetooth 5.0 LE, NFC
USB-C 3.1
Audio
32-bit Hi-Fi Quad DAC
Boombox speaker
Headphone jack
Battery
3000mAh
Non-removable
Charging
USB-C
Quick Charge 3.0
Qi wireless
Water resistance
IP68
MIL-STD 810G certified
Security
Rear fingerprint sensor
Face unlock
Dimensions
153.2 x 71.9 x 7.9 mm
Weight
162 grams
Colors
New Moroccan Blue, New Aurora Black
Raspberry Rose, New Platinum Gray
Daniel Bader was a former Android Central Editor-in-Chief and Executive Editor for iMore and Windows Central.
I'm sick to death of having to worry about battery life. My best battery life experience EVER was my short-lived (because of a watery death) Le Eco Le Pro3, which would often give me two FULL days of normal use without needing a charge. My current G6 often needs help by mid-afternoon and I'm not likely to ever go with any battery this weak ever again. There are too many options out there now. We absolutely must demand better battery life in this day and age.

I heard BlackBerry phones have great battery life. Crazy, I still get a full day out of my Note 4.

The Moto Z Play does as well.

I have the v30 and every week I find myself saying, DAMN this phone has great battery life. I have gotten over 7hrs SOT many times and average is over 5hrs. I am just amazed at times how good it does. The only thing I do is keep the location setting off. Don't need navigation and don't need google following me. I know that helps, but even so it has the best battery life for me to date of any phone I've had and I've had many. Samsung phones don't come close to my v30. They seem to drain even when not in use no matter how big the battery is.

Huawei Mate 10 Pro is fab - two days easily for me. Great phone too. Added advantage direct line to the local Chinese (or have I misunderstood the last bit)

D. O. A, This phone is dead already, probably gonna cost a lot, have poor battery life, decent minus camera and too small. LG loves to fail i see.

1,000 nit screen plus a 3,000 mAh battery already makes this a no-go from me.

Is this a joke? And weren't they dropping the G?

The reason I only kept my G6 for like a month was that the battery was so bad I just couldn't use the phone as a daily driver. My V30 had much better battery life and actually had a better battery than my current S9+ does.

Did they announce availability or it's the usual LG style? Announce something and not available for couple of months until everyone forgets about the phone.

Is there a launch video? Somewhere I can watch the LG media machine work its magic and try to sell me on this device? I REALLY want to hear how they pronounce their sub branding of "ThinQ". I feel, from a creative point of view it was to be pronounced "Think" as in the AI in this new line of devices is thinking...you know, as AI should. But everyone tech reviewer is saying "Thin Q". Can they all be wrong (yes)? Can they all just be following a trend (yes)? Just please, somebody in authority, clear this up for me. Oh, nice phone. Hate the notch, love the Vseries audio additions

Edit: Sorry, posted in the wrong place.

I will be buying a new phone this year. I like LG phones but I am sick and tired of poor battery life with android phones in general. I really thought I was going to get this phone but unless it somehow gets amazing battery life for SoT I will probably have to look at something else.

I picked up the Galaxy S8 Active when it launched on T-Mobile a few months back. It's my first Android phone where I feel the battery has not been a sore subject. The phone isn't crazy thick or anything like that. I just don't understand why these companies are so worried about the phones being credit card thin and sacrifice battery life. I have enjoyed LG from the Nexus 4, G2, G4, V10 and V20 over the past few years. I like their phones and was looking forward to the G7. Maybe they can squeeze out great battery life out of this phone but a bigger battery would have made that easy. BTW the phone looks amazing. I hope this sells well and if the battery life doesn't suck I would have no issue going back to LG.

So they increased the display size by .4 inches, made it super crazy bright, added every single gimmick they could think of and SHRUNK the battery. Sounds about right for a manufacturer these days. I can't even...

Doesn't the screen tech saves a lot of energy? Of is that just marketing BS?

Supposedly this screen will improve battery life, but if you then make the battery smaller at the very best you kept battery life overall the same instead of improving it. I am furious that they went with a smaller battery. Here is for hoping Samsung releases a flat display S9+ even though I don't want to have to go that route if I don't have to. I just don't understand why LG didn't go with a 3500 or bigger battery.

I don't see how. This display can get to 1,000 nits which is pretty damn bright, brighter than any other display on the market. That brightness will drain the battery pretty quickly.

Key word is can... it can go up to1,000 nits, but that's not the default. And the same technology which facilitates that (white sub-pixels) also make the screen more light efficient - they let more light pass through them than the usual red, green or blue sub-pixels (I think around 30% more, can't remember). So it can basically look as bright as another screen, while using less energy (as the display backlight doesn't need to emit as much light to achieve the same level of brightness).

Geographical crippling and a small battery, DOA, and deservedly so. Also, make sure you take a couple of months to put it in the hands of the few people that actually want this device, wouldn't want a break with tradition.

This will flop, also the giant phone with a smallish battery is just baffling.

I really don't think the g7 has it over any other flagship. Much of the same with really no new innovation!

Free accessories at launch, 50% off 1 month later. I tried LG with the 6 and while it is a solid and nice looking device, it needs some updates
Android Central Newsletter
Thank you for signing up to Android Central. You will receive a verification email shortly.
There was a problem. Please refresh the page and try again.