LG G3 reportedly off to a strong start in Korea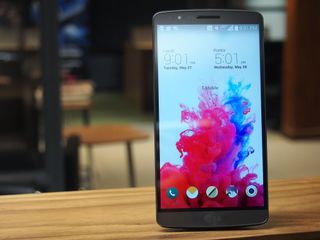 Western markets might not get the LG G3 for another month or so, but the phone is already on sale in LG's home market of South Korea, where apparently it's selling pretty well. Korean outlet ETNews reports that the phone is shifting 25,000 to 30,000 units daily in the country, and that sales are 1.5 to 2 times that of last year's G2. The publication points out it's also ahead of the 7,000 to 8,000 managed by the Galaxy S5, though that phone's Korean launch was disrupted by an unauthorized early release on certain carriers, as operators looked to sidestep government-imposed sales bans.
Nevertheless, it puts LG well on its way towards achieving its target of 10 million shipments for its new flagship. The G3 went on sale on all three Korean carriers last Wednesday, May 28; a European and U.S. launch is expected in early July.
Source: ETNews; via: PhoneArena
Further reading:
LG G3 video walkthrough
LG G3 hands-on
10 things you need to know about the LG G3
Get the Android Central Newsletter
Instant access to breaking news, the hottest reviews, great deals and helpful tips.
Alex was with Android Central for over a decade, producing written and video content for the site, and served as global Executive Editor from 2016 to 2022.
10 million? should be well above that, given that this beast trumps pretty much anything out there..

But they don't have the marketing power that Apple or Samsung has. This is a shame, but the S5 will probably outsell it.

That's a given. If they sell 15m units that would be awesome. Then hopefully they can build on that success. I think that the biggest fear is that LG will only have a few weeks to sell this then the 'prime' models from Samsung and HTC will come out and LG will go back to being an also ran Posted via Android Central App

What prime versions are you speaking of, the imaginary ones reported by the news outlets. Neither Samsung or HTC will bring out a new device to trump their current flagship phones, it would be a complete PR disaster, how do you think that would sit with people who just bought their recent flagships, not good I suppose. This is only fanboy fodder, that's all. Posted via Android Central App

I have to agree I think the Prime devices are a myth. I could be wrong, but that is what my gut tells me.

I think that there are way too many rumors for it to be smoke and mirrors. Heck the supposed prime has already gotten its bluetooth certification, and has gone through the Korean version of the FCC. Will it see the light of day in the US? Who knows but I think the rumors have gone too far to say it is all smoke and mirrors.

As I state below, the rumors have gone too far. It is way past smoke and mirrors. And somehow, I kinda doubt that 90% of the people would not give a crap if another model came out. Sure us techies might show some outrage, but that is the extent. The average consumer will not care.

I think these Prime phones will only be released in the Korean market. Didn't Samsung release a 720p screen Galaxy SII variant in Korea? The Note 4 will be the Samsung beast phone and HTC's 5.5" phone will be a 'Max' phone. I have to give it to LG - they made some crappy Android phones before the Optimus G. The G2X had terrible software - you had to root it. Both the Optimus G and G2 are really good phones.

I have the Optimus G. The radio can't make nearly as strong a connection to 4g as my last phone, the gs3. It lags like hell scrolling through text messages. The auto brightness feature hardly works at all. Google hangouts doesn't work even though I'm on Jelly Bean. The list goes on... Posted via Android Central App

You wish lol Posted via NEXUS 5

Like I said, fanboy fodder. Posted via Android Central App

Looking forward to this. Posted via the Android Central App on my Nexus 5

Android Authority says that in the time span it sold 5 times more units than the galaxy S5
Posted via Android Central App

Hope LG does well with this phone worldwide. Have the G2 and it's a great phone.

LG said they had listened. Adding a MicroSD card & removable battery is a big plus for me. If only they would offer the 3Gb RAM + 32Gb storage option in the UK, I might believe them; but they seem deaf to that issue and I just can't see why. Perhaps carrier requirements will always dominate these decisions. Sill using a Note 3 and this is why.

That seems more like a carrier issue than an issue with LG.

Yeah and not only this country. They couldn't get qi charge get in the states or Korea Posted via Android Central App

Please o please bring qi charging to att unit. Though if you guys announced a developer edition like HTC and samsung that would be awesome!

They won't because the carriers wouldn't be able to sell the Qi charging quick view cases in that event. Posted via Android Central App

Well, qi is not coming to any us variations apparently Posted via Android Central App

So hopefully this phone will be in the United States by July or early august. .att better have it too Posted via Android Central App

July 1st I heard Posted from VZW G2

What the hell is going on with AT&T for this device?!?!?

I hear ya. Really need some solid info very very soon. Current phone is on last legs. LG really should have given more specific dates for the US market.

I hope there is a G3 pro coming soon. Posted via Android Central App

I'm not too surprised is doing well, after all it's a beauty and a beast! Posted via Android Central App

Waiting on reviews for the battery. As long as those look good, I'm in. Hoping for an early July launch.

Go LG Posted via Android Central App

After seeing how amazing the g2 was I cant wait to check out the g3!!!!! Posted via Android Central App

Bad. I don't want companies getting the idea that all flagships need to be 5.5 inches. That's too damn big. Good for competition, though. Posted via Android Central App

Yeah 5'' should enough for any flagship phone. Posted via Android Central App

Wtf is prime if you going to make a high end flagship phone make one that's it. Don't try to do some marketing name Because lg beat you to the punch. Good job LG you raised the bar again. Posted via Android Central App

I cant wait to get my hands on one of these. I do wish the screen was a bit smaller though. I have huge hands but I don't want all of that bulk in my pocket all day. Posted via Android Central App

Would love to win this!!!! Although it iw kinda impossible!

Wow.. this phone is on fire must have unauthorized my ass....