The original LG G Flex was a unique, quirky phone that grabbed headlines back in late 2013, being the first flexible Android handset to hit the mainstream market. It was also a device of many compromises — an unwieldy 6-inch form factor, a lackluster 720p display resolution and iffy rear camera. It was an interesting technical showcase, if not a phone we could readily recommend.
So when it first emerged that the successor would pack higher-end internals and a better display into a smaller form factor, hopes were high. Perhaps this wouldn't just be a neat technical showcase, but also a decent, usable smartphone. The G Flex 2 also gave us our first hands-on opportunity with a real, actual retail device running the 64-bit Qualcomm Snapdragon 810 processor, the next big thing from the mobile chip giant.
So now, after a week with the G Flex 2, how does it hold up? Well, it turns out the path to a bendy smartphone remains paved with compromises. Read on to find out more, in the Android Central LG G Flex 2 review.
About this review
We're writing this review after seven days with a Korean LG G Flex 2 (SKT model, LG-F510S) running on the EE network in the UK. Because this model supports the LTE bands used by EE, we were able to use LTE data on our review unit, however it should be noted that what we have here isn't necessarily optimized for European networks. Also of note: like the LG G3, there are two G Flex 2 models, one comes with 2GB of RAM and 16GB of storage, another with 3GB and 32GB. Ours is the latter.
Our review unit was running software version F510S10b out of the box; LG says additional software updates are coming before the device hits major markets in order to improve performance. We'll update this review when the new software is available if there's any tangible improvement.
LG G Flex 2 hardware
Curvy. Shiny. Scratchy. Dusty
Physically, the LG G Flex 2 is a cross between the original G Flex and the LG G3. Trademark LG features like rear-mounted volume and power buttons and slim horizontal bezels have made it across into the new handset, which like its predecessor is an all-plastic affair. The G Flex 2 has a good reason for its liberal use of plastic, being a flexible smartphone, and it has the overall appearance of a classy piece of consumer electronics, even if it does feel decidedly plasticky. That's mainly due to the reflective pattern adorning the "self-healing" back panel, which radiates outwards from the power button, and when combined with the "flamenco red" color option we're using makes for one of the more eye-catching smartphone backs we've seen. (Don't worry, there's also a more muted "platinum silver" variant for the color averse.)
Just how flexy is the LG G Flex 2? The animation to the right should give you a pretty good idea. Given that the curve of the chassis is very slight, there's not all that much bending taking place when squishing it back to a near-flat form. You'll also need to use quite a bit of force to get it to bend, as the device itself is pretty sturdy. Nevertheless, it can be done, and it makes for a neat party trick. Beyond the initial novelty, it means you can put it in a back pocket and not worry (too much) about it going splat if you happen to sit down.
Held in the hand, the G Flex 2 feels much like any other plastic smartphone — it has a slightly tacky feel to it, for reasons we'll get into later, but it's not unpleasant. The slight curve of the body (and screen) isn't especially noticeable, though it does make the whole assembly a bit more pocketable than the average modern phone. That said, the ergonomic benefits of the slight curve shouldn't be overstated — it still feels like you're holding a big slab of glass and plastic.
As before, LG's layered the back of this thing with a self-healing back — an improved version of the coating used on the original G Flex, which is supposed to be even quicker to magically recover from light scratching. And light scratching is the operative word here, as it's still way too easy to permanently mark the back cover if you put any kind of effort into it. Even lightly brushing it with a SIM tool was enough to create a permanent abrasion which, a couple of days later, is still present. Since then I've also noticed a handful of mystery scratches on the back panel in the course of just a week of normal use. So far none of them have healed.
By comparison, the back of my LG G3, which has seen more than six months of heavy use, is relatively unscathed. It seems scratch-resistant trumps self-healing, at least for the way I use phones. What's more annoying is that the coating makes the back of the phone a magnet for dust and lint, which is less than ideal for a device destined to spend large amounts of time in your pockets.
So the central gimmicks (let's call them what they are) of the original G Flex remain intact. However there are some welcome changes from the first model. LG's smartly downsized to a 5.5-inch display, and upped the resolution to an ample 1920x1080, using the same P-OLED technology. (With a diamond subpixel matrix pattern, in case you were wondering.)
For the most part it's a decent-looking screen, but "decent" is about as much praise as we can muster. Here, as with other areas of this device, you'll witness the compromises involved with creating a curvy smartphone, and if you're expecting something to rival Samsung's latest SuperAMOLED displays then you'll be disappointed. While it's perfectly visible in daylight, and delivers the deep blacks we've come to expect from OLED screens, it's decidedly mediocre in other areas.
Firstly, the minimum brightness level is criminally high, making use at night or in darker rooms problematic to say the least. Colors are generally muted compared to what we've seen from rival OLED panels. Although the display settings menu allows you to choose between three preset levels — normal, vivid and natural — these don't do much to improve color quality. There's also a noticeable graininess to images on the screen, which is most noticeable when looking at dark greys or gradients. And on top of that, we've noticed some yellowish discoloration around the top of the screen on our unit.
Again, it's not a horrible display by any means, but the ability to impress your friends with a bendable phone clearly comes at the expense of image quality.
So what else is there? Behind the battery door you'll find microSIM and microSD slots — LG's not yet made the transition to nanoSIMs — along with the non-removable, bendable battery. Up top is LG's rear camera — a 13-megapixel unit using the same sensor as the G3, but backed up by an upgraded laser-assisted autofocus module, and updated OIS+ (optical image stabilization) capabilities. More on the camera later.
Alongside LG's branding is the phone's main loudspeaker — like the G3's, this is plenty loud, though lacking some of the richness and bass we've seen from rivals like HTC.
From a smartphone nerd's perspective, though, the really interesting part of the G Flex 2 is its processor. It's running a Snapdragon 810 processor, Qualcomm's latest 64-bit, octa-core part with four ARM Cortex-A53 cores at 1.5GHz and four Cortex-A57s at 2GHz. Paired with a 64-bit OS in the form of Android 5.0 Lollipop, this makes the G Flex 2 the first fully 64-bit Android phone to go on sale. (That's paired with 2 or 3GB of RAM, depending on whether you pick the model with 16 or 32GB of storage.)
There are high hopes for Qualcomm's latest chipset, which is sure to power many high-end Android phones over the coming months. As we'll discuss later though, while there's plenty of power for gaming and benchmarking apps, overall smoothness and UI performance is a bit of a mixed bag on this particular device.
Connectivity-wise, you've got all the options and capabilities you'd expect from a phone in this class — Cat. 6 LTE-A data speeds with 3X carrier aggregation, Bluetooth 4.1 and Wifi 802.11ac support. Voice calls also worked perfectly well on EE on our Korean G Flex 2.
Some additional odds and ends worth mentioning:
Our Korean G Flex 2 locked onto European LTE networks far more quickly than the Korean LG G3s we've used in the past, a point worth bearing in mind for importers. Korean G3s typically took much longer to pick up a non-Korean 4G signal at first.
The G Flex 2 ships with LG's own fast charger, which works at 5V at 1.8A or 9V at 1.67A. We haven't been able to officially confirm whether the phone supports Qualcomm QuickCharge, however it does seem to charge pretty darn quickly from our Motorola Turbo Charger.
There are no contacts for wireless charging under the battery door, so an official Qi charging accessory seems unlikely.
LG says the G Flex 2's display is Corning Gorilla Glass 3 treated with a special chemical process to increase its toughness. So far the display, unsurprisingly, is spotless.
LG G Flex 2 performance and benchmarks
Say hello to the first Snapdragon 810 phone
Being the first Snapdragon 810 phone to launch, all eyes are on the LG G Flex 2 as an indicator of what we can expect from the next generation of 64-bit Android hardware. So we've put the G Flex 2 through its paces in a variety of benchmark apps, which we present below.
Note that LG has issued a statement saying that it's preparing a software update to improve performance before the G Flex 2 hits major markets, so take this with a pinch of salt for the time being. We'll update these scores when the new software is available.
Higher scores are better in all tests, and we've included a second row for some tests showing benchmarks scores after three runs, to give you an idea of the effect of thermal throttling on performance. (As temperatures increase through intensive use, most smartphones generally cut back clock speeds to avoid overheating.)
For comparison we're using LG's own G3 (LG-D855, 2GB version, using a 2.5GHz Snapdragon 801) and the Samsung Galaxy Note 4 (SM-N910F, using a 2.7GHz Snapdragon 805). The G3 was running Android 5.0, while the Note 4 was on Android 5.0.1.
Swipe to scroll horizontally
Benchmark
LG G Flex 2
LG G3
Galaxy Note 4
Epic Citadel (fps)
49.2
47.7
39.4
33
44.9
31.9
Antutu
48232
42138
41203
35855
51708
49349
Antutu 64
51410
43959
N/A
N/A
Vellamo Chrome
4516
3431
3225
Vellamo Multicore
2110
1763
1848
Vellamo Metal
2267
1475
1793
GFXBench Manhattan 1080p
1201
585
1119
GFXBench T-Rex 1080p
2369
1252
1568
So what do all these numbers mean? Well, for starters, this is a pretty fast phone — particularly impressive were the browser scores and single-core performance scores obtained in Vellamo. The new Adreno 430 GPU also shows promise for graphically intensive games, given its significantly higher scores in the GFXBench off-screen T-Rex test, which measures OpenGL ES 2.0 performance.
We're also seeing that, like the G3, the G Flex 2 has a tendency to aggressively throttle back the CPU as temperatures increase. For example, note the significantly lower Antutu scores obtained by the G Flex 2 after a couple of runs. The breakdown of scores between the first and third runs of Antutu on the G Flex 2 reveal drops across the board, but most significantly in the single-threaded CPU score — from 2512 on the first run to 1386 on the last run. Obviously that suggests the CPU has been clocked back some due to thermal throttling.
There's been much speculation surrounding Snapdragon 810 and thermal performance, with rumors suggesting the chip may run too hot for its own good. We're hesitant to judge the chip as a whole based on just one device, especially as the G3 also has a tendency to aggressively throttle its CPU. So we'll wait on updated software from LG, and new devices from HTC, Samsung and others, before coming to any final conclusions.
Benchmarks are all well and good, but what about general day-to-day performance? Well, as we saw with early LG G3 firmware, it's a bit of a mixed bag. On current firmware — and let's point out yet again that LG is working on updates — the G Flex 2 is a weird mix of fast and slow. Most of the time it's perfectly responsive, but it's prone to the kinds of occasional performance stutters we're frankly surprised to see from a high-end Android phone in 2015, let alone one with as much hardware muscle as this.
So overall it's pretty fast, however there are plenty of Android phones out there running lesser hardware — the HTC One M8, Moto X and Nexus 6, for instance — that just feel much quicker. There's surely room for improvement with tighter software optimization, and we hope LG is able to fix things up in the weeks ahead.
LG G Flex 2 software
Familiar territory
If you've used an LG G3, or any of the company's more recent mid-range offerings, you'll be right at home on the G Flex 2. For the most part, the software experience here is identical to that of LG's 2014 flagship once updated to Lollipop. Aside from the (rather large) Android 5.0-style on-screen keys, and cosmetic changes like new wallpapers and unlock animations, much of the LG software experience is unchanged.
The biggest changes are behind the scenes. The G Flex 2 runs Android 5.0.1 Lollipop — the 64-bit OS, which paired with the Snapdragon 810 makes it the first fully 64-bit Android phone. There's nothing magical about that from a user-facing perspective, but it might just make the G Flex 2 a bit more future-proof than older devices, as well as opening up new performance possibilities in 64-bit-optimized apps.
It's also interesting to note that unlike Google's latest Nexus devices, the LG G Flex 2 doesn't ship with Lollipop's full disk encryption feature switched on by default. (It's likely LG decided the performance cost simply wasn't worth it.)
Read More: What is full disk encryption in Android Lollipop?
LG's UI favors muted colors, flat icons and simple, geometric menus and panels. In addition to the standard loadout of apps, LG brings QRemote for controlling your TV using the built-in IR blaster, QMemo+ for note-taking and screen annotation, and a couple of neat multitasking features. Dual Window, accessed by long-pressing the back key, lets you run more than one app on screen at a time, in a split-screen view. And the QSlide feature gives you access to a loadout of windowed applications too. Although neither feels as slick as Samsung's latest multitasking implementation on the Galaxy Note 4, both are pretty well done.
LG's unique home screen setup is back on the G Flex 2 as well, with the Smart Notice widget taking care of weather forecasts, date and time, as well as "smart cards" which are designed to present timely information based on the way you use your phone. It's not quite Google Now, but it can be useful to receive reminders of upcoming birthdays, missed calls you haven't returned after a few hours, or numbers you might want to add to your contacts.
LG's KnockOn and KnockCode features make a welcome return too. By default, double-tapping the display will wake the G Flex 2, bringing you to the lock screen. And you can add greater security with KnockCode, which lets you set a specific pattern of taps to unlock your phone. And this time around LG's added "Glance" view into the mix, letting you view the time and any pending notification icons by swiping down on the screen when it's powered off. Whether this is actually any quicker than using KnockOn is debatable, but it's a neat little addition.
As you'll know if you've updated your LG G3 to Lollipop, the UI still has feel of older version versions of Android. There's a little bit of Material Design to be seen, in the form of animated flourishes around buttons, new app launch animations and a redesigned task-switching menu, but overall things are still pretty flat, just as they were on KitKat. It also doesn't help that parts of LG's software harken back to much earlier versions of Android — there's an Android 4.0-style widget panel, and many of LG's status bar icons bring back memories of the earliest days of the OS.
There are also issues with the way LG's implemented a couple of major Android 5.0 features. The G Flex 2's lock screen is particularly problematic — unlike most other Lollipop phones, you can't swipe down on notifications to expand them on the lock screen, instead you've got to tap and then swipe below to unlock. And LG's implementation of priority interruptions — the controversial replacement for "mute" mode in Android 5.0 — is one of the most nonsensical we've seen thus far.
There's no normal mute mode, instead you can toggle between sound, vibrate and DND (do not disturb) mode. Want to use Priority mode instead? You'll need to find it in the menus. Given that DND mode silences everything, including alarms, that's not an ideal setup at all. Other phone makers have started to reintroduce "mute" mode in Lollipop devices; hopefully LG will follow suit here.
LG G Flex 2 camera
More OIS, more lasers!
Camera performance is another area in which the G Flex 2 closely matches its older, flatter cousin the G3. LG's using the same 13-megapixel sensor in its new flexible handset, backed up by an improved OIS+ (optical image stabilization) feature and upgraded laser-assisted autofocus. For all these upgrades, though, we've found that image quality is more or less identical to that of the G3. That's not a bad thing by any means, but nor is it a major step forward in camera tech for LG.
The rear camera takes shots at 13 megapixels in 4:3 orientation, or 10 megapixels in 16:9 if you want to fill the phone's screen. And in the camera app you'll find a familiar loadout of options. By default LG hides all the extra options and features, requiring you to simply tap the screen to take a picture. If that's a bit too simplistic for you, hitting the menu icon will bring up a toolbar to let you customize size, aspect ratio, grid lines and HDR mode. By default LG enables auto HDR mode, which detects scenes with both dark and light areas, and automatically toggles HDR on. And we found the feature worked relatively well, if requiring a bit of encouragement in some instances.
Image 1 of 11
Regardless, whether in HDR or normal modes, we were never disappointed with the quality of images captured by the G Flex 2. Our only real gripe has to do with the camera's aggressive noise reduction, which has a tendency to scrub away some fine detail.
You'll also get video recording capabilities at up to 4K resolution (though only for 5 minutes at a time), and a range of selfie features designed, for better or worse, to be used with the maligned selfie stick. Like the G3, you can tell the front-facing camera to take a photo with a simple hand gesture. But now it's also possible to view a preview of your shot by lowering the phone down from head height — because when your phone's attached to the end of a stick, pressing buttons isn't ideal.
So overall we don't really have any complaints here. This camera setup impressed us in 2014, and it remains among the most versatile shooters on an Android phone in 2015. (Perhaps the second-best overall, next to Samsung's excellent Note 4 camera.) That said, with a wave of new Android flagships set to arrive in the coming months, the G Flex 2's rear camera could soon start looking a little long in the tooth.
LG G Flex 2 battery life
Before we start talking battery life, it's worth pointing out that we've been using a Korean G Flex 2 on British mobile networks it's not necessarily optimized for. What's more, LG tells us it as software updates in the works to address performance concerns in other areas. So between these two factors, it's worth taking our experiences over the past week with a pinch of salt for the time being. (That said, in the past we've found that Korean LG phones, such as the G3, tend to line up with their European counterparts in terms of battery life.)
The G Flex 2 comes with a fixed 3,000mAh battery lurking behind its battery door. You can see it screwed in there, but unlike the G3's it's not designed to be user-replaceable. On paper a 3,000mAh cell sounds like enough for a high-end smartphone. But in practice we've found the phone's battery life to be average at best, and under certain circumstances it's possible to drain the phone to dead alarmingly quickly.
With mixed use across Wifi and LTE, consisting of web browsing, messaging and social app usage, with a little music playback from Google Play Music's offline cache, we typically got around 12 hours between charges from the G Flex 2, with around three hours of screen-on time. Our unit had the screen set to 50 percent brightness, with auto brightness enabled, with an even mix of indoor and outdoor use. With more aggressive use we were able to kill off the phone in around half that time, with two and a half hours of screen-on time.
That's teetering on the very edge of what we'd consider usable (let alone acceptable) for an Android phone in 2015, and we hope LG's able to make progress in this area before the phone's global launch. As it stands, battery life is a major pain point for this device.
With no wireless charging or battery-swapping options, LG's relying on faster charging to bring a flagging G Flex 2 back to life. The manufacturer quotes a figure of 50 percent in 40 minutes, which about lines up with what we're seeing using the bundled charger. As we've already mentioned, it's unclear whether the phone also uses Qualcomm's QuickCharge tech, however it does seem to charge remarkably quickly from QuickCharge-enabled chargers like the Motorola Turbo Charger.
LG G Flex 2: The Bottom Line
An exercise in compromises
When we got our first look at the LG G Flex 2 back at CES, we left with hope that it'd be more than just another nifty technical showcase — that it'd be a great phone in its own right, regardless of added features like the curved, flexible body and self-healing back. And while the G Flex 2 isn't a bad phone by any means, it's a ways short of the compromise-free experience we were hoping for.
LG should be praised for shipping something no other manufacturer is even attempting at this point — a fully flexible smartphone that doesn't skimp on specs. But in doing so, it demonstrates the limitations of the technology involved. Including a flexible OLED display means you'll have to deal with slightly grainy images and brightness limits which make low-light use problematic. The self-healing back recovers from minor abrasions quickly, but is bizarrely more prone to heavier scratching than the back of the average smartphone. LG is first out the door with a Snapdragon 810 device, but the performance (outside of benchmarks) doesn't reach the levels we'd hope to see from a high-end Android phone. And then there's the bizarre case of the 3,000mAh flexible battery which, for whatever reason, just doesn't quite deliver.
Instead of a really great phone with some neat extras bolted on, we have an exercise in compromises — a device that brings some undeniably cool stuff to the table, but at the expense of really important parts of the user experience, like display quality, performance and battery life. Undoubtedly LG has come a long way since the original G Flex, but it's just not quite there yet.
So should you buy the LG G Flex 2? That depends on how much value you're going to get out of the features that make it really unique. For us, though, LG's second-generation flexible phone remains a technical showcase more than a true competitor in the high-end space.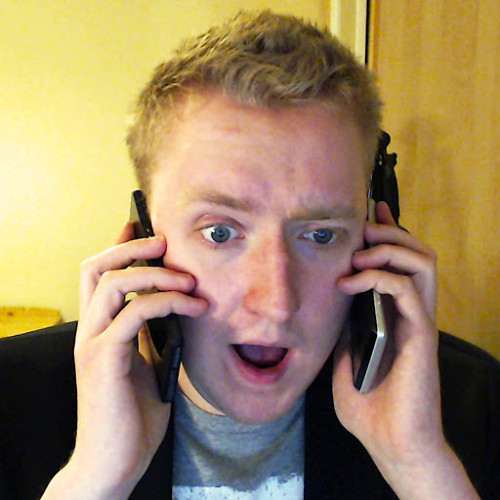 Alex was with Android Central for over a decade, producing written and video content for the site, and served as global Executive Editor from 2016 to 2022.