Lenovo Yoga Tablet 2 review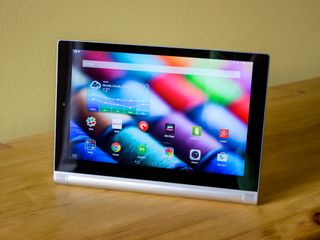 In late 2013, Lenovo recruited Ashton Kutcher – yes, that Ashton Kutcher – as its celebrity "product engineer" to collaborate on the original Yoga Android tablet. In all fairness, wasn't like other Android tablets around at the time, and that hasn't changed much to this day. With an unusual design and claims of killer battery life, there were certainly things to help it stand out from the crowd.
But inferior hardware and less than ideal software performance let it down. Lenovo tried again earlier this year with the Yoga 10HD+ with improved hardware, but now its back again – as is Kutcher – with an all-out sequel. The Yoga Tablet 2 is a family of devices that covers both Android and Windows and boasts a 13-inch 'Pro' edition complete with a Pico Projector.
And so it comes time to review. We've got the 10-inch Android version in – because the Windows 8 tablet wouldn't belong here, would it? – to put through its paces. Is it a winner this time around? Read on to find out.
About this review
This review has been written after using a European, WiFi only version of the Yoga 2 over a period of two weeks running on Android 4.4.2 and build number 1050F_140822.
Lenovo Yoga Tablet 2 video walkthrough
The design and using the Yoga 2
The Yoga 2 looks a lot like the first Yoga tablet, and that isn't necessarily a bad thing. Once again, the whole tablet hinges around the fold-out kick stand at the base. As such we're left with an insanely slim tablet for the most part, and a 'hump' at the base where we find the stand, and a honkin' great battery inside.
One critique we had of the original Yoga was that due to it's design it was difficult to actually hold. The same applies to the Yoga 2, which is actually a few grams heavier than its predecessor. It's also worth pointing out that the stand is still pretty sharp around the edges. It's not going to cut you every time you pick it up, but you could certainly slice some cheese pretty well with it.
If you're looking for a tablet to consume vast amounts of media, though, Lenovo has nailed it with the stand. Prop it up on a table and thanks to a pretty nice looking 1080p display and stereo speakers with Dolby sound, it becomes a superb mobile video machine.
One thing the stand adds to the Yoga 2 that is new is the so-called "Hang" mode. Because it's got a hole cut into it you can now hang it up from a hook as an alternative to standing it up on a surface. It's got niche appeal, sure, but if you use your tablet a lot in the kitchen for looking at recipes it's ideal.
When it comes to actually holding the tablet, we've found that going "upside down," that is, with the heavy part at the top, is a more comfortable experience. It also makes using the camera easier since it's located in one corner of it. If you're holding it by the hump, the camera is really awkward to use.
Overall, the design of the Yoga 2 is what differentiates it from the rest of the Android tablets out there. You'll either like it or you won't, either way it remains one of the more interesting parts of it. And it's what's going to catch your eye in the store before anything else. On that front Lenovo has done well — variety is never a bad thing.
The specs
Swipe to scroll horizontally
Category
Features
OS
Android 4.4 KitKat
Chipset
Quad-core Intel Atom Z3745 (up to 1.86GHz)
RAM
2GB
Display Size
8- or 10-inches IPS
Display Resolution
1920x1200
Cameras
8MP f2.2 Rear
1.6MP Front
Internal Storage
16GB
External Storage
microSD
Connectivity
802.11b/g/n Dual-Band Wi-Fi (2.4 and 5 GHz) , Optional 4G (in select countries, not US): WCDMA (900/2100 MHz), GSM/EDGE (900/1800/1900 MHz), Integrated Bluetooth® 4.0
Weight
419g (8-inch), 619g (10-inch)
Battery
Upto 18 hours on a single charge
Audio
2x front large-chamber speakers, Dolby® Audio, Wolfson® Master Hi-FiTM
The hardware
With the Yoga 2 Lenovo has gone for hardware more suitable of a higher-end Android tablet. We've got a 1920x1200 resolution IPS display, Intel's latest 64-bit, quad-core CPU and 2GB of RAM. In theory that should provide plenty of power. The display is attractive enough on the whole, though there is some weirdness – and it's hard to describe it as anything other than that – with rendering and sharpening that leaves text and images fuzzier than they ought to be. There seems to be enough horsepower within to run the Android UI with almost no perceptible lag. It does creep in from time-to-time but largely things are pretty smooth.
Inside you're getting 16GB of onboard storage, and that's it. But, there is a microSD card slot to expand that, which is good to see given the obvious media consumption pretentions. There are two cameras, 8-megapixel and a 1.2-megapixel units, and both could probably be in better locations on the tablet. The front-facing camera is on one of the short edges, yet would surely be better along the top for using with the tablet standing up. We'll look at camera quality in more depth further on.
We've looked at the design, but how about the construction? How well is it put together? On the whole, very well. The base and the stand are metal while the screen housing is plastic. It works well this way because to offset the weight added by the honkin' great battery in the base, the rest of the tablet is insanely thin and light. The back has a slight texture which makes it reasonably easy to hold on to, and the stand is silky smooth to fold out.
We can't ignore the front mounted stereo speakers, either. With backup from on-board Dolby software to tweak the output, once again Lenovo has delivered with sound. They're loud, and sound great whether you're watching a movie, listening to music or catching up on podcasts.
And it's a small touch, but the charging light around the power button is a pretty awesome addition.
The software
Lenovo is still doing its own thing with software, and on the Yoga 2 its taken its own paintbrush to Android 4.4 KitKat. The launcher remains without an app drawer – Lenovo certainly isn't the only one going that way – and so all your apps add to an ever increasing number of home screens. You also still get a legacy menu button on the home screen, tucked away discreetly down there in the bottom right.
Aesthetically it's not so bad, though, and it's a definite improvement on previous efforts from Lenovo on this front. The notification drawer has a translucent effect showing through just the slightest hint of whatever it behind it, and the lockscreen has a very sparkly effect when you unlock the tablet. While it won't be to everyone's tastes, it's clear some effort has been made.
Lenovo's software comes with a few useful features baked in, too —
4-app multi-window: Sure, the list of apps you can use is limited, but with a tap of the button in the bottom left you can drag-and-drop 4 different applications to use at once making great use of the screen real estate. Apps can be resized, too, within reason.
Swiping up from the bottom of the display opens a control center in much the same light as we've seen before from Apple and even Huawei. It's best thought of as an alternative to quick settings in the notification tray. With a tablet of this size, swiping up from the bottom is an easier motion than pulling down from the top all the time.
Smart Switch: Different display modes optimized for the different modes the tablet can be used in. Honestly, the "Hold" setting adds a pretty nasty looking Sepia tone over the display, perhaps best suited when you're using it that way to read a book. You can alter things manually, too, and even tweak the Dolby sound while you're fiddling with the display.
Some of the biggest issues with the software aren't even necessarily Lenovo's to fix. Apps not supporting landscape viewing is a big one, especially for a tablet of this size and form factor. The more nerdy among us will know there are ways and means to deal with this, but sadly the more casual user may not.
On the whole, though, it's a notable step forward from Lenovo compared to some of its previous attempts. Some will love it, some will downright hate it, but there's enough good stuff inside to please most of the people, most of the time.
And it's worth remembering that should you prefer it, the same exact Yoga Tablet 2 in 8-inch or 10-inch sizes can be had with Windows 8.1 instead of Android 4.4.2.
The cameras
If you're into taking photos with your tablets then you'll be pleased to know that Yoga 2 comes reasonably well equipped. There's an 8-megapixel f/2.2 shooter on the back teamed up with a more pedestrian 1.6-megapixel unit round the front. Tablet cameras are rarely exceptional, but before getting to the image quality there's a more pressing consideration — the positioning.
The Yoga 2 isn't exactly your regular slab, and as most of it is insanely thin the rear camera finds itself on the thickest part of the tablet. Right down there on that hump in the bottom corner. You can't use it with the stand open at all – though perhaps why you'd want to anyway is a better question – so instead the best way of using it at all is to flip the tablet upside down. This is also the most comfortable way to hold the tablet, so perhaps it's a good idea in the end. It's just a little awkward.
The position of the front facing camera seems to be best suited if you're holding the tablet vertically. But given that most of the time you'll surely be standing it up it then puts the camera off on the left hand side. It still works fine it's just more difficult framing yourself up properly with the Yoga 2 used in this manner.
So, the pictures, how does it fare? As far as tablets go it's far from the worst we've seen. Indoors in lower light it actually does better than some smartphones, though outside in well lit situations is where it shines. Things go a little awry when you're facing the sun with images getting very washed out, very quickly, but with the light behind you it's possible to take some pretty satisfying shots. The front facing camera does as good a job as it really needs to for those quick selfies and video chatting situations. Check out a selection of samples for yourselves in the gallery below.
Image 1 of 9
As far as video goes, the Yoga 2 will record at 720p from the rear camera, and you're not going to be shooting any Hollywood blockbusters on it. But if you're using it to grab some quick clips of your kids, pets, and the like, it'll do just fine. The biggest issue with both the front and rear cameras is that it automatically seems to zoom in on whatever you're shooting. So you really need to stand back to frame things up properly. Or to make sure that your video chats don't involve looking up your nose.
Battery life
Battery life on a tablet is a less pressing issue than on your smartphone – unless you rely on your tablet more than your smartphone – but the Yoga 2 comes packing regardless. Lenovo doesn't actually specify just how big the battery is, just that they're claiming 18 hours use from it between charges.
In our testing that's worked out to be around two days, but it's been two days with some pretty heavy gaming – mostly Asphalt 8 and The Walking Dead, if you're curious – and media use thrown in, as well. It could absolutely go more than two days but it's screaming out to be used to watch Netflix, play your favorite tunes and kick back with a little gaming.
But since most of the hump at the bottom of the Yoga 2 is full of battery, there's little reason to worry about it. It's certainly up there with the best of them.
The bottom line
The Android tablet space is a crowded one and it takes something truly out of the ordinary to stand out from that crowd. By its design alone alone, the Yoga 2 does that. Sure, it's the same basic design Lenovo has fielded previously, but in a sea of black (and white) slabs it's easily noticeable. As far as tablets go for consuming media – and lots of it – the Yoga 2 is worth consideration alongside anything else on the market.
It isn't without its flaws, though. The auto-display setting for holding it vertically is appalling, there's the odd sharpening effect you see on the display that's hard to unsee, and the software will be polarizing. However it is competitively priced, and unlike the previous Yoga tablet it's got enough hardware muscle to deliver a smooth user experience.
Ultimately, the decision to buy or not will come down to what you want from a tablet. If a little light work and a lot of play time is top of the list, the Yoga 2 might just be the Android tablet for you.
Get the Android Central Newsletter
Instant access to breaking news, the hottest reviews, great deals and helpful tips.