Lenovo Smart Display vs. JBL Link View: Which should you buy?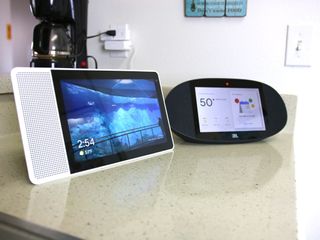 Lenovo Smart Display
The Lenovo Smart Display is the best one yet for use in the kitchen. Its unique wedge design is good-looking and durable and has speakers that are more than loud enough to hear over a dishwasher. It also comes in two sizes to help you get the perfect fit for your home.
Lenovo Smart Display
Available in two sizes
Unique design
Extremely loud speakers
Webcam w/ physical cover
Big
Veritcal mode is mostly useless
JBL Link View
For buyers whose main concern is sound quality, the JBL Link View is the clear winner. While the Lenovo Smart Display doesn't sound bad, the Link View provides deeper bass and crisper notes all around. We just hope JBL spends more time on the aesthetics whenever the 2nd gen model comes out.
JBL Link View
Fantastic sound quality
Webcam w/ physical cover
Good display
Boring, bulky design
Small screen for the price
As similar as these two devices are, each one is better-suited for a specific purpose. If you want a smart home gadget for the kitchen, get the Lenovo Smart Display. If you want the best speakers you can find in any smart display, go with the JBL Link View.
Which smart display is for you?
The idea behind smart displays is simple — it's an evolution of products like the Google Home and Amazon Echo with the big exception being that they have screens slapped on them. Amazon's got the Echo Show and Echo Spot for its Alexa devices, but if Google Assistant is more your jam, two of your best (and only) options right now are the Lenovo Smart Display and JBL Link View.
The Lenovo Smart Display was the first Google Assistant-powered smart display to hit the market this past July, and it continues to be one of our favorite smart thome products of the year. Simply put, the Lenovo Smart Display is easily the best choice among these two devices if you're looking to add a smart display to your kitchen.
Lenovo's option is made mostly out of plastic, but if you opt for the 10-inch model, you get a pleasing bamboo finish on the back. Not only does it look great, but there's also a utilitarian nature to the whole thing that works well with eggs, dish soap, and more within close proxipity to it.
There's also a wedge on the back of the Lenovo Smart Display that allows you to stand it vertically or horizontally. The screen adapts to the two viewing angles when making a call on Google Duo, but outside of that, you're stuck using it in the horizontal position. Even if it's not fully functional right now, it's nice knowing that option is there whenever Google and Lenovo get around to updating the software to support it.
Speaking of options, Lenovo offers its smart display in both 8-inch and 10-inch flavors for the display. There's a price discrepnecy of $50 between the two, but aside from that and the bamboo vs. plastic back, everything else is the same.
Moving on to the JBL Link View, I'll start out by saying that it doesn't look nearly as good as the Lenovo Smart Display. It's big and bulky considering its smaller 8-inch display, and the design isn't nearly as unique as what you'll find with what Lenovo's selling. The Link View isn't the best kitchen companion thanks to its fabric speaker covers or exposed subwoofer on the back, and it's a bit too large for use on small tables or nightstands.
With those negatives said, the Link View absolutely dominates when it comes to speaker quality. The Lenovo Smart Display is extremely loud and works well in noisy envrionments, but the Link View does this too while also providing fuller, more powerful sound at the same time. This is a device I genuinly enjoy listening to music and watching videos on, and when given the choice, usually gravitate towards it over the Lenovo Smart Display for those purposes.
In regards to the experience you get when interacting with both devices, it's virtually identical. The UI is the same, there's no difference in how the Google Assistant works, and performance is pretty snappy across both options.
Google's steadily rolling out a big software update for both smart displays that introduces support for multi-room audio groups and a Home View tab at the top of the interface that gives you easy controls for controlling other smart home devices and broadcasting messages across all of your Google Assistant speakers. The update's already landed on my Link View, and while it's yet to hit the Lenovo Smart Display, Lenovo has confirmed that it's coming soon.
Perfect for the kitchen
Well-rounded and perfect for use in the kitchen.
The Lenovo Smart Display does everything really well. It looks great, sounds good, and is much more flexible than the JBL Link View thanks to its wedge design and two size options.
Best sound
A smart display with truly great speakers.
The JBL Link view may not be the best-looking smart display around, but it sure is the best-sounding. Combine that with a good display and a webcam with a physical cover, and you get a lot for your money.
Sign up for Black Friday email alerts!
Get the hottest deals available in your inbox plus news, reviews, opinion, analysis and more from the Android Central team.
Joe Maring was a Senior Editor for Android Central between 2017 and 2021. You can reach him on Twitter at @JoeMaring1.