'Lawnchair' is the best new Android launcher you (probably) haven't tried yet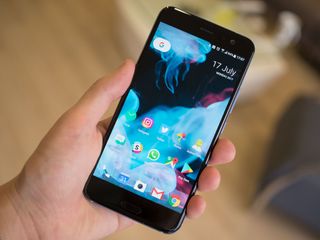 I'm usually pretty lazy when it comes to customizing my home screens. For the most part, I tend to stick with the stock launcher on whatever phone I'm using, and I don't go over-the-top tweaking absolutely every setting on my home screen.
Yet with the discontinuation of the Google Now Launcher, I've been on the lookout for a replacement, because so few third-party launchers include support for the Google Feed. (And for those that do, hacky workarounds are required.)
Enter Lawnchair which started out as an effort to bring Google Feed support to the Google's basic Launcher3 — the home screen app included in open-source Android. After gaining momentum on XDA, this curious little side project has become surprisingly polished, growing a bunch of new features from the Pixel, Android O and beyond — and porting over many Google Pixel design elements in the process.
And although Lawnchair, with its slightly goofy name, currently exists as a test release, outside the Google Play Store, it's well worth checking out. Developer Deletescape recently posted build 818 — a significant update with many performance enhancements and new capabilities.
At the heart of Lawnchair is Launcher3 — the open-source base from which the Pixel Launcher is built. On its own it's pretty barebones, giving you a basic home screen layout and swipeable app tray. Lawnchair faithfully recreates almost all of the features of the Pixel Launcher from scratch, with the only major exception being the weather widget opposite the Google pill button.
The Pixel features that are included can be easily customized, or removed entirely if they're not your cup of tea. That includes the Google button, rounded icons and even the Google Feed (aka Google Now) panel over on the left.
Like any modern launcher, you can endlessly customize the way Lawnchair looks, if the standard information density and visual style isn't to your liking. Icon packs are supported, there's a full "dark mode" to pare back the whites of the app drawer and menus — and of course the size, shape and grid layout of your home screens can be tweaked too.
Lawnchair even uses notification access to display Android O-style notification badges next to your app icons. And elsewhere, the developer has implemented O-style context menus for jumping to specific areas of apps, adding widgets, or renaming shortcuts.
Other handy gestures are included too, some borrowed from other launchers. OnePlus's swipe-down shortcut for the notification shade is enabled by default, and there's also an option to toggle the app drawer with a tap of the home key.
All of this adds up to a launcher with the slick performance and clean aesthetics of the Pixel launcher, with the added customization you get from many of the bigger names in Android launchers — plus support for new launcher features even on older versions of the OS.
It's still early days for Lawnchair, but what I've seen so far is promising. And if you don't mind manually juggling APKs every week or so, what you'll find is a very capable, very pleasant home screen experience.
Lawnchair is available to download from Github and XDA Labs right now. You'll need to enable "unknown sources" to manually install the APK... at your own risk, of course.
Alex was with Android Central for over a decade, producing written and video content for the site, and served as global Executive Editor from 2016 to 2022.
Cool let me take it for a spin.

Doesn't seem like it adds too much that Nova doesn't already do, but I guess I'd have to try it out to be sure. I've also found I don't like round icon packs because they just add a white circle behind any icon that doesn't easily lend itself to being rounded. Which describes many Android app icons.

Nova Launcher! Simply the best, why bother with the rest!!!

Really Alex Nova supports google Now you just have to download the companion app for nova and its works 100% no tweaking. im not one who is going to switch launchers Nova is loaded and stable even as a beta tester.

Agree. There's nothing better then Nova. The only thing Nova is missing is the ability to change the font.

If only I could get Nova to work on my iPhone lol.

The sole reason why I can make the jump to iOS. I want my screens to look a certain way and enjoy enabling my own gestures.

I use both because I like to see which OS has to offer. With that being said, in their current state, the only thing that I like IOS over Android is battery life.

Thanks for reminding me about the updates. I almost forgot. The updates is the reason why my S7 Edge will be my last non-Google Android phone.

Whether they work or not!

Saw this on xda and downloaded it immediately to my Pixel XL and it is so much better than the stock launcher (which was my previous favorite). No work to make Google now work, or the Google pill, icon packs etc. Download it and it looks and feels like the stock launcher. Then have fun tweaking the columns, rows, icon packs etc

Installed and, uninstalled. Not bad, but my Nova/Action Launcher rotation it's kinda perfect. Also, kinda surprised this wasn't an Ara article.

Ara wouldn't like it, her first two sentences would have likely been "Not as good as Nova" and "Where's the sub-grid positioning?" (I say that in good fun Ara, I like your articles 😉)

Didn't have the bandwidth for it as a part timer. I think Lawnchair is a fine launcher for people who wanted the Pixel Launcher to do just little bit more. Does Nova do more? Bet your ass it does. But does that mean mean Lawnchair is worthless? Absolutely not. Some people don't want to dig through a giant toolbox to change their icon pack. They want some lighter, simpler.

And yeah, Subgrid positioning or GTFO.

Been using it for a few weeks and love it! Glad to see this article, you're right, no one seems to know about it To those of you who are going to come here and say "not as feature rich as . . . ) You may notice Alex isn't saying it's the best thing out there, for some people it's fun to try something new, and for others they don't have the inclination to tinker around with every possible setting as you can do with Action or Nova, just able to get the Pixel Launcher experience without a long "here's how to do it" instructional post.

Actually, Action Launcher is Pixel by default on fresh installs now, and Nova gives a lot of Pixel's options during initial setup. But yeah, some people don't want a big complicated customization-heavy launcher.

Ha, well thanks to you now I'm back on Action 🙄

Oh, no... :P Why switch back?

If someone knows how to download an apk and install this launcher, they will also know how to enable Google now screen on Nova :) I'm not saying Lawnchair is bad, it looks simple and yeah it's better version of Pixel launcher if someone looking for Pixel launcher with some slight customizations.

I've been trying it out for weeks as well on 6P. Latest build seems quite stable, no issues with lag as seen in very early days. I prefer having Now, so I've previously been on stock launcher for years. So is this outside Google Play by dev choice, or does it somehow not qualify to be there? (like, perhaps because of how Now is included?)

I'm guessing it doesn't want to seek to be included in Google play until it's a little more mature/developed

So long as that Google Now page is integrated, Lawnchair won't be allowed on Google Play, same way Nova's Google Now companion has to be sideloaded.

It actually can't be on Google Play. The way the developer is able to get the Google Feed working without root is by compiling it as a debugging app, and those aren't allowed on Google play. He/she could separate it into a companion app like the Nova developer, but maybe he didn't want to, or it isn't possible with his implementation.

Does Google charge to keep apps in the Play Store?

There's a one time $25 registration fee ,nothing else.

I have it installed on my Pixel. I really like it. I love the Pixel Launcher to begin with, and Lawnchair adds the customization that was missing while still giving me the ability to have the Google Feed.

Tried it...nothing special

Looks to have lot of stutters in the launcher, tried on the S8+ and U11. After playing with it for a while on both devices, perf not as great as Nova IMO. And also can't configure swipe down to app search instead of Google search like I can do on Nova, love that option which mimicks spotlight search on iOS.

I guess I've reached the age where I don't understand what you kids are up to any more. This looks EXACTLY like the stock launcher that comes with every Android phone I've ever owned (both of them). Swipe down for notifications? Yeah, that's stock. Oh wait, I see how the folders are now round so that you see less of the app icons that are in that folder. Seems like a huge waste of time to develop something worse than what already exists. I could use a better clock/weather widget, but somehow I don't think that's what this is. (Note to reader: You're going to take this personally, because internets, but it isn't. I admit, I don't get it and that's on me. But that doesn't have anything to do with you. Let it go.)

You probably missed the part where the article mentioned that this have Google Feed built-in and that is important to some people because Google Now Launcher will be axed in the future so its better to have an alternative that will receive support in the future.

No, I saw that, but I had to google Google Feed and don't know why I'd want or need that. I use Feedly to grab articles from my subscriptions and I don't want that constantly running, using my data plan for stuff that I don't need immediately, constantly interrupting me. I launch Feedly, scan the headlines, read what I want, then shut it down. I think it's kind of silly that some people think they need to know everything the very second that it happens.

Based on the screenshots, it seems it offers a bit more customization than the stock launcher. So I would say it sits somewhere in-between the stock launcher and something like Nova. It has some customization but not a huge amount.

Tried it. Not bad but not customizable enough for me.

Awesome launcher, there is some jank though when swiping left to the google feed and when clicking the pill. Back to google now launcher for the moment, hopefully the software will be optimized soon.

Quick actions when long pressing an icon don't work. All I get is edit, widgets, and something else along with the notification if it's there. Meanwhile, quick actions work on both Nova and Action, but they lack the notification on the long press thing. Just need to combine those two options into one!

I have an intimate relationship with Nova. With any new Android device, 1. Download Nova Launcher 2. Download Nova Launcher Prime 3. Restore from Google Drive backup.

I installed it. I like it.

Hey, could you guys also link their website? https://lawnchair.deletescape.ch

Does it do a vertical list of app?

Yes, swipe up on dock and vertical scrolling

But is that a vertical list of icons or normal with 1 icon + text (app) on each row? And perhaps a letter-popup for the scrollbar?

I dunno...I'm still pretty stuck on Arrow Launcher. As far as actual usable "features" go, rather than simple customizations, Arrow Lawnchair definitely takes the cake for me.

Awesome launcher I've been using it for about a week now and it's a really slick interface and very customizable. The author Deletescape is turning out new features and bug fixes at a crazy pace . There is another launcher by the same name on Google Play but it's a clone of Deletescape's work and way behind on features.

after installing on my Moto G4 everything started going crazy. had to uninstall to rule it out. pity. excellent launcher

It will take something amazing to get me to give up my Nova Launcher

Is there any way to use it without it deleting all my pre-established widgets and icons?

I think Its a nice approach, specially with the blur effects. One thing that it kills me like all the other launcher (including Nova) it's the opening app animations it's so archaic and no one seems be able change that.

Come to any comment section about a launcher and the Nova gang just copy/pastes their love, most of whom don't seem to bother even trying the one featured in the article.

Will this launcher maintain my homescreens as they are or will it erase everything I've spent hours building? I've tried Nova Launcher and it deleted all my shortcuts and widgets.
Android Central Newsletter
Thank you for signing up to Android Central. You will receive a verification email shortly.
There was a problem. Please refresh the page and try again.