Kyocera Hydro Edge review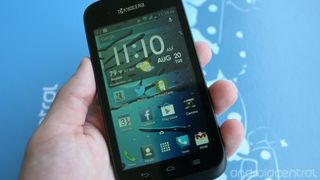 Announced back in July, the Kyocera Hydro Edge is a low-end handset for Boost Mobile. It continues the recent trend towards water resistant smartphones, which the Japanese manufacturer has been pushing lately. The Hydro Edge won't wow anyone ​looking for the top line devices, but is a decent offering for those who are budget conscious and are just looking for a working phone. The changes Kyocera made to Android are mostly minimal, but are not without grievances. We'll cover it all, after the break.
Pros
Surprisingly good camera, minimal changes to Android, Gore Tex a nice addition to the hardware, water resistant
Cons
No 4G support, only 4GB of internal memory, slows down after use due to not having high-end specs
The Bottom Line
A solid low-end choice that sports a good camera. If you're into water resistant phones, I'd recommend checking this one out. Kyocera has been aiming at low to mid end devices, and this one performs well at that expectation.
Hardware
It's amazing what a few years of using larger displays can do to you. The Kyocera Hydro Edge sports a 4-inch display, but it took me a little bit to get used to that size again after using the Galaxy Nexus for so long. Regardless, it feels fine in the hand. If you're worried that because it's water resistant, it was somehow going to feel weird, don't worry. On the back of the phone, you will find Gore Tex, which is nice and makes the phone less prone to being dropped.
The display is 800 x 480, so don't count on something that will match the higher end phones. It's fine for what it is, but we'd prefer a little better.The storage amount offered out-of-the box is a disappointment. 4GB is not that much, so I found myself filling it up rather quickly. There is a micro SD slot, so if you want more, you can always add it yourself. The Edge has a 5mp camera that actually impressed me. I took photos expecting average at best but came away pleasantly surprised. I think anyone considering the Hydro Edge will be happy with it. You will find three buttons on the bottom of the device: back, home and multitasking, excluding the search.
Specs:
Android 4.1 (Jelly Bean)
4-inch IPS touchscreen
Water resistant (rated to IPx5 and IPx7)
5MP camera with 720 video recording
1GHz dual-core processor
1GB RAM
4GB ROM
1600 mAh
Software
The Edge runs Android 4.1.2 (Jelly Bean) and comes with all of the features you would expect. The lock screen frustrated me though and made me long for the stock Android lock screen (or just a different app). It presents four different shortcuts that can be made from the lock screen: camera, phone, messaging and simply unlock. Whichever you wanted, you had to swipe up that particular way. I would often not go far enough for it to recognize that I just wanted to unlock the phone even though I dragged it to the icon. It was also way too easy to bring up the camera when you don't want to, so the needless to say, the lock screen was not my favorite part of the phone In the app drawer, you still have the two options for Apps and Widgets, though it's a bit different esthetically, but there is also a third option: Play Store. It gives you a nice shortcut to the Play Store, though I never found myself using it. Other than that the software is pretty close to stock.
Cameras
The Hydro Edge sports a 5MP rear facing camera and as I mentioned earlier, for a low-end phone, the camera pleasantly surprised me. Photos are not going to blow you away, but are much more capable than I was expecting. If a camera phone isn't great, I find myself just not taking as many photos, since my smartphone is my main camera these days. The Kyocera was good enough for me to want to take it out often.
Samples:
Video sample:
Carrier
The Kyocera Hydro Edge is available from Boost Mobile, which runs on Sprint's network. The phone can be bought for $149, which is pretty decent for the full cost of the device. A disappointment, though, is that it only supports 3G, so if that's a deal breaker, this phone is not for you. Make sure that you have good Sprint coverage where you live if you are considering Boost Mobile.
Water resistance
Kyocera continues to push the water resistance quality of their phones. While we have all been there with our expensive smartphones getting wet, I just don't see it as a selling feature. Maybe for people who routinely destroy phones in water.The Hydro Edge can survive up to 30 minutes in 3,28 feet of water. So if you accidentally drop it in a puddle or want to use it when it's raining, you will be fine. If you drop it to the bottom of the river, you probably won't be able to use it again.
Battery life
The battery life on the Hydro Edge was solid and consistently got me through an entire day. It packs a 1600 mAh battery and does not offer 4G, so the fact that it has good battery life is not surprising. But it's always good when your phone can always get you through an entire day without having to worry about it. Getting me through an entire day was with heavy use.
Bottom line
Kyocera has focused on low and middle tier phones for years now. The Hydro Edge is a very capable device for someone looking for a cheap phone that will handle use fairly well. It will not blow anyone away with its screen, camera or smoothness, but we're betting that people buying this device won't notice anyway. The camera is pretty decent regardless, as I mentioned above.For $149, it's a great deal, though we wish that it supported 4G. If you really care about a water resistant phone, I would give it a go.
If you have a Kyocera Hydro Edge and want to sound off or if you would like to read more about the phone, please head over to our Forums.
You left out the most important piece of information in this review: who's the snow puppy in the camera test shot?!?!?!?!?!?!?! SOOOO FUZZY!!!!!!!!
Android Central Newsletter
Get the best of Android Central in in your inbox, every day!
Thank you for signing up to Android Central. You will receive a verification email shortly.
There was a problem. Please refresh the page and try again.