Just get Android Wear? These are the first 10 things you need to know!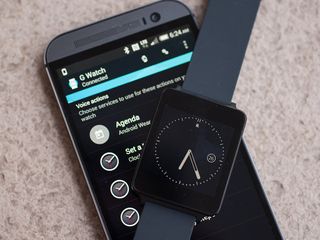 Android Wear is a different way of doing things, but it's not overly difficult
Thousands of eager Android fans are picking up a LG G Watch or Samsung Gear Live today at Google I/O. And thousands more are awaiting theirs to arrive in just a couple short weeks after being ordered on Google Play.
It's Android all right, but it's a different kind of Android, designed to work on the small scale, with minimal touch input, all on your wrist. Android Wear also is still in its infancy. And while we're mostly impressed with what we see thus far, there's always some room for improvement. We've got some quality time with Android Wear under our belts already, and we're hear to help you on your way. First and foremost is that you'll need the updated Google Play Services 5.0 app, as well as the Android Wear app, which you'll use to set up the connection between your phone and your watch. (It's not unlike any of the other smartwatches in that respect, really).
That's the easy stuff. We'll help you through some more. (And check out this post if you need some help setting up your Android Wear.) If you're just getting your Android Wear device, we've worked up a list of the top 10 things you need to know right this second.
Need more Android Wear tips? Check out our next 10 things you need to know!
1. Your watch is listening
That it constantly says "OK Google" on the face should be a bit of a hint, but we'll forgive you if you overlook this one. Android Wear is heavy into voice activation. And so all you have to do is wake it with a tap, then start talking. It's that simple.
2. Tap the clock to do things, and swipe down to do more
Notifications are a big part of Android Wear, but they're just one part of Android Wear. No matter what watch face you've got on your Android Wear device, you can tap the clock to get to more options, including prompts of what you can say.
But if you don't want to talk to your watch, it's cool. Not everyone wanted to be Michael Knight when they were a kid, and that's OK. And if you don't want to talk to your Android Wear watch to get it to do things, you don't have to. Once you're on the search screen, just swipe down (as in flick your finger up) to scroll through the voice prompts. Keep scrolling even farther to get to your alarms, settings and any installed apps.
And speaking of apps, there aren't that many just yet. You'll find them at the very bottom, under "Start." So far we've got a compass, Android Fit, Google Keep, the remote control for Android TV, and a World Clock.
3. Swipe down to "mute" your watch
If you've got a notifications rolling in uncontrollably, and that buzzing vibration motor threatening to rip your arm off, it might be time to "mute" your phone. To do so, just drag down while you're on the watch face. (That's also an easy way to glance at the date and battery percentage.) When you want your watch to buzz you again, just repeat that swipe.
4. You can subdue the colors
The first batch of Android Wear is a full-color affair. That can be more harsh on battery life than something more more monotone, and Google's thought of that. Place your palm over the face of the watch to put it in "dark" mode. That temporarily lowers the brightness and removes some of the color. A simple tap (on the G Watch, anyway) will wake it.
If you'd prefer the watch display not be on all the time — as in full dark, no stars — that's an option both in the watch settings, and in the Android Wear app.
5. Developer options are available
Android Wear is a full version of Android. That means you can do things that you can on a phone or tablet, which also run full versions of Android. And that means Android Wear has hidden developer settings. To get to them, go to Settings>About and tap on the build number, just like you would a phone or tablet. From there, you can choose to (among other things) enable USB debugging, which then lets you have a little fun by placing the watch in its charging cradle, and then plugging the whole thing into your computer.
What can you do? All sorts of stuff. Take screenshots. You can easily enter the bootloader. You can unlock the bootloader with the fastboot oem unlock command. You can sideload apps. (Flappy Bird installed and immediately crashed, which is ironic when you stop to think about it.)
Again, this is a full but modified version of Android. If you can dream it, you can do it.
6. It's running Android 4.4W
In case you were wondering.
7. Swipe left to go back, right to go on
Another gesture you need to know: Flick to the right (as in if you're scrolling left) to go back a level or to exit out of an app. Some actions move you on further by swiping to the right. But left is what will get you out of trouble.
8. To change the watch face, hold down, or go to the settings
Two ways to change your watch face: The easiest is to just hold down on the current watch face, then scroll through.
The more manual method is to tap on the clock, then scroll down to the settings menu. Scroll down again to "Change watch face." Flick through them and find something you like.
9. Check the settings on the companion app
There are a few settings in the Android Wear companion app that are worth noting.
First is "Mute app notifications." This allows you to blacklist certain specific apps and keep them from sending notifications to your Android Wear watch. You have to pick them one at a time, though. We'd prefer checkboxes so that you can do more at once.
"Hide cards on dimmed screen" is another good one and can keep your watch looking more like a watch when it's dimmed.
And "Silence connected phone" will keep your phone from getting the alerts while your watch is connected. Or not. Your call.
10. Patience: More is on the way
Remember, Android Wear hasn't been officially released yet, and we're all lucky to get to play with it. We need developers to update their apps to serve as companions. (The Google Play listing for Android Wear apps points to more on July 7, which is what we were given as the street date for the LG G Watch.) And it wouldn't surprise us to see Google tweak things between now and then.
So if you've got a G Watch or Gear Live already, enjoy it. This is fun. And more is on the way.
Sign up for Black Friday email alerts!
Get the hottest deals available in your inbox plus news, reviews, opinion, analysis and more from the Android Central team.