Intel not backing down from the long, hard fight for Android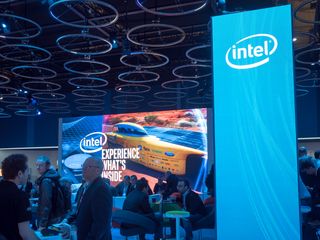 Aicha Evans is not happy. Or, rather, she's not satisfied. Not in the least. Spend any time with the Intel exec — she's got a couple long titles, but they boil down leading modems and handsets — and you get the sense that she's generally an upbeat person.
And that's why some of the first words we heard her speak at a small group discussion at Mobile World Congress were sort of surprising, even delivered in her friendly, soft accent.
"We've failed."
That's not the sort of thing you hear often from a corporate executive. But the simple fact is devices running Intel processors are still few and far between in the mobile world — and certainly not selling in the numbers that Evans was shooting for.
"A lot of people say that we lost the handset battle, which we did," Evans said. I believe we lost it in 2004, when LTE was being defined and we were on Wimax. And then in 2007, we totally misread the iPhone, and that one really gave us a heart attack."
To be fair, Intel was hardly the only one to get snookered by Apple. And Evans — whom we interviewed at the launch of the Intel-powered ASUS Zenfone 2 in 2015 — has set lofty goals for herself (and her company) in 2016. More Intel-powered devices are on the way. But already two months into the year Evans knows it's a long road ahead to meet her goals. "And as far as I'm concerned I have until Dec. 31 at midnight to deliver that volume," she said.
Enter the Intel XMM 7480
Intel announced the XMM 7480 modem this week at Mobile World Congress. It's not going to be sampling for manufacturers until the second half of the year, so we're not going to see it in consumer devices anytime soon. But Evans has good reason to be excited about the new product. The 7480 supports more than 33 LTE simultaneous LTE bands (it won't be used on CDMA networks, however), and Intel is hoping customers turn to it so they have to build fewer versions of the same device.
Evans has learned a lot of hard lessons leading up to this new release. And she was typically candid about it.
"I learned that running Android on [Intel Architecture] is not as easy as I thought," she said. "I learned that China is not like getting Google certification and you're done. And I also learned that you have to learn to do business in Shenzhen.
"It's been hard. See? I fail, too. But I learn."
Get the Android Central Newsletter
Instant access to breaking news, the hottest reviews, great deals and helpful tips.