Intel not backing down from the long, hard fight for Android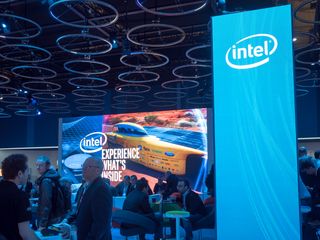 Aicha Evans is not happy. Or, rather, she's not satisfied. Not in the least. Spend any time with the Intel exec — she's got a couple long titles, but they boil down leading modems and handsets — and you get the sense that she's generally an upbeat person.
And that's why some of the first words we heard her speak at a small group discussion at Mobile World Congress were sort of surprising, even delivered in her friendly, soft accent.
"We've failed."
That's not the sort of thing you hear often from a corporate executive. But the simple fact is devices running Intel processors are still few and far between in the mobile world — and certainly not selling in the numbers that Evans was shooting for.
"A lot of people say that we lost the handset battle, which we did," Evans said. I believe we lost it in 2004, when LTE was being defined and we were on Wimax. And then in 2007, we totally misread the iPhone, and that one really gave us a heart attack."
To be fair, Intel was hardly the only one to get snookered by Apple. And Evans — whom we interviewed at the launch of the Intel-powered ASUS Zenfone 2 in 2015 — has set lofty goals for herself (and her company) in 2016. More Intel-powered devices are on the way. But already two months into the year Evans knows it's a long road ahead to meet her goals. "And as far as I'm concerned I have until Dec. 31 at midnight to deliver that volume," she said.
Enter the Intel XMM 7480
Intel announced the XMM 7480 modem this week at Mobile World Congress. It's not going to be sampling for manufacturers until the second half of the year, so we're not going to see it in consumer devices anytime soon. But Evans has good reason to be excited about the new product. The 7480 supports more than 33 LTE simultaneous LTE bands (it won't be used on CDMA networks, however), and Intel is hoping customers turn to it so they have to build fewer versions of the same device.
Evans has learned a lot of hard lessons leading up to this new release. And she was typically candid about it.
"I learned that running Android on [Intel Architecture] is not as easy as I thought," she said. "I learned that China is not like getting Google certification and you're done. And I also learned that you have to learn to do business in Shenzhen.
"It's been hard. See? I fail, too. But I learn."
Good for Intel. The make the best computer chips, why not give Qualcomm a run for their money. So far I have only heard great things about Intel. Would love to see am Intel Nexus. Will probably get it in a version if the ZenPhone III. Posted via the Android Central App

I like Intel in the ZF2. It's great. But QC just has a great hold on the market and Exynos doesn't breakthrough outside of Samsung. I think the Mediatek is making better grounds out of all to compete with QC and even then that's not saying much. I still would love to see an Intel Windows Phone that can truly take advantage of Continuum. But it's good to admit failure and be humble. Seems like Apple humbled everyone LOL Posted via the Android Central App

It's been said before, Intel has a lot of catching up to do. They basically have years of catch up with Qualcomm. I mean Qualcomm already has chips that can support 33 LTE bands that are attached to their processors which are also attached to the video processor. A three-in-one chip, something Intel has yet to do. Qualcomm only further innovates while Intel, can only try to trail behind and hope Qualcomm stumbles or gets lazy. Posted via the Android Central App on the Sony Xperia Z3 Compact

I have the ASUS ME572C, "Intel Inside", the hardware that should have been the next Nexus 7. It is a Great WiFi tablet.
If only my Android phones had worked as well, I might not have gone back to Windows Phone.

Intel's going to have a difficult time, since they're trying to gain ground in a market that's almost wholly-dominated by Qualcomm, with Exynos chips usually powering Samsung's own devices (with the Meizu Pro 5 being one exception) and MediaTek still not being favored by some geeks and limited adoption. That said, I do bid them the best of luck. I love seeing more competition, especially in the mobile computing space.

I like most want to see Intel succeed. Intel proved that they can build a great chip with the z3580 but they will have to do more to entice manufacturers their way. They may have to go the Qualcomm route and build socs with the modem on die. It wouldn't hurt it some of the features from their desktop cores make it to mobile. I just feel like their mobile chips have been an afterthought for far to long. It's kinda sad that Apple built a mobile chip that resembles intel's desktop core more than intel's own mobile core. I would love to see a mobile core that is 6 wide and has hyper threading like the desktop chips. Posted via the Android Central App

They execute great on their Core architecture. They need to do the same in mobile to grab that mind share and market share. Commit the resources to release a new chip with 15%+ performance increase every 9 months until you own mobile. People cannot ignore you if you have the best silicone. Posted via the Android Central App

First improve skylake yields plz Posted from my Nexus 6/Nexus 7 2013/Surface Pro 3

Umm....a bit late! Posted via the Android Central App

I'm just waiting for them to STOP shoehorning their PC processors onto our Androids, that's why Zenfone 2 had God awful thermal management (largely throttling) issues and still couldn't touch the performance of Galaxy S6 and the Snapdragon 810 Toasters. But hoping for the best, competition's always good... This Android with the AC App is On Fleek.

That was worse if compRed to the first gen, but still asus did a great job and made the phone cooler than it was when i bought it, it used to heat less than810 but performed even better than m9 , z4
Compared to samsung , whom i hate the most. asus has done way better in a small time of two years in mobile market , and all i see is potential Nd need of better RnD portion for experimenting with new feauters like miui, lg, cm,samsung and use the best chipsets
I love my phone and will use it till 2017 mid when they launch there 4th gen zenfone or moto will be the next device, no samsung , no lg, no high priced crap (except nexus and moto which are high priced here but stil worth)

What intel should do-
1. Use 14nm manufacturing process, to make chipsets like sd820 or even better. 2. Use intel hd graphics in them as they are not pc type but decent enough for mobiles 3. Take care of throtteling

Its refreshing to see a CEO admit failing and then give reasons instead of excuses. I really want Intel to succeed. More competition means more innovative ideas and lower prices. Thank god for Mediatek being around to keep Qualcomm honest. Otherwise you would get a new flagship processor that would overheat when stressed ever so slightly..... Oh wait...... Posted via the Android Central App

I was one of intels first premier dealers in the late 90s and early 2000s and they were arrogant and treated customers like crap. Personally, I've really been enjoying seeing them lose. Although competition makes for better products for the consumer and all that other crap lol Posted via the Android Central App

I understand what you mean. I feel the exact same way about Verizon. Except they are not failing by any stretch. Posted via the Android Central App

Without Verizon or Sprint, it doesn't matter if Intel has phone chips that serve martini's: it is going to continue to fail in the marketplace. You'd think Intel would know that by now.

In the cell phone world CDMA is all but dead and the entire world, including Intel, knows it. Verizon already said it's going to keep CDMA for "Internet of things" and not cell phones. Think small appliances and the like. LTE and VoLTE is going to make Intel compatible with Verizon and Sprint sooner rather than later. And, I hate to burst your bubble, but when 75% of the cell phone buying world uses GSM, Intel could very well survive without Verizon and Sprints outdated CDMA network. Posted via the Android Central App

Actually there a few regionals on CDMA, C Spire and US Cellular come to mind, but don't even think about Sprint in its current form as being a viable service when Softbank wakes up to their continued losses without much hope of return in 2017.

You're correct. Sprint has made more bad decisions in the past 10 years than a heroin addict with cash. Posted via the Android Central App
Android Central Newsletter
Get the best of Android Central in in your inbox, every day!
Thank you for signing up to Android Central. You will receive a verification email shortly.
There was a problem. Please refresh the page and try again.