The Inox Cybertool from Acer adds smarts to your Swiss Army watch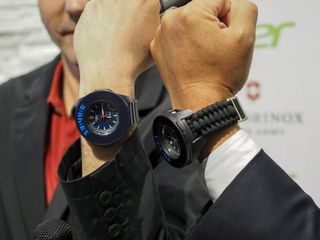 At Mobile World Congress in Barcelona, Spain, Acer pulled the covers off its wearable project in conjunction with Victorinox Swiss Army watches. The Inox Cybertool, as it's being known, is an additional piece which clips around the watch face of existing Victorinox watches and adds some digital smarts. All while leaving the traditional watch face peeking through.
But, there's a catch. It's absolutely enormous.
OK, so it's very clearly a first-gen product, but the size is impossible to ignore. The Cybertool is essentially a shell that encompasses the entire watch with a Gorilla Glass covered display showing various smart functionality. The LCD doesn't need to be on all the time and you're never away from being able to see what the actual time is.
There's a mixture of soft and hard plastic making it up and there are a small selection of buttons on the outside that control the various features. There's some very basic activity tracking involved by way of a step counter and calorie tracker, but in conjunction with the companion app you also get notifications of phone calls, reminders, and can even send out a distress call. There's also a basic timer and stopwatch feature, something you naturally don't normally get on an Inox watch.
It's pretty rough and tough and is IPX7 rated, and it's actually going to protect your watch in circumstances when things might get a little heavy going since it covers virtually all of it. And you should be good for around a week of battery life between charges.
The approach here is one of adding features to your existing tools. Instead of coming out and just designing a smartwatch, Victorinox paired with Acer to design a product that can work in conjunction with it's range of analog time pieces. The big drawback here is going to be the size, but equally you're not going to wear it all the time. That's the point of it.
No pricing or availability for the Cybertool were available intially.
Image 1 of 3
Android Central Newsletter
Get instant access to breaking news, the hottest reviews, great deals and helpful tips
Wow you can barely tell it's there! So small! I foresee a massive market for this. No wait, wrong way round...

Awesome if you want to look like an 18 wheeler. Android Central App | S5 G900A kitkat root

Don't skip arm day! Or you will be unable to haul this thing around.

used to work for them ... they put most of their time and effort into knives and luggage, both of which IMO are great. regular watches are maybe the best value brand out there, but this definitely isn't their best effort. my favorite knife still is the one with the USB inside ... they make great groomsmen gifts!

no way. whoever approved that should be fired.

I would be afraid that someone would think I was supposed to be on house arrest with one of those on.

Man that's beefy... It also appears they've run out of names, I've had a Cybertool for more than ten years. Posted via the Android Central App

What the hell is this atrocity ? Posted via the Android Central App

The perfect companion to the predator tablet...

That abomination is the worst product from any company I've seen in a long time. Posted via the stainless steel LG V10

Yeah, looks great with biz attire! Available from Woot! next year for $109...
Android Central Newsletter
Get instant access to breaking news, the hottest reviews, great deals and helpful tips
Thank you for signing up to Android Central. You will receive a verification email shortly.
There was a problem. Please refresh the page and try again.