Huawei Watch GT leaked, rumored to have up to 14 days of battery life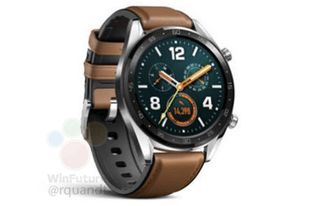 Huawei's previous smartwatch, the Huawei Watch 2, was a fine wearable that ultimately failed to capture a big audience due to an uninspired design and poor construction. To hopefully make up for its predecessor and bring back the greatness of the original Huawei Watch, a new leak has provided us with a lot of details on the Huawei Watch GT.
The render shown above is apparently the Huawei Watch GT Classic / Style. Along with it, there will be another model called the Huawei Watch Sport with a different bezel and watch band. The model we're seeing here has a large 1.39-inch OLED display, two physical buttons on the right, and a metal casing with a leather + silicone band.
A large 420 mAh battery is reportedly inside the Huawei Watch GT, and thanks to that and a special power saving mode, you'll be able to get up to 14-days of use before needing to throw the watch on the charger.
Built-in GPS, NFC, and a "swimproof" design have all been confirmed, but it's still unclear if there will be a heart-rate sensor or what processor will be used. Also, while it's likely that the Watch GT will be powered by Wear OS, it's worth noting that the operating system hasn't been called out by name just yet.
It's reported that the Huawei Watch GT will launch with the Mate 20 smartphone on October 16 for around 199 to 229 EUR.
The Apple Watch Series 4 is light-years ahead of anything running Wear OS
Joe Maring was a Senior Editor for Android Central between 2017 and 2021. You can reach him on Twitter at @JoeMaring1.
Please let that be it. Please let these spec claims be right.

I am expecting this large battery to support freebuds 2 charging via the wristband. If so i want in. If not i want in.

It looks like you're in then!

No Tizen on it, not interested

That'd be a reason not to get it!

Tizen is a great watch OS.

As opposed to what? WearOS underdevelopment and lackluster interface?

No Tizen is a massive bonus

Ok, what is it about Tizen that is so epic? I have been using a Gear S3 Frontier for almost 2 years and I admit that the UI is good. S Voice makes Alexa sound like an Einstein-Shakespeare hybrid. But the apps... I went from an LG URBANE 2 LTE to the S3. Hardware and battery life are far superior, but that's about it. There are barely any apps to speak of. So tell me, how is Tizen better when wear os actually has app support?

If it has the 3100 I'll bite. Otherwise I'll pass.

This looks good, and we need more good watches. Wear OS just did a major update today and went to gesture based navigation. I'm not a fan of gestures on smartphones, but on a smartwatch, it works well. The previous version used a swipe left or right to change the watch face, but now that function is a tap and hold. Swipe left now brings up fitness information which is a huge plus, and swiping right brings up Google assistant and weather, plus shortcuts like "send a message" or "find coffee". Swiping up brings up notifications, and swiping down is for the control panel and shortcuts like brightness and airplane mode. I liking it a lot so far, and the watch is faster. The 14 day battery life is great, but not if it can only be done in power save mode. This mode often turns off features like always-on display, haptics, location services, Wi-Fi, and app updates. Not sure I would want to live with it gimped like that for the sake of battery life. There are other options, like the dual display Ticwatch Pro which can go 30 days on one charge.

I've not been considering another smartwatch, but I'll be damned if that render doesn't reach out to me. My style exactly. Dammit.

No kidding. The watch actually looks good, even if it has subpar battery life, like all the others on the market, I might still be interested in this. Would really want the new snapdragon chip though.

Now THAT'S a good looking watch. Big battery is a big bonus too

I'm all for good battery life, but 14 days? Honestly, too many smartwatches seem obsessed with be on rather than being smart.
Android Central Newsletter
Thank you for signing up to Android Central. You will receive a verification email shortly.
There was a problem. Please refresh the page and try again.