LG Watch Sport vs. Huawei Watch 2: The right and wrong way to do Android Wear 2.0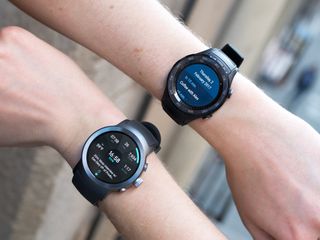 The one-two punch of the big LG Watch Sport and sleek LG Watch Style didn't hit every market segment, and that's fine because we always knew other companies would step in and provide different options. The Huawei Watch 2 is the first of those alternative choices — a follow-up model to the well-received Huawei Watch, and another choice for those who want a new watch built for Android Wear 2.0.
Interestingly the Huawei Watch 2 doesn't follow the design of its predecessor, and instead goes with a more active design that actually lines it up nicely against the LG Watch Sport. A step further, the Huawei Watch 2 is launching at a similar price point. So how do these two compare? After reviewing the LG Watch Sport, I took a look at the Huawei Watch 2 alongside it to see how they stack up.
Huawei's second-gen smartwatch looks rather bulky thanks to its active styling, but it is notably thinner and lighter than the LG Watch Sport — of course, pretty much every watch is small compared to the Watch Sport. The Huawei Watch 2 doesn't have the large bulge on the back though it still has a heart rate sensor, coming in a couple millimeters thinner than the Watch Sport because of it. It's also considerably lighter than LG's watch, though that comes at the expense of actual feel on the wrist — the Huawei Watch 2 feels cheap both in terms of its heft and external plastic coatings.
The Huawei Watch 2 makes up some of that sleekness back on the front, where its thick bezel rises up high off of the display and certainly stands out ... and depending on your design sensibilities it may stand out too much. It's a pretty honest take at a men's sport watch design, but the LG Watch Sport certainly has a more streamlined feeling to it that's a bit more neutral to be paired with a wider variety of watch faces and wardrobes alike.
Even with its smaller overall case size, the Huawei Watch 2 manages to fit the same raw specs inside as the LG Watch Sport. One better, it gets NFC, LTE and GPS into the case while retaining removable bands — which was of course understandably easier because the entirety of the case is plastic, allowing radio penetration. The victory of removable bands isn't as big as you'd immediately think, as the lug design really limits what kind of bands will actually look good here.
Even though the Huawei Watch 2 has the same specs and software, it does have a couple of usability shortcomings compared to the latest from LG. Namely its smaller 1.2-inch display to the Watch Sport's 1.38-inch, which when paired with the large bezels can make it a bit tougher to quickly flick through the interface without your finger obscuring the view. This is an important point because the Huawei Watch 2 also doesn't have a rotating crown (or any other input method) — which is one of my favorite features of the LG Watch Sport.
Considering just how big and clunky the LG Watch Sport is, the Huawei Watch 2 will automatically get some attention because it is indeed thinner and lighter while offering the same internals and near-identical features. But that doesn't mean the only differences are in the positive category — the Huawei Watch 2 in turn feels cheaper, has a more polarizing bezel design and is missing a couple of key features for many like a larger display and rotating bezel. These trade-offs also live with the reality that the Huawei Watch 2 is in the same price category as the Watch Sport, depending on where you live and whether you choose to get a model with LTE or not.
Andrew was an Executive Editor, U.S. at Android Central between 2012 and 2020.
All Huawei had to do is create a watch similar to the first gen and had it have NFC for around $300 and it would have been a winner. Not this monstrosity! But of course I know it's my opinion and I know everyone has their own preferences. I'm just frustrated.

Nope, you are exactly correct. Android Wear 2.0 devices are a huge disappointment so far.

Nope, I'm with you too. Seems Huawei saved me $300 this year

yeah I also agree with you, there are enough ugly sport watches out there, why not create a modern urban watch as the Huawei W1? I don't get it. This one is sooo ugly. There's a second watch though, called "Huawei Watch 2 Classic" that looks more like the W1.
It has almost the same specs as this one (except there is no LTE) but with better looks, but it's still not the gorgeous look of the W1.

Totally agree. I would love an upgraded version of the classic 1st version, not this Scuba Diving watches.

I think the Huawei Watch 2 Classic looks super ugly. It looks alot like the LG Watch Urbane with the chunky metal housing and those big ugly connection pieces (where the strap clips in). In fact, I think the sport version looks better than that crap.

I absolutely agree, however I would also add I wish they had switched to inductive charging instead of Conti using to use the logo pin charging setup. I'd imagine that would also help with waterproofing as well.

These watches are IP68 resistant even using pogo pins for charging. And functionally, there's no real difference here between using inductive and pogo pin charging. Both require a special cradle-type charger in the end.

I've heard from quite a few people though that with the pogo pin setup, placement is key. Some have said they put it on the charger before bed and awoke to find that it didn't charge overnight. That doesn't seem to be an issue for inductive Qi chargers, I've never had that happen on my 1st gen Moto 360. And IIRC any Qi charger should work with them as long as you can lay the back of the watch on the charging puck, where with pogo pins it pretty much has to be for that device. As for water resistance, does that mean they don't have the issues with corrosion that they did with earlier style pogo pin chargers? I would think for the contacts to not corrode, they'd have to have a coating on them. So unless the coating conducts electricity, they would hamper charging.

Both still look like you're wearing a hockey puck on your wrist, and no smartwatch offers a compelling argument for spending $300 or more for a device which basically does a few of the things your phone does, but not as well. The only thing an AW 2.0 device does better than your phone is Android Pay, if you shop at one of the few stores that accept it.

Some of us have large enough arms and wrists to make it not look like a hockey puck. I welcome the larger watches.

The idea that any smartwatch is a mass market device - and meant to be one, like a Pixel or an iPhone, is completely false.
They are all niche products. The Hwatch2 and LG Watch Sport are great for people who like big watches, who thinks fitness tracking is important and who want to leave their phone behind - sometimes or often. If this doesn't describe you, of course it's not worth your $300. That doesn't make these devices failures. If you're the kind of person who always carry a phone and doesn't need fitness tracking, then these watches aren't for you. There are plenty who are more suitable - like the Watch Style, ZW3, and tons and tons of watches to come. And if you can't justify spending $150-300 on a watch which is basically a notification center and a phone remote - then just wait. The price will come down. As for the HW2 and the LG, comparing them without mentioning the battery is pretty ridiculous. Owing to the much smaller screen, the HW2 might actually have the longevity to be useful as an LTE watch on an all-day basis. From reviews it seems the LG Watch Sport can't really get through a day on LTE.

Try as I might, taking out the sim, turning off wifi, or turning off Bluetooth, or both with SIM installed, I can't get more than 12 hours, even with minimal usage and display off on the LG Sport, this alone makes it a huge disappointment and virtually undesirable Watch. Fun to play with and see, but not very useful!

Just no. Even bigger disappointment than LG's. Zenwatch 3 will be my upgrade choice from an OG 360.

ZW3 is my frontrunner for an upgrade as well, but I'm put off by the fact that wear 2.0 isn't coming until Q2. At that rate, I'll keep my ZW2 and see how it performs on wear 2.0 unless somebody can release a decent 2.0 watch before then.

I wonder when they are upgrading our watches?

The LG sport, maybe. I would have liked to upgrade to a Huawei, but this is just garbage

Yeah, I kind of agree. The only thing that I DID like was the orange colour. I would have been down for that.

I gotta say, I feel that that Huawei Watch 2 is pretty lacklustre design-wise compared to the first one in my opinion. The first one really tempted me, but this one... It's a nope from me. This round of smartwatches really cements my decision to go back to traditional watches.

Nope to both. I have a growing collection of casual wear and dress watches but have no interest in sports watches.

So much complaining... I happen to like the sporty look of both watches. I'm partial to the Huawei.

Android wear 2.0: all of the expense of the apple watch, yet with the charm and good looks of a dive computer.

This year is full of disappointments. I purchased an LG watch sport, returning it because the device is just too massive and has a defective screen. Got an LG watch style and it can't even last a full day. Used it from 7:30am and it was dead by midnight. I'd expect that performance from my original moto 360 but not from a device that's two generations more advanced.

I have the Huawei Watch gen1 with black leather wrist strap. It is a very good looking watch, and I get compliments regularly. Also, I use my watch for work as much as anything, and these sport watches are not going to cut it. Sad. Was really looking for Gen 1 identical looks with LTE. Would have paid a premium for it.

I finally figured out how to install the Developers Preview for Wear 2.0 on my Huawei (and really love it) but I'm not sure if I need to revert back to the original version (and relock the bootloader) in order to receive the new "Official" 2.0 - assuming it ever actually materializes. Anyone know for sure?
Thanks much!
Android Central Newsletter
Get the best of Android Central in in your inbox, every day!
Thank you for signing up to Android Central. You will receive a verification email shortly.
There was a problem. Please refresh the page and try again.