Huawei Mate SE launches in the U.S. as a more powerful Honor 7X for $249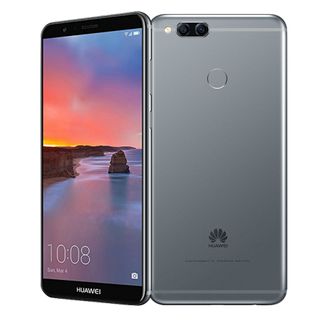 If you want to buy a solid Android phone without spending a ton of cash, one of your best options is currently the Honor 7X. The 7X offers a modern design with commendable specs at a great price, and now U.S. consumers get to choose between it and its new cousin – the Huawei Mate SE.
For all intents and purposes, the Huawei Mate SE is the Honor 7X with slightly upgraded internals, a tweaked design for the rear camera housing, and Huawei branding in favor of Honor's.
The Huawei Mate SE shares much of the Honor 7X's spec sheet, including its 5.93-inch 1080p display with an 18:9 aspect ratio, Kirin 659 processor, 3,340 mAh battery, and 16MP + 2 MP rear camera combo. However, where the Honor 7X has 3GB of RAM and 32GB of internal storage, the Huawei Mate SE bumps these up to 4GB and 64GB, respectively.
That extra RAM and storage will cost you, however. The Huawei Mate SE has a retail price of $249.99, but right now you can pick it up for $229.99 (for comparison's sake, the Honor 7X costs $199.99). The extra storage isn't too much of a concern considering that the Honor 7X's can be expanded with a microSD card, but if you're a heavy multi-tasker, that extra RAM could come in handy.
See at Amazon (opens in new tab)
Joe Maring was a Senior Editor for Android Central between 2017 and 2021. You can reach him on Twitter at @JoeMaring1.
I was going to pick up the Honor 7x until I saw this. decisions decisions 😕

Get the Mate SE. I have the 7X, but for an extra $29.99 (for a short time), it's a no brainer.

You can get it best buy for 221 plus tax if you add in a eligible prepaid sim and fill-up card.

Just ordered it from Amazon. $229. Can't wait until Thursday now lol.

Get this. It is literally the same exact phone, but it just has an extra GB of RAM.

How is the battery life on the 7x?? @jimmylife

Thought I saw somewhere that it had dual band wifi, as opposed to 2.4 Ghz only in the 7X. Can anyone confirm? But it's a steal either way.

🤣 In celebration of China abolishing term limits for their President... Aka Emperor Xi Jinping... Huawei will provide lifetime Android security patches for their new Mate SE... My take on Huawei? American intelligence services fear Huawei having a position of power within the American telecommunications industry. Huawei has its foot in: patents, phone chips, phones, routters, and cell towers. A powerful, cheap smartphone is viewed as a trojan horse to win the hearts & minds of American consumers. The Qualcomm & Broadcom merger us now being held up by the American government over national security concerns because of a perception of a benefit to Huawei.... That it would have a greater role in emerging 5G world standards. Look, the competitive advantage to a nation that has superior wireless infrastructure is obvious. American gov't is only now realizing that a company like Huawei threatens all of silicon valley. Engineering talent and expertise will go where it is rewarded. Imagine China rapidly deploying a national 5G network infrastructure, and then ancillary technological innovation like self driving cars is proven and mastered in China, etc... From Wall St. journal today:
https://www.wsj.com/articles/why-washington-is-so-obsessed-with-chinas-h...

Just got the Honor 7X, I knew the Mate SE was around the corner. Additional $27 for more ram and storage is great.
Yeah the US government will suggest not to buy this phone... Here we go again...

This just took the crown of best value phone money can buy... period. This is an easy recommendation for 80% of consumers.

Well, there is a 4GB RAM 64GB internal storage variant of the Honor 7x too.
I have been using it for around 3 months now.

Nice phone.... But again... Does America have a right to be concerned about Chinese dominance of emerging technologies? Yes, of course. Is it concerning when Google had to essentially sign a patent sharing deal with a Chinese firm to access the the Chinese market? Yes. As a consumer, do I have a right to push back against an American gov't that insists I spend 3x to 5x more on a premium smartphone from a manufacturer they consider friendly? Well... It's a morality question... My financial self interest today on buying a phone, vs. a greater geopolitical threat of a repressive, communist China that has also displayed no interest in mitigating an unrelated global threat, like North Korea? As a global tech leader, American companies have the most to lose by an emerging China, with state sponsored companies hungry for American technological patents. Dumping nice phones into the American market at a relatively cheap price is just smart business by Huawei... Who has a competitive advantage with a few billions consumers in China. The U.S.-China Rivalry Is, More Than Ever, a Fight Over Tech https://nyti.ms/2D52chp

It's too bad the AT&T & Verizon deal fell thru. With their pricing & specs they would have given Samsung & Apple a run for the gold here in the US. Their phones are vastly improved!
Android Central Newsletter
Thank you for signing up to Android Central. You will receive a verification email shortly.
There was a problem. Please refresh the page and try again.