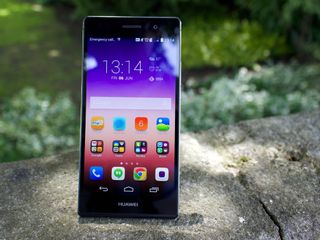 Huawei is back with a solid, if frustrating, new Android smartphone
Huawei may still be making inroads in western markets, but success elsewhere has seen the Chinese company rise to be the world's No. 3 smartphone maker. That's behind Samsung and Apple, no less. In Europe we've seen a number of cheap, low-to-mid range smartphones from Huawei but a truly high-end, desirable smartphone is much rarer.
With 2013's Ascend P6, Huawei took a positive, yet flawed, step towards offering that. The hardware wasn't so bad but it was let down by a sub-par software experience. But now, Huawei is back for another go at cracking it with the Ascend P7. Launched to the world in Paris, France, Huawei made plenty of bold claims about its latest flagship release. Bold claims that took direct aim at some of the smartphone elite.
So, does the Ascend P7 live up to said claims? Is it enough to take on the latest and greatest from the likes of Samsung, Apple and the rest? Head on past the break for our full review.
Thin, light, nicely designed and very well constructed. Rear camera is pretty good in all situations and it has the best front facing camera we've seen to date. Battery life is decent.
The software experience isn't befitting of the hardware that houses it. Too often things get jerky and laggy either in Huawei's own apps or just jumping in and out of third-party ones.
The Huawei Ascend P7 is a phone I would use every day if the software experience was where you'd expect it to be. Whether it's for lack of optimization for the in-house chips powering the phone or something else is irrelevant. It completely spoils the experience. Huawei has included a focus on saving battery life, but this comes at a cost. The task manager is forever prompting you that apps are consuming power and offering up a big close button. Having tried this with Gmail it left my inbox not refreshing in the background.And it really is a shame because the hardware is so nice. The screen is equal to the best we've seen, the camera is a solid all round performer and generally battery life is good without having to worry too much about trying to conserve it. The Ascend P7 is a nice phone, and in many regards more desirable than the Galaxy S5. But the software experience spoils things too much to ignore.
Huawei Ascend P7 video walkthrough
Huawei Ascend P7 hardware
If you're looking for the tl;dr on the hardware, then here it is: It's superb. OK, we're not going to leave it at that, but it's absolutely, 100 percent true. We're now at a point in time where Huawei makes one of the best-looking, best-feeling Android phones on the market today. And that's no small feat. On the face of things we're looking at an iterative change over last years Ascend P6, and that's partly the case.
Sure, the general look and feel is incredibly similar. From the front we're still looking at a pretty uninspiring black – white or pink – slab. Turn it to the side, though, and you see the brushed metal band that encompasses three sides of the P7. Turn it further and you see that stunning glass back with its subtle etched pattern beneath. The rear of the black P7 is actually dark blue, and is really, really nice. It's a slippery little fella, though, and does have a Nexus 4-esque tendency to slide off smooth surfaces. I've lost count of the number of times I've found this thing on the floor.
Also improved from last year's release is the display. The Ascend P7 packs a 5-inch, 1080p display into its relatively small frame, and it's pretty much impossible to find fault with it. Colors are bright, text is sharp and the viewing angles are as good as you'll ever want them to be on a smartphone. The edge-to-edge glass on the front of the phone appears so thin that you're actually touching the display. It's surely equal to the best displays at this size and resolution we've seen to date.
Going back for a moment to that relatively small frame, another focus for Huawei during the initial launch presentation. The Ascend P7 is slimmer than the iPhone and while it isn't a lot on paper, in practice it does feel like a greater gulf. The Ascend P7 is also pretty short on side bezels. Not LG G2 levels but they're plenty slim enough.
And it's light, too. Almost unnaturally light given the size. 124 grams to be precise. All this adds up to a smartphone that is a pleasure to hold in your hand. Despite the slab-like design, the Ascend P7 feels good, and with the power button being on the side just below the volume rocker, you can just about one-hand this thing a lot of the time. But it's still better with two.
Elsewhere on the exterior we find a SIM slot, microSD card slot – yes, there is one for those of you who demand such a thing in your phones – volume rocker and the very small power button. All along the same edge of the phone. Perfect if you hold your phone left handed, not so perfect if you don't. The standard microUSB charging port is down bottom and the headphone jack is up top.
Then we turn to the cameras. We'll go into much finer detail further on in the review, but Huawei seems very proud of the cameras it has embedded into the Ascend P7. On paper at least it sounds promising, with a 13MP shooter round back and a stonking 8MP front facer. That front camera is marketed squarely at the "selfie generation" and Huawei has backed it up with some interesting, and impressive software features to really get the best from it. But we'll save that for later.
Huawei Ascend P7 hardware — what's on the inside
On the outside then, the hardware is, well, sublime. Well designed, beautifully put together. But what about what's underneath? With Huawei's in-house 1.8GHz quad-core CPU powering the Ascend P7 we're a little in unknown waters with where to place expectations. On the one hand, this is supposed to be a high end device, so it should perform thusly. But there's just something that nips at the back of your heels, reminding you that this isn't something we're familiar with.
That CPU is backed up by 2GB of RAM and on the whole, performance isn't too bad. We've had no real issues in playing games, watching videos for extended periods of time, the P7 seems to cope well. And it doesn't get very hot, either. We'll discuss the software performance in more depth further on, though. The Ascend P7 comes with 16GB of onboard storage as standard but also has a microSD card slot for you to expand on this with.
Looking quickly at the radios, and the P7 does at least support LTE in Europe on bands 1,3,7,8 and 20. That alone sees an improvement from its HSPA+ only capable predecessor. Also for this years model we see Bluetooth 4.0 and NFC, again both missing from last year's P6.
You'd be forgiven for expecting a tiny battery in this thing as well, given how thin it is. Thankfully that isn't the case and Huawei has given us a reasonable 2500mAh power plant. Again, we'll see how that fares a little later on.
The full Ascend P7 specs
You want specs? Sure, here's the full list of what makes the Ascend P7 tick
Category
Features
OS
Android 4.4.2 KitKat
EmotionUI 2.3
Chipset
Hisilicon Kirin 910T Quad-core 1.8GHz
RAM
2GB
Display Size
5-inches
Display Resolution
1920 x 1080, 445 ppi
Cameras
13MP AF BSI F2.0, with Flash
8MP Front
Internal Storage
16GB
External Storage
microSD, up to 32GB
Radios
LTE B1/B3/B7/B8/B20 / HSPA+ / GSM
Connectivity
Wifi, GPS, Bluetooth 4.0, NFC
Dimensions
139.9mm × 68.8mm × 6.5mm
Weight
124g
Battery
2500mAh
Huawei Ascend P7 software - The achilles heel
We'll start with the easy stuff. The Ascend P7 comes to us running Android 4.4.2 KitKat, which is good, and Huawei's latest version of its Emotion UI custom software. Which in places really isn't so good. As with previous Huawei devices, Emotion UI does away with the app drawer in favor of an iPhone-esque arrangement that sees all your apps just added to the homescreen. This in itself isn't so bad – you still get folders and widgets to help get things to your liking – but how the software deals with app icons isn't as pleasing.
App icons get tweaked to fit with the user interface which yes, adds some uniformity to things not usually seen – app icons of all different shapes and sizes can look a little messy – but everything has a childish feel to it. The menus have also been given a lick of the Huawei paint but it isn't offensive, it's best described as a light theme. White backgrounds, subtle colors, it's OK.
It's when you start using it though that issues start to arise. Things start out OK, but it doesn't take much to introduce some quite horrible lag into the launcher and any apps you then want to use. Once it's there it follows you everywhere; launcher, notification tray, menus, apps, everywhere.
To make sure that this doesn't become a rambling, bumbling mess, consider these main bullet points of issue:
The software is constantly prompting you to close apps that are consuming battery in the background. Almost to the point it's aggressive. But if you close an app it isn't working in the background. And do you want to kill your apps dead? More informed users may be able to ignore this, but what about those who aren't?
The P7 also has a notification manager. That doesn't seem to work very well. If you tell it you want notifications from a certain app it often becomes pot luck as to whether you'll actually get them.
Linked to the first point, notifications become painfully absent. I wish I could tell you the amount of times I opened Gmail during the review period to find the app first refreshing itself and then deciding to notify me of a ton of new messages. I want Gmail working in the background so I know I didn't close it ... so what's going on?
When the lag comes, it comes like a flood. It's obvious, intense and usually prompts a restart to make it go away.
The notification tray (which is often void of notifications, but still) has a swipe down gesture to expose more controls. The same swipe down gesture that expands Android notifications. You see where I'm going with this.
It isn't all bad, though. There are some nice touches Huawei has included here to help out users of all different levels of expertise. Of particular note is the Simple home screen style that transforms the P7 into something with big, colorful icons and takes out the widgets. Like many other current phones the Ascend P7 also has an Ultra Battery Saving mode but it doesn't seem to extend the battery nearly long enough. At 8% remaining we're told we could get an extra 36 minutes going into it which is a far cry from the day extra at 10% Huawei claimed at the launch event.
The Phone Manager app — while partly responsibly for the issues already mentioned — does have some really useful features such as a harassment filter and an easy way to clear cache and large, unwanted files. From the lockscreen you also get a drawer that slides up from the bottom with a swipe that shows you the weather and shortcuts to Calendar, Calculator, Flashlight and Mirror. Kind of like the iOS 7 Control Center but with less features and less accessibility than that. It's nice, though, and keeps the lockscreen clutter out of the way.
It's easy to get over the appearance — and a custom launcher takes care of the bits you see most often — but it's impossible to avoid the glaring flaws in execution with this latest version of Emotion UI. Sure, it should be noted that the device we had in for review was pre-release, but so far no updates have arrived that improve anything. And it's just gone on sale in Europe to paying customers.
The camera
This is where the Ascend P7 claws back brownie points in plentiful helpings. The camera is good, really good. The 13MP rear camera doesn't excel in good light in the same way the Galaxy S5 does, but it also doesn't fall apart as badly in low-light. Huawei seemed pretty pleased with it at the launch event and its easy to see why.
Daytime shots are very good. They're sharp, clear and have excellent color reproduction. On a recent vacation with the P7 in my pocket I managed to take one of the best photos I've ever shot on a smartphone. Partly down to dumb luck, partly down to the P7. But why talk when pictures can tell the story? Some of the gallery embedded below are on regular auto mode, some shot with HDR turned on. The HDR is pretty subtle and does a good job at lightening and intensifying shadowy areas but it isn't overpowering.
When it comes to video, the P7 isn't quite as exciting. Sure, it's not bad, but it's not particularly outstanding either. Perfectly capable, but not quite as impressive as when the pictures aren't moving.
Then we turn to the front-facing camera. In many smartphone reviews we can just point it at ourselves, shoot a quick video, a couple of snaps and call it a day. But the front facing camera on the Ascend P7 is potentially more interesting than the one around the back. It's also a better camera than some rear facing efforts we've seen on competing phones, too. The 8MP sensor is pretty large for something used to take selfies, but combined with the software Huawei has paired it up with takes some of the best selfies we've seen.
And why stop at selfies? Why not take a Groufie, instead? The awkwardly named feature is nothing more than a front facing panorama shot, but it does what it does extremely well. It takes three shots from three different angles — and it'll prompt you exactly where to hold the phone — and then stitches them together to make a selfie that you and your friends fit into. No unnecessary closeness or body contact required. Or you can take one on your own and get more of the background in, like I did.
Huawei has bundled a bunch of software tricks and filters into the camera app for those perfect selfies, including the previously seen Beauty Filters. Applicable on a sliding scale of 1-10, with 10 presumably absolutely gorgeous. Pro tip, though; if you're an Android Central writer from the UK, no amount of sliding makes you beautiful.
The P7 can also help you reshape your facial features for that full airbrushing effect. It's very effective at what it does and is absolutely ideal if you want to end up with a photograph that looks absolutely nothing like you!
Like the rear camera, the front takes good video. And you know what? It's more than good enough for the sort of use it will actually get. And that's OK.
Perhaps surprisingly, then, the Ascend P7 has a mostly very good camera set up. It's not quite as strong in daylight as the Galaxy S5 – though arguably little else around right now is – but it doesn't have any truly awful moments, either.
The battery life – it's good, but don't over manage it
The 2500mAh battery inside the Ascend P7 may worry a few, because 2500 is less than some of the competitors in the higher reaches of the smartphone food chain at this point in time. It's also sealed in, meaning it's either deal with it or plug in an external battery pack. But honestly, given the insanely thin design it's impressive enough that Huawei managed to squeeze a battery of that capacity in at all.
Huawei also does a generally good job at squeezing as much life out of that battery as possible. Take the example screenshots above. Approaching 4 hours screen on time, 35% of the battery still remaining after over 14 hours of use. Not too shabby at all.
Where it falls down is the over-management the phone can lead you to do. Remember the software issues mentioned above? Well the P7 constantly tells you what's consuming power in the background and offering you a big button to close that app. But you really don't need to do that. At all. It spoils the experience more than it actually saves battery life.
Use it like, well, a phone, and you'll be fine. I've spent a week roaming with the Ascend P7, using it for navigating, taking endless photos, and not once has it failed before the end of the day. I'm OK with plugging it in at night.
The bottom line
The Ascend P7 has a lot to like about it. Well, on the hardware front it does, at least. It's nicely designed, beautifully made and is genuinely something you'd be pleased to own, look at and pick up every single day. Or at least it is until you turn it on. Sadly what appears beneath that pretty gorgeous looking 1080p display is what spoils it.
The Huawei Ascend P7 is a phone I would use every day if the software experience was where you'd expect it to be. Whether it's for lack of optimization for the in-house chips powering the phone or something else is irrelevant. It completely spoils the experience. Huawei has included a focus on saving battery life, but this comes at a cost. The task manager is forever prompting you that apps are consuming power and offering up a big close button. Having tried this with Gmail it left my inbox not refreshing in the background.
And it really is a shame because the hardware is so nice. The screen is equal to the best we've seen, the camera is a solid all round performer and generally battery life is good without having to worry too much about trying to conserve it. The Ascend P7 is a nice phone, and in many regards more desirable than the Galaxy S5. But the software experience spoils things too much to ignore.
huPhone... Does look nice. Posted via Android Central App

I agree, it looks pretty nice! A nice try from Huawei. But unfortunately it stands no chance to some of the really good Android phones. /Colin from http://www.consumertop.com/best-phone-guide/

The design reminds me of the Sony Xperia Z series... Posted via Android Central App

It looks like they more or less copied it. But they are Chinese after all. Posted via Android Central App

I wanted to give Huawei money this year, but they decided to only release the Mate 2 for the States. Oh, well. Posted via Android Central App

Ah Monaco is so beautiful... Screw the phone. Looks like my Z2 but probably with embedded Chinese spyware baked in. °Sony XPERIA Z2 white
°LG Optimus G Pro white
°LG Optimus L70 black

Why isn't this company popular in USA? Posted via my Favorite Phone

Because they`re not on VZW nor on T-Mobile......

So basically a better phone then the S5 besides software. And I am sure u can root this baby and put a much better software on it. Posted via Android Central App

Why not simply install Nova launcher and make it a bomb of speed and so better than S5?

HUAWEI Ascend P7 4G LTE Quad Core 2Go 16Go 5 pouces 13MP caméra SIM
uniquehttp://www.ghdeal.fr/huawei-ascend-p7-4g-lte-android-4-4-quad-core-2go-1...

With the exception of the front button, it looks like Huawei took the blueprints for the iphone 4 and photocopied them at 150%. As always with Huawei, good hardware let down by a poor software experience. Hopefully if they are timely with releasing their sources, someone can do a good cyanogenmod source built for it. Every other Huawei I have had needed that before it became decent.

very bad experience......keeps freezing....zooming while dialling tribble numbers....loosing signals....
IF axion warranty this to you,,.... you dead...through it better
Android Central Newsletter
Get the best of Android Central in in your inbox, every day!
Thank you for signing up to Android Central. You will receive a verification email shortly.
There was a problem. Please refresh the page and try again.