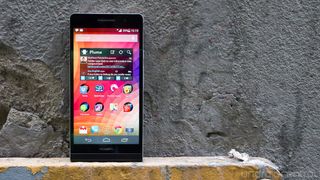 Huawei is one of the dark-horse Android manufacturers, with a larger market share than you would guess (mostly outside the U.S.) and drastically better design and manufacturing chops than you'd expect from what most would call a "no name" manufacturer. The Chinese company has been making phones of all shapes, sizes and price points for many years now, but has just started moving into the higher-end smart phone game as of late where it sees room for growth.
It's latest entry into the market that is hoping turn a few heads is the Huawei Ascend P6, and on paper and in press images it looks like it has it all. A quad-core processor, a high-quality screen, numerous software features and all packed into a metal chassis that measures up at just 6.18mm thick. Add all of that up and you still come home with a device that has an unlocked price of about $450, which is even more impressive.
But can it ever live up to the marketing materials and spec sheets? Read on for our full review of the Huawei Ascend P6.
Ascend P6 hardware
Even though Huawei has made the Ascend P6 incredibly thin, it has put some very solid specs into that chassis. As it has done with many of its recent phones, Huawei has gone with its own in-house processor, a 1.5GHz quad-core K3V2E unit. Backing up the processor is 2GB of RAM, just 8GB of storage (expandable by SDcard) and a 2000mAh non-removable battery. On the display front we're looking at a 4.7-inch 720x1280 LCD (312 ppi), and for cameras you'll find an 8MP unit around back and 5MP up front.
Build quality and materials
Some of the lesser-known names in mobile (at least from a Western point-of-view) like Huawei often get undeserved knocks for their hardware, thinking that there's no way a second-tier manufacturer could produce well-made handsets. Well Huawei has proven again with the Ascend P6 that it can indeed make quality hardware from the perspective of both looks and craftsmanship.
Taking a look around the Ascend P6, the design is dominated by three main features — a complete black glass front panel, a segmented metal band around the sides and a solid metal back plate.
Starting on the front, there isn't a whole lot to look at here. Huawei is exercising a bit of minimalism with a simple design that has a single cutout above the screen for a speaker, very small bezels surrounding a screen with no capacitive keys and a single "Huawei" logo at the bottom where the glass meets a plastic chin.
Around the sides are very iPhone-esque metal bands that are separated near the top of each side so that you have three in total to span three edges of the phone. The craftsmanship is solid, and there is some clear attention to detail in the milling of the metal parts around the side. That's shown off most on the right edge, where you'll find a power button, volume rocker and cutouts for the SDcard and Micro SIM slots.
The headphone jack is positioned at the very bottom of the left edge, fitting with the curve of the bottom, which is generally the least-ergonomic place to put a headphone jack. We're going to assume sacrifices had to be made to fit the headphone jack in a phone this thin, but it means that if you have headphones with a straight jack (or even a curved or L-shaped one) you'll have some awkwardness putting the phone in your pocket with headphones plugged in. Not to mention that left-handed users are generally out of luck using the phone normally in either case.
Once you make your way to the back of the phone, you'll be greeted with a very nice and unique brushed metal finish that coats all but the very bottom, which is a continuation of the plastic chin from the front. The cover is almost perfectly smooth, but has just the slightest bit of tactile feel when you go against the "grain" of the metal. There is another small Huawei logo printed at the top of the back, a camera and flash in the top left corner and a small speaker in the bottom left.
It should be noted that only the black model has this cool finish, the pink and white versions have a soft touch back.
While the metal seems well manufactured and fit into the casing, we're not sure it's the highest quality material. After just several days of regular use (we're gentle with devices), the Ascend P6 already picked up multiple noticeable scratches along the back plate. Even more bothersome we can even see a few small dents in the case — we're assuming this is a very thin material. Huawei is very nice to include a rubber case in the box with the P6, but we don't think that makes up for having such an easily scratched material on the back plate.
Size-wise the Ascend P6 is comfortable in the hand due to its small dimensions. We're not speaking just about its 6.18mm thickness, but also the fact that at 65.5mm wide its notably narrower and shorter than other headline devices like the HTC One, Galaxy S4 and Nexus 4. The recently announced Moto X is 3mm shorter with the same 4.7-inch screen size and total device width, to give you a good frame of size.
The overall ergonomics of the Ascend P6 aren't fantastic though, we have to say. Once you start getting this angular and thin, it gets tough to comfortably hold a phone. On the whole, the Ascend P6 is easy to use simply because of its overall size being so "small" by today's top smart phone standards rather than some great ergonomic design.
Display
Another area where Huawei has out-classed its expectations is with the screen on the Ascend P6. We're looking at a 4.7-inch 720x1280 (312 ppi) LCD here, and while that's not the industry-leading 1080p resolution we just can't notice any pixelation. Huawei is also touting that the display in the Ascend P6 has what is called "in-cell touch" technology, which means that rather than having a discrete touch panel the technology is integrated into the display itself. This technology, which was famously used in the iPhone 5, is likely one of the reasons why Huawei has gotten the Ascend P6 so dramatically thin.
Technology aside, the display is very high quality to our eyes. As we said above we certainly can't see any pixels or blurriness of lines or text, and the display has great viewing angles with very little color distortion even when viewed extremely off-axis. The screen looks consistently good at all brightness levels, as LCDs tend to, but really looks its best above 75 percent brightness. Outdoor visibility was good, but you'll want to keep the brightness cranked up.
We really have nothing to complain about, even if we got hyper-critical, with the display on the Ascend P6. It has all of the qualities of the class-leading displays out there today.
Radios and sensors
We won't sugarcoat it, the Ascend P6 comes up short in terms of radios by only sporting HSPA+ connectivity. At that, we're only looking at HSPA+ 21 rather than the faster (and generally standard nowadays) HSPA+ 42. The Ascend P6 does support a variety of bands — 850, 900, 1800, 1900, 2100MHz — which means that anyone with access to a GSM network should have no problem getting connected to the radios it does have. We used the device on T-Mobile here in Seattle for the duration of the review and experienced no particular issues with data connectivity.
It's very surprising to us that a phone with otherwise high-end specs and very nice design could come up so short in terms of connectivity. Again this may be a fault of the device's thickness just limiting what can be fit inside, but only offering HSPA+ 21 in a world where some devices are even pushing to LTE-Advanced seems like a weird omission.
The Ascend P6 sports a standard array of sensors but only offers the older Bluetooth 3.0 standard, up to 802.11n Wifi and you're also going to miss out on NFC here.
Battery life
Huawei is offering a high-end processor and quality screen alongside a non-removable 2000mAh battery in the Ascend P6, and claims that the combination of its hardware and software makes the most mileage of that limited fuel tank.
After using the Ascend P6 as our primary device for several days we have to say that it performs adequately considering its battery size, but longevity isn't going to be a selling point of this device. With our regular usage of primarily keeping up on email and messaging alongside lots of social networking, some casual gaming and taking pictures, we could get anywhere from 12-14 hours out of the device.
Now that is while primarily on Wifi, and we found the case to be a little less rosy when you wander out onto mobile data. There were a few days where we were alerted by the 15 percent battery notification while in the 10 hour range of use, which is a little more troubling.
One potential issue we found that may be contributing to the battery life issues are pretty consistent wakelocks caused by the system — particularly the touch screen "surfaceflinger" process, but others as well — that keep the phone from completely going to sleep for hours on end. Although the wakelocks seem to be random (disappearing for hours or days after a reboot), there is some small but notable decrease in battery life when they occur. After more investigation (with help from our very own Jerry Hildenbrand), these wakelocks aren't draining enough battery to explain the mediocre battery life, or even a large portion of it, but it's something to think about.
After having our hands on devices like the Droid Ultra (and Moto X) which sport drastically better battery life out of a battery that's less than 10 percent larger than the Ascend P6, we're thinking that Huawei has more work to do in its battery optimization. Even with the same usage on our Nexus 4, which has very similar specs, we regularly see battery life that lasted hours more than the Ascend P6.
Huawei offers a few different software tools in the settings to help with battery life, but we didn't find them very useful. Under "Power Manager" you can select from Normal, Smart and Endurance battery modes, the latter two of which ratchet down on both CPU and data usage to increase battery life. Smart and Endurance do indeed prolong battery life, but both degrade the device's performance so much that the tradeoff is nowhere near making. And as we'll see in the software section below, the performance situation on the Ascend P6 isn't the quickest to begin with, even on Normal mode.
Ascend P6 software
Huawei has traditionally deviated away from a "Stock" Android experience on many of its devices, and with its latest iteration of its so-called "Emotion UI", version 1.6, you're getting a fresh coat of paint and many new or improved features over what it previously offered. Underneath it all you're getting Android 4.2.2 though, which is nice to see.
Interface and apps
Emotion UI has an interface that may be more familiar to those who are used to phones in Asian markets or have dabbled in custom ROMs like MIUI, and has a more cartoon-ish feel to it and several distinct features that make it stand out. The interface is based on a white palette with different bursts of color all around, which is customizable by Huawei's new theme engine that lets you change different visual aspects. There are a handful of complete themes available on the device at first launch, with thousands more that are downloadable.
Being used to a more traditional launcher and home screen layout, we found Huawei's own launcher frustrating and confusing overall. Luckily most of the awkward interface elements can be removed with a quick switch of a launcher, as the settings and rest of the interface are otherwise very familiar. You'll never be able to escape the custom iconography that Huawei has put around many of the pre-installed apps however, which clash pretty heavily with any launcher other than its own.
Performance and usability
As we alluded to above, the software performance on the Ascend P6 leaves much to be desired. General responsiveness while moving through the interface and in-and-out of apps seems fine, but you somehow quickly hit the ceiling of what the phone is capable of when you do quick pinching and zooming across websites or in Google Maps, quickly scroll back and forth in lists of any kind or make sudden navigation changes.
The performance issues are most apparent when playing games, where you'll often see the frame rate drop unacceptably low causing jittery performance. From games like Riptide GP (which is bundled on the device) down to more casual titles like Granny Smith, games regularly slowed down to a stuttery pace that is just unacceptable and generally puzzling given the hardware this device has under the hood.
We're really confused as to how the performance can be so inconsistent and poor on this device, so much so that we performed factory resets just to make sure it wasn't something we did ourselves. Alas, the situation repeated itself time after time, and we're not happy with the results.
Ascend P6 cameras
Even though the case is just 6.18mm thick, Huawei has managed to stuff an 8MP f/2.0 BSI camera sensor into the limited space which can actually offer some good results. Just as impressive is a front-facing 5MP camera, which is the biggest that we've ever seen. In terms of interface, we have a pretty basic set of controls with a shutter key, video/still toggle and gallery options on the right edge. Camera switching, flash and settings can be accessed on the left.
Inside the settings button you'll find options to switch your shooting mode — between single, smart, beauty, HDR, panorama and effect — along with advanced options like ISO, white balance, exposure, saturation, contrast and brightness. "Smart" mode is somewhat of an intelligent automatic mode that tweaks settings based on the scene and does its best to help you get a good picture.
Pictures
For the majority of our testing we left the Ascend P6 in HDR mode, with some bouts of Smart mode, and found capture times weren't noticeably changed when switching between the two. HDR naturally produced much nicer-looking images as long as you could keep a steady hand and there wasn't too much movement in the scene, but Smart mode wasn't far behind in our tests.
Clicking images open full resolution versions in a new window
The main issue with this camera that hindered our ability to take good pictures was focusing. Whether we used standard auto focus or touch-to-focus, many times the camera would capture before it was focused or just simply lock onto an out of focus point. Low-light pictures were also a sore spot for the Ascend P6, with quite a bit of grain and blur (likely tied to the focus issues we mentioned) even when using HDR mode.
When we did get a sharp auto focus and had a steady hand, we were able to get some pretty great pictures out of the Ascend P6 that could have easily come out of any of the other high-end phones out there today. Unfortunately the issues with focus were simply too frequent for us to trust that when we lifted up the phone and took a random snapshot that it would be sharp, and that really hurts the camera experience over all. While we want a high ceiling on the quality of pictures coming from our phone, we also want a high minimum quality as well.
As for that large 5MP front-facing camera, we can't say we were any more impressed with the images it produced than any other ~2MP camera from other devices.
Video
The Ascend P6 is capable of 1080p video recording from its rear-facing camera, but is set to 720p by default (likely for storage reasons). If you do decide to keep it in 720p you'll be given the option to turn on HDR video though, which is nice. Other options include image stabilization, which crops in on your image to provide some protection against movement, and auto focus object tracking.
We found the video quality to be generally lacking, and noticed that the camera didn't seem to use continuous auto focus to keep the video sharp as you move around. We also encountered multiple times where video stuttered or jumped during playback no matter the device it was played on, which makes us again wonder if this device's processing power isn't being used efficiently.
Although the front-facing camera is a massive 5MP in size, it oddly only offers 720p video. The quality seems quite good though, and is right on par with other phones we've tested recently. Sound pickup while using the front-facing camera was good as well, even on a loud city street.
The bottom line
In terms of physical design and manufacturing prowess, Huawei has a winner on its hands with the Ascend P6. It has managed to take a well-made and good-looking body that is impossibly thin, fill it with some high-end components and cap it off with a really great screen. Even with that minimal amount of room to work with, Huawei has included camera hardware that is capable of taking some really great pictures as well.
But none of that matters when you turn on the device and the software stutters and skips through even general app usage, and crumbles when you try to play games or record 1080p video. If the software performance was better we may even be able to look past the interface customizations that Huawei has included on the Ascend P6. But the combination of surprisingly poor performance and questionable software design makes us want to put the phone down and look at it from out of arm's reach, where it is the most impressive.
We have to admit that we really wanted to like the Ascend P6 — we have our eye on any manufacturer that is willing to come from "nowhere" and challenge the big players with some great features. But this isn't the device that is going to turn any heads towards Huawei. Better luck next time.
Image 1 of 29
Get the Android Central Newsletter
Instant access to breaking news, the hottest reviews, great deals and helpful tips.
Andrew was an Executive Editor, U.S. at Android Central between 2012 and 2020.