HTC U11 specs: Snapdragon 835, 5.5-inch QHD display, 12MP f/1.7 camera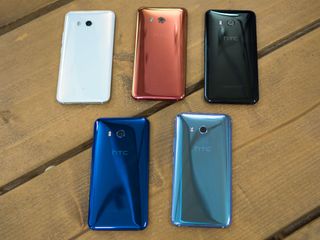 With the arrival of the HTC U11, the Taiwanese company kicks its new "U" brand into high gear, with a true 2017 flagship featuring suitably advanced internals. The short story: Snapdragon 835 — the first phone to use this chip across all regions — 4 or 6GB of RAM, 64 or 128GB of storage, 3,000mAh battery, new 12-megapixel UltraPixel 3 camera with upgraded HDR, and of course HTC's squeezy Edge Sense feature. Check out the longer version down below.
Behold, the HTC U11 spec sheet!
Category
Specification
Operating System
Android 7.1.1, HTC Sense
Platform
Qualcomm Snapdragon 835
Network
4G LTE Cat. 16
RAM
4 / 6GB
Storage
64 / 128GB UFS + microSD
Dual SIM
Some regions. Hybrid SIM2/SD slot
Display
5.5-inch Quad HD SuperLCD 5
Corning Gorilla Glass 5
Main Camera
12MP, 1.4μm pixels, f/1.7 lens, OIS, EIS
UltraPixel 3, UltraSpeed AF, HDR Boost
Front Camera
16MP, f/2.0 with UltraPixel mode
Water/Dust Resistance
IP67
Battery
3,000mAh, Qualcomm QuickCharge 3.0
Audio
HTC BoomSound Hi-Fi
HTC USonic
USB-C + noise cancelling headphones
Colors
Ice white, brilliant black, sapphire blue, solar red, amazing silver
Alex was with Android Central for over a decade, producing written and video content for the site, and served as global Executive Editor from 2016 to 2022.
Looks pretty much in line with other flagships. Battery size isn't *that* impressive in relation to the device's overall footprint, but the 835 should help with efficiency, so battery life should be solid.

Samsung's S8 has the same battery size, but a much more energy efficient display. HTC has the lighter software. It's a toss up regarding which phone would fare better with battery life.

As I mentioned in another article, both should be roughly similar overall.

Seems that HTC is infatuated with the 3000 mAh battery for all of its flagships. I know Samsung did it with the S8 but it seems like this could have been there opportunity to shine.

From a logistics point of view, it provides cost savings and simplicity of inventory management.

Not arguing with your point because it makes sense, but I'd wager that if HTC polled their demographic, they would find that consumers would pick another area for cutting costs. Battery seems to be a higher priority than screen resolution for most folks out there.

The lack of 3.5mm jack is going to ruffle more than a few feathers.

Only for people with low IQs.

Thank god you're here then. You're first in line.

Dude. I get that you're a fan of audio over USB-C. But there's no need to berate anyone else who isn't. I, myself, am curious on how audio over USB-C will evolve. But it is still a very new standard and there is a reason why a lot of companies haven't done away with the 3.5mm jack just yet. Not because they're lazy to embrace new stuff or whatever, but simply because there's still some hurdles to resolve. What standard should we use? How do we keep the device charged up while headphones are connected without a splitter? How can we leverage the full potential of USB-C to make audio great? How can we make wireless able to handle extremely high amounts of bitrate without bogging down and consuming too much energy? So many things still have to be resolved before I can say we are ready? Right now, I can only say that any OEM killing off the jack now perhaps jumped the shark a bit too soon. Not to mention that if you've been following Benson Leung in recent times, there's still a heap of poorly done USB-C peripherals out there.

Also the fact that it's much easier to lose the dongle (and I don't think you'll find too many type C to headphone jack dongles out there).

I, too, will proceed to type stupidities, then, when someone calls me out on said stupidities, I will say "I was only pretending to be idiotic".

Thats what I thought but all spec sheets listing it as 4.2

The chipset supports it, but it's up to the manufacturer to have the actual device itself supporting it.

I know, it's weird. Why would they not go 5.0 I wonder? Especially with no 3.5mm jack. Or maybe it's a typo on the spec sheet.

That gloss looks terrible. The blue is great, but they ruin it with the glossy trend Android is pushing. Apple bailed on it for a reason, IMO.

And...may be returning to it.

That's sad. It's the only design move I think Apple did right over time. I guess it doesn't matter to me, since I won't ever buy their products anyway. If their people like it, give it to 'em. Me, I'll continue to avoid it whenever I can.

3000 mAh battery makes it DOA for me.

Batteries usually come with a partial charge, plus you get a charger just in case. Fret not!

So even if it gets great battery life, and easily makes it through a day of YOUR use, you wouldn't get it just because of a number? Sounds about right...

Front camera is 16mp and the back is 12mp... Ok.

Could have put wireless charging on that glass back!

Looks tons better than that stupid Ultra nonsense! Yet, I just can't really get excited about this one either. All the stats are there, it's gorgeous, and the camera will probably be the best of the year. But HTC still gives me that "so what" feeling. They still seem to be playing catch up, even to One Plus, who I have no doubt will release a more compelling device.

I hear you. Nothing to get too excited over and feel like most phones will be like that this year.

I've always liked HTC, and this phone looks good, let's see if this is the year HTC does well, for once in a long time.

Agh, nevermind. I just re read it paying closer attention: no 3.5mm headphone jack. That's very bad IMO

It is most asnnoying for those of us who use it. I have an excellent pair of Sony Noise cancelling headphones, so when I walk around a busy city for an hour through parks across roads etc I cant hear the trucks too much, not interested in another bag of adapters for my phone ( already have one for my Surface Pro 3 which has only a display port video out). i use the phone in cars most of which have a 3.5mm input to audio system. Yes its connected to my car via blue tooth but I take passengers or go with them and if we want to listen to each others music or podcasts on long trips, we just plug in the 3.5mm jack, not fuss about bluetoothing everyones phones to each others cars! Also I sometimes play the accompaniment for my wife singing, easy to plug the 3.5mm jack from a halls sound system into the phone. No bluetooth or opther fancy connections in country halls! Just like there are no display port connections to country halls data projectors! Way too much "upgrading" of devices ahead of what is going on in real life!

The squeeze to take a picture seems like a bad idea since it makes the phone shake as it takes a shot. Hopefully OIS will prevent blurry shots. I'd bet low light shots will be super blurry. Tapping the button is still the best way IMO.

I noticed the little bit of hand shaking too, but it would still be a nice feature to have if needing to use it one handed. With the ip67 rating it would definitely make it easier for me to use while paddle boarding or even just not making me put my drink down to take a picture. I would really need to try it out first and am looking forward to a more in depth review of the feature. Also i think the phone is stunning to look at.

Only if you can't keep your handles still.

Bummer at no wireless charging...but love the liquid metal colors. Will pass on it without wireless charging.

Isn't the back panel Gorilla Glass 3, not Gorilla Glass 5?

I actually hope it is. According to the tests I've seen online gorilla glass 5 seems to be more scratch resistant but easier to shatter, while gorilla glass 3 is the opposite.
One thing does concern me though. I'm not a fan of curved screens because it makes them more fragile, and here we have a curved piece of glass on the back of the U11. I'm hoping HTC went with the less breakable glass to counter that.

So HTC didn't give phones to reviewers to test? I was expecting a lot of reviews but everyone seems to not have actually used the phone yet

IP 68 proved to be an extra expense to HTC . huh so it came up with a squezzy thing 🤔

and the squezzy thing is likely to cost the same as th s8

It's $150 less than the S8 and they went with IP67 instead of IP68. You had a super good try though.

The battery on the 10 lasts me about 10 hours max and this is the same battery. It's also bigger than the 10. For the first time in a long time I will be buying a non HTC phone.

There is more to battery life that battery size idiot.
Android Central Newsletter
Get the best of Android Central in in your inbox, every day!
Thank you for signing up to Android Central. You will receive a verification email shortly.
There was a problem. Please refresh the page and try again.