How's your Galaxy Watch battery life been?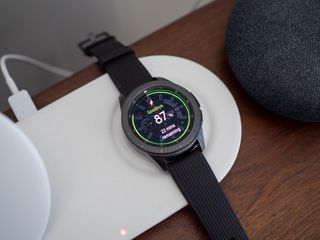 (Image credit: Android Central)
Samsung's Galaxy Watch is one of the latest smartwatches on the market, and while it's not drastically different compared to the Gear S3 or Gear Sport, it's still one of the best wearables you can buy right now.
One of the Galaxy Watch's biggest claims to fame is its multi-day battery life on a single charge, and now that shipments are starting to go out, early adopters are starting to chime in with how the gadget's been holding up in these regards.
Here's what they have to say.
What about you? How's your Galaxy Watch battery life?
Joe Maring was a Senior Editor for Android Central between 2017 and 2021. You can reach him on Twitter at @JoeMaring1.
It's ended the day on around 75% the last couple of days. That's everything on. Screen maximum brightness and always on mode turned on.

Wow, that's not bad, way better then the gear 3 even when it was new.

Wow that's so much better than Gear 2. Might consider another smart watch after this one finally dies.

Unfortunately my battery life has sucked using the 46mm LTE with about 10-12 hours before its screaming for a charger. I'm going to exchange it at tmobile

Ok I'm almost a couple weeks in and I'm barely getting 2 days. I have everything turned off except notifications. I have stopped playing with it and trying to get into a normal routine but still no way I could get 4 days not even 3. At the end of my 2nd day I'm putting it in powersaver mode at 9% Please let me know if I'm missing something.

I'm seeing a full day and night use leaves me with 75% left but I stick it on the charger while I shower each morning and it is between 95 to 100 when I put it back on! 46mm bluetooth.

Day and a half since charge and now on 45%

Honestly, mine is not impressive. I love the watch, but there's no way I'll even reach two days on a charge. I take it off the charger at night, and wake up to 88% about 8 hours later...with ZERO use! I'll probably exchange it, because my Frontier was better.
Android Central Newsletter
Thank you for signing up to Android Central. You will receive a verification email shortly.
There was a problem. Please refresh the page and try again.