How to set up and start using gestures in MIUI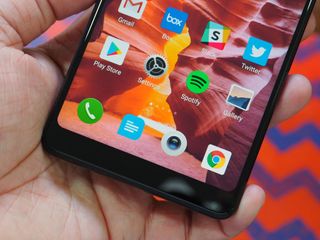 Xiaomi rolled out the MIUI 9.5 update last month, introducing a slate of new features, including support for gestures. The goal with gestures is to maximize screen real estate by eliminating the navigation bar at the bottom of the display, and offering an easier way to navigate the interface.
For instance, the default gesture to go back in an app or exit to the home screen is a swipe left or right from either edge of the screen. Gesture-based navigation isn't new — but the current implementation is akin to what you get on the iPhone X. OnePlus also introduced similar gestures in OxygenOS a few months ago, so it looks like more and more manufacturers will be looking to go down this route.
Getting started with gestures definitely takes a few days, but if you're interested in taking a look, here's how you can start using gestures on MIUI. As stated previously, the feature made its debut in MIUI 9.5, so if you're on an earlier build of the ROM, you won't see it.
How to set up and start using gestures in MIUI
Open the Settings app from the app drawer or home screen.
Scroll down to the System & Device sub-category.
Tap Full screen display.
Select the Full screen gestures option.
You'll see a dialog box with a tutorial for learning the gestures. Hit Learn.
The guide will highlight the actions possible with gestures. Tap Learn to initiate the tutorial.
Swipe from the bottom of the display to go to the home screen.
Swipe from the bottom and pause to show the multitasking pane.
Swipe right from the edge to go back
Swipe left from the right edge also lets you go back in an app.
Tap I'm done to end the tutorial.
You'll find that the nav bar is no longer present. You'll be able to demo the feature again from the same page if you need a refresher.
That's all there is to it. It took me three days to get acclimated to the gesture-based navigation, but I haven't looked back after making the switch. What are your thoughts on the new gestures feature in MIUI 9.5? Let me know in the comments.
Get the Android Central Newsletter
Instant access to breaking news, the hottest reviews, great deals and helpful tips.
Harish Jonnalagadda is a Senior Editor overseeing Asia at Android Central. He leads the site's coverage of Chinese phone brands, contributing to reviews, features, and buying guides. He also writes about storage servers, audio products, and the semiconductor industry. Contact him on Twitter at @chunkynerd.
BlackBerry 10 was and is ahead of its time. I know Web OS also had gestures but BlackBerry 10 OS gestures were and are to date exemplary. I find it hilarious that almost every article references iPhone X for gestures or other items adopted. Perhaps if technical writers consistently gave originators their due lay persons would not be so naive.

The reason for that is no one was bothering then bec the iPhone had the home button functionality. So the other OEM's wanted to be the same. Why do you think Samsung removed their home button? They reacted to what was leaked out back in 2016 that the next iPhone for 2017 would sport a new redesign edge to edge, no physical home button and a embedded FS. Not to mention they re a huge supplier to Apple especially for screens. Now that iPhone X has these new swiping gestures to replace the home button all the other OEM's will follow. Just like with Apple's Face ID. Heck, look how all the new phones have some iPhone X inspiration from the notch to the clean back design with the vertical camera alignment. Whatever Apple does or is planning to do all the other OEM's will react. You can go down all the years whenever Apple debute a feature or design how it was implemented after. Especially from Samsung. That's why it was nice to have BB10 and Windows Phone OS cause they were different and weren't trying look like the iPhone or behave like iOS.

Always great to see the iSheeps trolling the internet. Corrections:
1. OEMs like Samsung only wanted to be like iPhone with a physical home button. Most android OEMs used either capacitive keys or on screen buttons.
2. Samsung didn't react to anything at Apple. 2016 was when the first trending edge to edge phone released and Samsung just like everybody else was following that. And that leads me to
3. iPhone X isn't an Apple design anyway. The notch was designed much earlier by the same company that released the edge to edge phone previously mentioned. Here's a picture of the working model (shorturl.at/aknpD) before it was intelligently dropped by the company due to poor feedback just like what iPhone X is seeing now.
4. Face ID or facial recognition as any normal human would call it started first in security systems decades ago. Then Samsung brought it to smartphones and Apple only jumped on the bandwagon after 3D facial recognition became a thing. Even right now it does not have the most advanced version with again that same company that they took iPhone X's design from having a much higher res 16MP camera with dot detection and all the other bells and whistles Apple put into the original model of iPhone X which they have since downgraded. And modern day Chinese facial recognition is the world leader.
5. Apple's the one reacting these days. While there are still plenty of small OEMs that will do whatever the big brands do including Apple the bigger names in the industry don't care at all and the one Apple's following behind is still leading the industry. Most recently they came up with an AI powered camera that Samsung is trying to mimic. The next iPhone will probably do that too.
6. BB10 and Windows Phone died because they had glitchy interfaces, lag and were behind the times so far that they lost support. Meanwhile android is what iOS keeping copying and again Apple keeps copying off one company in particular. You can thank them for basically everything new to iOS 10, Night Shift and the ability to use QR in your camera starting with iOS 11.

I don't like the edge swipe as plenty of apps uses that to show a sub menu. I prefer the way Gesture Control app do things where you just swipe to left from the bottom center to go back(can be customize to swipe to right which is what I'm using cause its easier to reach).

Bb10 really was ahead of its time o see phones going to swipe in the next 5 years (only if Apple continues). I hope samsung doesn't do this though as swipe on TouchWiz would be garbage.

What is the name of this theme ?