How often do you buy new Android phones?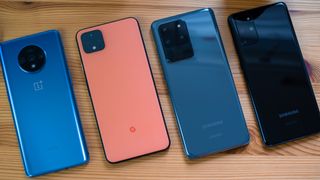 (Image credit: Daniel Bader / Android Central)
If you regularly follow the smartphone market, you've likely felt that urge to upgrade your phone to the very latest and greatest as soon as it comes out. New devices are being released all the time with upgraded features and specs, often making it hard to resist buying that flashy new device when it does launch.
This is something a lot of people that read AC can probably attest to, but recently, a few of our AC forum members got to talking about that urge winding down.
Here's how some of that conversation went:
All of this got us to wondering — How often do you buy new Android phones?
Joe Maring was a Senior Editor for Android Central between 2017 and 2021. You can reach him on Twitter at @JoeMaring1.
I get excited but, I'll never buy a device at launch ever again. The Pixel 2xl was the last. I waited 4 months and got the 4xl for almost half off. But I also have jump on T-Mobile, so if something is nice, I might jump.

I'm with you, P2XL and then P4XL, although the 4 didn't work properly out of the box so I returned it. I'm looking forward to the 5 series, though, not only for 5G, but it seems Google might be getting back to the Nexus philosophy, with good solid reasonably priced phones.

Used to upgrade once or even twice a year with Jump On Demand! It's lost it's luster these days.. Benifits have been stripped away over the last several years. Now I'm learning to see a device through it's contract. When you pay off the device you are free to jump to a new carrier without worrying about device balance becoming due. If you do choose to stay, you can get 34 month financing which lowers your monthly payments. JOD requires a 24 month contract and $50.00 a month is ridiculous! New customers always get treated better than loyal ones. I've learned that the hard way! Heads up T-Mobile, I'm putting you on notice.

I used to be crazy about it upgrading every 6 months, things slowed down gradually and now I'm using a 2 year old OnePlus 6t that honestly I don't see the need to upgrade. I'll probably hold on to it until 5g is mature and T-Mobile has deployed 5g in the 2.5ghz band in my area next year if I'm lucky so maybe the OnePlus 9. That would be three years with this phone which is fine, saving money these days is more important.

I just upgraded after 2.5 years to a OnePlus 7t. I could see myself keep this phone for another 2.5-3 years.

I hold out until factory resets or battery swaps don't fix jank. I'm still using a LG G5 and my previous phone was a Note 3. There's also things I just won't compromise on, or combos of compromises I won't make. I've been ready to upgrade for 6 months but there's just nothing out there I don't see myself regretting getting.

Usually it's at the end of the 2 year agreement with Verizon. But I think I'm going to have this Galaxy S10+ longer after I pay it off. I don't anticipate being lured away to the next big new thing. This phone is all I really need.

Every year if you want the newest operating system

Every 2.5 to 3 years.. Mostly whenever my current phone stop receiving security updates!

I usually upgrade my phone at 12-14 months.

If the next phone has significant upgrades, I don't wait. If not, then I'm fine for a couple of years. This year is a toughie because I've already had my phone for almost two years, but it's held up exceptionally and still keeps pace with the iPhone 11. The S20 Ultra is ok, but the autofocus is a big deal because it's mostly a hardware issue.

I'm waiting for the OP8. It checks all of the boxes for me.
Android Central Newsletter
Thank you for signing up to Android Central. You will receive a verification email shortly.
There was a problem. Please refresh the page and try again.