How much do you care about new Android updates?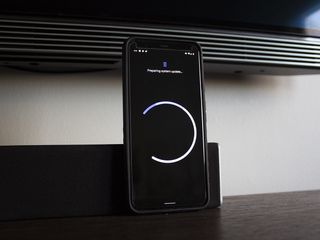 (Image credit: Android Central)
Every year, Google announces and releases a new version of Android. That new version often brings a combination of new features, tweaked UI elements, improved performance, etc.
These updates can be quite exciting, but depending on which phone you have, it can take a while to actually get your hands on the latest and greatest software — assuming your phone is eligible for it at all. Some of our AC forum members recently got to talking about this very subject.
Looking at these comments, it got us to thinking about Android updates as a whole and whether or not they're something people place a lot of importance on.
So, we now want to know — How much do you care about new Android updates?
Joe Maring was a Senior Editor for Android Central between 2017 and 2021. You can reach him on Twitter at @JoeMaring1.
The most essential thing for me.

I really don't care about updates at all. I rarely keep a phone longer than a year. Updates are mostly a pain in the butt. I dont care what anyone says major updates never settle in just right untill a factory reset is performed. Too much upheaval.
Security patches are annoying. They come along too often and they take too long even over wifi.

I am a sucker for software updates. I normally keep my phone until the software updates stop for my model. Happy to see Google extend their pixel line 3 years of updates and I am hoping that newer models get support well beyond their years. Software updates breaths new life into my device and I love that. I never have to have the lastest hardware because software normally does the trick for most features.

It's why I got the Nokia 7.1. Didn't want a pixel and having the security updates was #1 on my list.

If a manufacturer does not release regular updates they don't get my business. And the usual two years then abandonment annoys me. No reason security updates can't be released for years after official support ends. I had hoped the new Android os model would have helped with that.

2 years of software support on $1000.00+ devices has become unacceptable to me.

It's sad that most OEMs don'y support hardware that is capable of receiving updates for longer than 2 years when they have the resources to do so. Although 2 years is an improvement because I do remember a time when Android version updates were non existent.

I got a Moto X4 Android One phone because I was promised regular updates. It's at the end of January and the latest security update I got is from November. And now I'm still running Android 9 (Pie). I got lied to because I didn't realize that Motorola don't care about updates!! I WILL NEVER BUY A MOTOROLA PHONE AGAIN!!

The X4 launched with Nougat then got Oreo and then Pie. So it got the 2 os updates promised. My bad. Missed that you said you had Android One version.

The most important for me

Nowadays, not really. We've got pretty much every feature we could want and now we're moving to updates that bring change for the sake of change. I consider the gesture controls lame and not intuitive. Thankfully, Google allows you to switch back until they decide you shouldn't be able to with some future update.

It is right at the top of the list of features for me. One of the main reasons I stay with Pixel...that...and its over all glitch free experience. Works for me.

I care a lot. These are thousand and over dollar phones! I gave up my note 8 because it wasn't going to get updated to Android 10..the only thing that keeps this from being a rant is that Samsung rarely sells these phones without some sort of discount, and I got my note 8 as part of the note 7 apology tour....but it would be nice to get 3 years out of a phone at least...

I care a lot. That's the main reason I switched from the Galaxy Note line to the Nexus/Pixel line (starting with the Nexus 6P). But I realize I'm an Android enthusiast. I think most people are actually annoyed when a major update changes the look and functionality of their phone. They just want it to keep working the way it always has--at least until they upgrade to a new phone. That's why I think "fragmentation" is virtually a non-issue. I know many iPhone users who hate the regular updates that not only come with different looks and operation, but which have also tended to slow down their "older" phone. Security updates are a different story, in my book. But most people have no idea they even need to patch a vulnerability--and I don't know anyone who has ever been compromised by one.

I look forward to updates, they're essential, although I rarely see them. I haven't even received a security update since August!

Security updates are essential! I have the pixel 2xl and love the fact that I don't have to buy anything yet and can hold to a $1000+ phone that much longer.
I got sick of Samsung never updating anything and the fact that my device couple be vulnerable in less than 1 year, because they can't update security, drives me crazy. I love Google staying on top of their devices. iOS stays updated, but even iOS fragments. I have iPads that are are useless bricks, because Apple will no longer support them. You don't buy tablets every year, not like phones
Now I can no longer download the main consumption apps, like Netflix or Pandora. To me, that's useless.
Android Central Newsletter
Get the best of Android Central in in your inbox, every day!
Thank you for signing up to Android Central. You will receive a verification email shortly.
There was a problem. Please refresh the page and try again.