Google Maps location sharing is an amazing feature you should consider using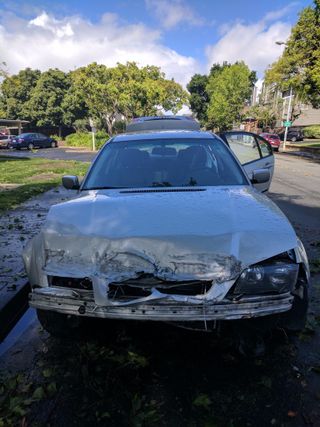 Last weekend, my mother totaled her car of 18 years. She's fine, though she came out with a few scratches because of how tightly the seat belt had buckled her in during the impact. And though we're still mourning the loss of a car we had made so many memories with, I also can't help but think about how thankful I am for location sharing. If it wasn't for this simplistic little smartphone feature, my husband and I may not have located her as quickly as we did.
My mother's voice was noticeably shaky when she had initially called us after the crash. I could tell she was struggling to hold back tears over the loss of her beloved car as it lay in front of her, wrecked beyond repair. I wanted to get to her as quickly as possible to comfort her and to get her out of the rain storm that had made the roads so perilous to drive on in the first place.
My husband had asked her for landmarks around where the impact had happened so that we could drive out to pick her up, but she was having a difficult time orienting herself. That's when I remembered that the Verizon's Messages+ (opens in new tab) app on my mom's Galaxy S6 Edge offers a native "drop pin" functionality that sends your approximate location in a text message. "Send me your location!" I shouted over the phone. She knew exactly what I meant. I had her coordinates within minutes, complete with a link to Google Maps.
It took us twenty minutes to get to her and, thankfully, a tow truck and the California Highway Patrol were already with her when we arrived. As my husband drove us home in silence, I could only think about how thankful I was that we were able to get to her so quickly. We had used our smartphones to fill in the blanks where our brains — effectively stunned by the emotion of the situation — could not. This very simple smartphone trick kept our family connected in a time of relative crisis.
How to keep loved ones privy to your whereabouts
Google Maps offers a helpful new location sharing feature that keeps whoever you want privy to your whereabouts. If you've updated the app recently, you'll see an option in the menu to share your location. Tap it, and you can choose which friends and family members with Google accounts to share your location with.
I'd understand if you wouldn't want to broadcast your location to everyone at all times, but surely there's one person who wouldn't mind tuning into your whereabouts from time to time — at the very least to ensure you're safe. At present, I've only shared my location with my husband, but I plan to teach both my parents how to turn on this ability on their respective devices over Easter weekend so that I can keep track of them. I certainly hope something like this doesn't happen again anytime soon, but I want us to be prepared in the event of another emergency.
I often hear lamenting from smartphone users about how location services are such a battery suck, and I don't deny that's an unfortunate setback of having the ability always turned on. But I'm already relying on Google Maps throughout the day to get me to where I'm going. Why not also rely on it to keep me informed of whether my family is doing okay?
Android Central Newsletter
Get instant access to breaking news, the hottest reviews, great deals and helpful tips
Florence Ion was formerly an editor and columnist at Android Central. She writes about Android-powered devices of all types and explores their usefulness in her everyday life. You can follow her on Twitter or watch her Tuesday nights on All About Android.
Still don't have location sharing in Google maps. So much for a "worldwide" release. Also, i know its not the fault of android central or Florence, just wanted to complain.

Glad your mother is okay...I can't even tell what kind of car that is !

This is a really great feature. As a parent, it's fantastic to know where kids are at without harassing them about checking in all the time.

I started using this feature with my family members, a little extra peace of mind.

...to get me to wear I'm going.

If you use life360 you'll know where your loved ones are at all times, no manual sharing just open the app and see your circle

I've been using Glympse for years so Google is a little late to the party here, which is a little surprising considering they're continually tracking you anyway.

Google isn't late to the party. This has been built into Google Plus for a long time--my wife, daughter and i have all been using it for several years already. Google just moved the functionality to Maps.

And hell, they had basically this feature eight years ago. Latitude worked great, and it was a real shame to see it shelved (or at least its functions moved elsewhere) for four years.

Great to see latitude back in google maps.

Oh, yeah. I got so much use out of Latitude when it was available, when I was managing a team of people who traveled all over the country. I was bummed when it was deprecated.

1999 740i? I am guessing close to 150-200k miles :)

I used to have 2002 M3 11 years ago ))

It's also available from within navigation. Slide up the bottom bar to see it.

Whatsapp also has the feature. Click on the paperclip and select location. It's what I use if I need to share location. It also lets you click on close by locations (eg shop or landmark)

It's not the same thing. This tracks you in real time.

I share my location with my mother and best friends but I know none of them know how to check it so even I get in a situation like this I'm out of luck SMH

A tow truck in Cali arrived before you? Now thats a miracle. If police hadnt called them, could have been 1-2hrs.

Took about 20 mins both times I called one. :/

This app is a great thing to Utilize! If one uses the app very infrequently and you turn it off asap its great but as I have learned if you and your others listed on your location uses this app constantly Google Maps will let you setup a location thats not "exactly" where you are but close enough that everyone would know you are at home and not at a address of a business or park ext. This allows for ones own safety from others that may not have your best interest at heart.

Glad this is in Google Maps now. Been using the same thing on iPhone's Find My Friends app for while now and it's great for the family to all be able to see where each other is without having to always ask. One of the things I miss when I jump back and forth to Android or Windows. Not checked yet but hoping this has also made it to the iPhone app too so me and the family can still see each other cross platform once my s8+ arrives

Welcome to the Glympse app

If she had a phone why didn't she call 911 or a wrecker? And really your car friend died?? You don't mourn a car. Geez. How privileged.

What's up your ass? It sounded like she did call the police and a tow truck, they got there before she did. And I'd be devastated if my car "died" too.

Cars make some of the best girlfriends. You can go anywhere with them and leave them outside. You can be gone for as long as you want, and it will never harass you to find out where you are, who you are with, what you're doing or when you're coming back. You can drive another car, and yours won't be all insulted. She'll be on all fours, let you stick your key in her hole and turn her on. You can drive her as hard as you want, and she'll rarely complain.

Try reading the article next time. The answers to your questions are all there, genius.

My family has Google Trusted contacts installed. In case of an emergency I can request the location of any family members. The good part is that if the person doesn't cancel the request, say it's hurt and unconscious, the phone will relay its last known location.

Thanks for mentioning this; didn't know about Google Trusted Contacts.

I share with friend and family through Google Maps (previously G+) and don't notice much hit in battery. Of course, I have the Moto Z Play...

IMO, it (location sharing) was easier to use and functioned better when it was still part of Google+.

As for the battery suck issue, just carry a spare battery pack to recharge your phone during the course of the day if necessary. I two smartphones. If one runs low during the course of the day I can simply switch to phone #2. If I know I will be out all day long, using the phone extensively, photos, videos, or other uses, I simply carry a 20,000 mAh battery pack in my bag. Battery drain suck problem resolved. ;-)

Google location sharing is great but lots of other apps out there that works better without draining your battery. Try Find my phone by SMS by Zelig Eran. Once set up with your code words, you can request location by sending a SMS message to the phone number with the code word. Phone will answer back with text with Google coordinates and link to look up on Google map, no need for other person to answer or do anything. Can also set up phone to call back if code word sent by SMS so you can listen in on what is going on. Phone doesn't need access to wifi as it uses SMS. So if Mom was incapacitated you can still locate and hear what is going on. Use it with Google location sharing

This is late to the conversation but thanks for sharing your story. I used to be able to see my husband's location which was helpful when he worked out of town during the week to know if he was at work late and I didn't want to bother him or back home and I could call. This article is especially timely since I just set my 82 y.o. father with his first smart phone. I'm going to look at Google location services and some of the other options to figure out what is best for our situation.
Android Central Newsletter
Get instant access to breaking news, the hottest reviews, great deals and helpful tips
Thank you for signing up to Android Central. You will receive a verification email shortly.
There was a problem. Please refresh the page and try again.