How to block calls on the LG G4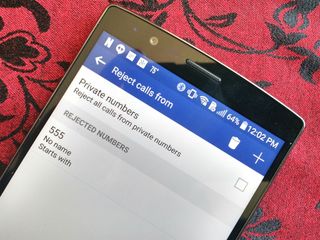 It's something we hope we'll never need, but you certainly want to have it — and more importantly, know how to use it — should the need ever arise. Maybe you just need to block that one friend who hasn't quite taken the hint that you're not interested in their drunk dials anymore. Maybe someone sent your number to a list of trolls and you're getting crank called at all hours of the night. Whatever your needs, call blocking is here to help, and it hasn't changed much from the LG G3.
Here's where to find it on the LG G4.
If someone calls you and you wish to add them to the list of blocked numbers, rather than tap in the center and drag towards the red phone, drag the red phone left towards the center. If you accidentally add a number to the list using this method (and it's been known to happen), you can access the list through the following steps.
From the dialer app, you'll click the three-dot dropdown. The last option in the menu will be Call settings, which will take you into the Call subsection of the Settings app. If you're looking for call blocking without going into the dialer, you can find Call settings under the Wireless and networks section.
In call settings, call blocking — called call reject here — will be the first item in the Incoming call section. The Call reject settings may look sparse, but don't let that fool you, there's plenty here to choose from. First settings to set will be the Call reject mode, which by default is set to Reject calls on list. You can turn call reject completely off, and you can also set it to block all calls here. If you block all incoming calls, the phone can only be used to place calls.
If the mode is set to Reject calls on list, then you can click Reject calls from and start blocking numbers. If you're having issues with calls from private or withheld numbers, you can block all calls from private numbers with a handy little checkbox at the top of the list. From here, you can add numbers or numbers from certain areas. You can add a full number, or you can add a partial number such as an area code to all calls from a specific area. You can designate the rule as an exact match, a number that begins with the partial or ends with the partial number listed. In order to delete a number, tap the trash can next to the add number icon.
It's important to remember the calls here are being blocked by the call reject list in Settings, and while it will work with the stock dialer it is not a sure thing with third-party dialers, as many implement their own app-based system for call blocking. If you're using a third-party dialer app, your directions will vary based on your app.
Ara Wagoner was a staff writer at Android Central. She themes phones and pokes YouTube Music with a stick. When she's not writing about cases, Chromebooks, or customization, she's wandering around Walt Disney World. If you see her without headphones, RUN. You can follow her on Twitter at @arawagco.
Good info but have always liked how Samsung does it. Posted via the Android Central App

How do they do it? Posted via the Android Central App

If I remember correctly you can click on a contact in history and then choose from there "add to block list". Simple and fast. Compared to the lg you don't need to do like 5/6 steps to do it. But at least its on the lg so I guess it doesn't matter. Not like you are blocking numbers that often so I don't think the extra steps will be annoying. Posted via the Android Central App

Thanks for being descriptive there... Erm... (awkward silence) Dang straight this was "Posted via the Android Central App"

Does the G4 still limit you to 100 entries? That's one thing I hate about my G3. Since LG removed the "send to voicemail" setting that stock Android has in favor of this option, it's much more difficult to use for me. I have one contact that I have added every spam number from the last 5+ years. And this contact is set as spam in Google Voice so callers get a disconnected message. If LG allowed me to set this contact to go to voicemail, it would be super simple. Instead, on the G3, I have to check all the boxes next to each number in that contact, which since I've had this number for 15 years, is well over 100. So I had to choose only the most recent 80, leaving room for 20 more to add numbers in the future. This and the awful lockscreen LG released for Lollipop for the G3 are my two biggest complaints with the phone. Please tell me it holds more than 100. At least I might stand a chance to see this update on my G3. Someday.

Something is fishy about having to put over 100 numbers on the reject list, is your life in danger? Posted via the Android Central App

It's just one contact with numbers I've been saving over the past 15 years that I've had the same number. I just keep adding to it. So I really have no idea if any of the old ones are really even still an issue, but stock Android handles this so much easier. Menu>Send to Voicemail. Done! The matching rules are nice, maybe for some, but I don't use them. I'd rather be able to blacklist an entire contact.

None of theses options seem to exist on the Verizon version.

Right?!! This is pissing me off. My old HTC DNA was way easier.

None will work on mine either, I just checked and if you are with Verizon , you have to pay an extra $5 per month to block up to 20 calls.

Verizon users do not have the block option on the phone.
To block numbers you must log into your Verizon account and go to MY PLAN & SERVICES --> BLOCK CALLS & MESSAGES.
From there you can enter up to 5 numbers to block per line. The service is free and can be updated at any time, however all the numbers expire 90 days after the last update. After the numbers expire, you can re-enter the same numbers again and get another 90 days.
To get more blocks and permanent blocking you must subscribe to the paid service - FAMILYBASE for $5 / month.

Thank you so much for this! I was wondering why my phone 's call settings looked so different from the guide's call settings. Very upset to hear that Verizon will only help you block the number for 90 days. Hopefully, by the 90 day limit, those numbers will stop calling our phones!

I know! Me, too! :(
Well, I guess I have to save each one as SCAM in my contact list... which is sucks, but I'm not paying $5/m for that! That's ridiculous! X( Also, expires in 90 days...? omg... Such un-user-friendly feature...

I am not having any luck with blocking private and unknown callers. All it does is send them to voicemail, now I have a bunch of voice mails I don't want. I have tried numerous call block programs, but they all send to VM as well. I want them to reject and say this phone does not accept blocked calls. I have an LG G4 android. Anyone have any advise??????
Android Central Newsletter
Thank you for signing up to Android Central. You will receive a verification email shortly.
There was a problem. Please refresh the page and try again.