Advertisement Feature
How becoming a TPO subscriber can affect change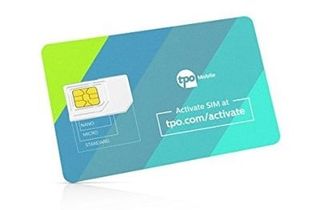 TPO (The People's Operator) is a mobile virtual network operator that leases coverage from Sprint's fast 4G LTE network.
It offers competitive data plans for folks who don't want to pay the big carrier rates. In fact, as a promotional rate, you can get 1GB of Sprint's fast 4G LTE data, unlimited calling, and unlimited texting for $7.35 per month for the first three months. After that, it's only $21 per month. If you need around 3GB of data (which is roughly the amount most Americans use), you'll pay only $31.50 for the first three months and $35 a month thereafter.
Great, but how does me saving money affect change?
Save money and give to great causes!
How TPO is different
TPO isn't just your average carrier, hell-bent on making a quick buck on no-contract phone plans. It was started by three friends who thought that if people were going to be spending money on their monthly mobile bill anyway, then they might as well put toward a force for good.
Charities and deserving causes often have trouble raising funds, but if you're already going to be spending money on your phone bill, why not give some of that to the cause of your choice?
Yes, switching to TPO from one of the Big Four (AT&T, Sprint, T-Mobile, Verizon) will save you money every month, but 10% of your bill will go to the cause of your choice. You don't spend more just because a portion of proceeds are donated either.
You can choose from causes like the ASPCA, Action Against Hunger, Habitat for Humanity, the Planet Water Foundation, and many more.
How you can initiate change
In order to get in on affecting change by helping your favorite causes, all you have to do is sign up. That's it!
Sign up for a monthly, no-contract plan, and 10% will automatically go to the cause of your choice. TPO doesn't take a cut and you don't spend any more than the plan you sign up for.
You can give to big causes, like the ASPCA or smaller organizations that means something to you, like Kiva, which is a non-profit that lets people lend money over the internet to low-income entrepreneurs and students.
Save money and give to great causes!
Chances are, if there's a cause that's near and dear to your heart, you'll be able to support it through TPO.
How do I sign up?
Signing up is easy: Head over to TPO's website, pick a plan, and away you go. There are no yearly contracts, and you get to help great causes by spending money that you already spend anyway — and if you're switching from a big carrier, you could actually save.
If you want your monthly phone bill to mean something, then check out TPO and help initiate change where it matters to you.
Get the Android Central Newsletter
Instant access to breaking news, the hottest reviews, great deals and helpful tips.